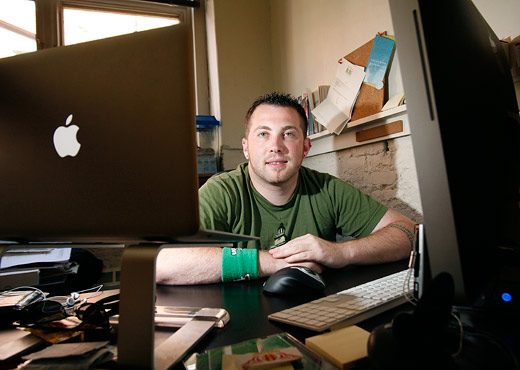 Alex Hillman was a work-from-home Web designer who, like other freelancers across an ever-widening range of industries, felt like something was missing. Sure, he enjoyed the freedom that his professional life offered, but yearned for the collaborative atmosphere that can only come from working around others.
Then, around August 2006, inspiration struck in the form of the story of an independent consultant named Brad Newberg who, while meeting with a life coach on the West Coast, realized that he needn't be a lone wolf anymore. He came up with an idea for what Hillman calls a "place where people can be independent with other independents."

The concept is called "co-working," and Hillman saw it as something that could benefit Philadelphians.
"Newberg took something that was revolutionary and, instead of franchising it, which he could have done and probably made a lot of money, he open-sourced it," says Hillman. "The initial idea was self-fulfilling: I wanted to get out of my house and be around other people, to connect, and there were a lot of people like me. I thought the idea could be used as a platform to make Philadelphia a better place to do what we were doing creatively."
Less than a year later, Hillman and Geoff DiMasi, an independent designer with a South Philadelphia studio, made the concept tangible in opening Independents Hall, an Old City "clubhouse [for] a community of freelancers, independents, work-from-home people, who have an interest in getting out of their dull work day and participating in a community that's designed to support and encourage people who make a living doing what they love."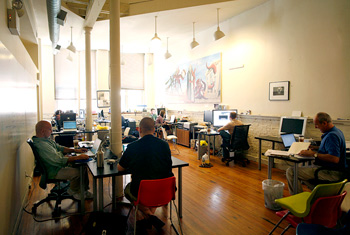 Initially attracting Web designers–traditionally an outsourced, telecommute-friendly gig–Hillman says that Indy Hall has since evolved into a gathering place for freelancers of all sorts, from engineers and entrepreneurs to eco/green property developers and video-game programmers.
"It offers the purest, most vibrant collaboration I've ever seen," says Hillman. "Everyone is still independent, responsible for their own businesses, so any collaboration is still done in a very organic way. It's more like a work-exchange program."
With desks for 11 "full-time" workers and another ten besides, the faces at Indy Hall are constantly changing and the "vibe" ever-evolving, says Hillman. People pitch in on one another's projects, enabling them to act not only as sounding boards, but also as collaborators. In an era of mass layoffs across many creative industries and a corporate culture that sees benefits in outsourcing many responsibilities once handled in-house, it's safe to say that Indy House won't be the last "co-working" environment to surface.
To be sure, Philadelphia has staked a claim to being a creative hub by hosting events like the Sept. 25 "createAdelphia: The Philly Creative Jobs Event," which aimed to connect "creative talent in the region" with companies who need their minds. But to Hillman and those who frequent the Strawberry Street loft, the "co-working concept" offers a right-place haven created at the right time.
"As companies continue to lower their overhead and flatten out, creative people tend to be the first to go because they can work anywhere," says Hillman. "They need new ways to work, and while 'work from home' sounds great, it really sucks. We need to make sure that people aren't getting flattened out, feeling that they have nowhere to go."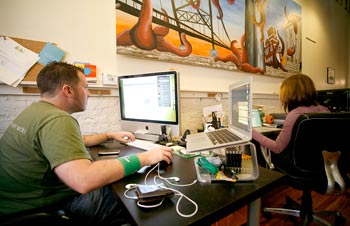 Perhaps no other industry has found itself so embattled by fulltime-to-freelancer trends than the media, specifically, in the parlance of the day, "old media." In the past year alone, more than 6,300 employees at the nation's 100 largest newspapers have either been bought out or laid off, according to Mark Potts, a former scribe and new-media editor who now runs the Web site Recovering Journalist.
As a positive, Potts notes that very few of those cuts have come from the papers' burgeoning online staffs, but in a world of hiring freezes, classified-advertising decimation and smaller newsholes–not to mention community-journalism experiments like the Knight Foundation's Spot Us, which invites the public to hire journalists to investigate stories in California–Potts doesn't expect the trends to change anytime soon, if ever.
So the question becomes this: What happens to all those journalists once they enter the off-staff world. Many, of course, continue to write as freelancers, move onto smaller papers or enter new fields like teaching, blogging and writing books. Luckily, Potts says, they're uniquely qualified for a plethora of jobs.
"A lot of the skills that journalists have are applicable to other things. Understanding writing and reporting, there are a lot of things you can do," says Potts who, after a career as a business writer found himself heading the Philadelphia Inquirer and Daily News' efforts to get online via Philly.com. (Full disclosure: After 13 years as a full-time staffer at several papers, I am now a freelance journalist and an independent contractor producing web videos for Philly.com.)
"We get so hung up on reporting and writing, or reporting and editing that many journalists end up having a very narrow view," Potts continues. "There are opportunities out there. Whatever the numbers are, it's not like we're seeing a league of destitute journalists out on the streets."
What we are seeing, however, is droves of print writers entering a workforce unlike that which they've ever seen before, struggling to figure out how to earn a paycheck while doing what they love as the industry evolves. Much like Hillman, they've found some innovative paths to remaining active.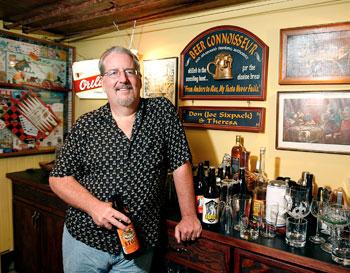 Cases in point: Dick Polman and Don Russell, formerly full-time of the Inquirer and Daily News, respectively.
Back in 2005, Polman, one of the Inquirer's high-profile political columnists, thought that the writing on the wall was clearer than ever. It was time, he realized, to execute Plan B.
"Knight Ridder [the papers' former owner] was putting on the squeeze year after year and I saw absolutely no let-up in that," says Polman who saw his job "cancelled" until management realized that it might be a good idea to have somebody who can cover politics as the 2002 Congressional elections arrived. "I knew I had to find my way out of there, but I didn't want to make a clean break and leave journalism behind. When I was going to give my notice, I wondered how I could give something back as well."
At the time, he'd been teaching a class at the University of Pennsylvania, but when school officials told him they had donations coming in that would enable them to expand the creative-writing offerings and bring him on full-time, he sensed the opportunity he'd sought. So, Polman went to his editors with a deal: continue to write a column every other week and maintain a daily political blog for the newspaper as well. They accepted, thus making Polman one of the Inquirer's first columnist/blogger/non-full-timer hybrids.
"New media is the wave of the future and we have new readers who aren't reading the papers, it's a new audience altogether," says Polman, who posits that he's just about doubled his newspaperman-alone writing volume. "But the key is to keep yourself viable with a presence online. It's a matter of survival, really."
Russell, lately of the Daily News, took a different post-buyout route. While his wife, also a former journalist, followed her dreams to open a yoga studio, Russell decided to ride the popularity of his "Joe Sixpack" beer column into as big a mini-media empire as possible with books, columns, a beer-festival-organizing company and public appearances as a beer expert.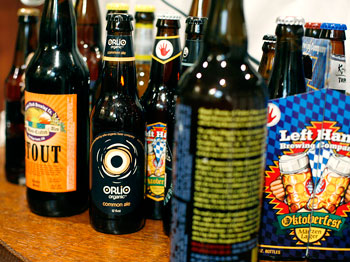 "You have to figure out a way to adapt what you're doing to other people who'd pay for what you got," says Russell, who received the rights to the Joe Sixpack name after taking a Nov. 2005 buyout after 18 years at the paper. "The column is still the bread-and-butter, because 12 years of a weekly column is great advertising for a brand, but I have a lot of different things going on that I was able to cobble together and make a living out of it."
Fully aware that many of their former colleagues are entering the type of realm that makes places like Indy Hall all the more valuable, both Polman and Russell think now is the time to get ahead of the curve and established as free agents who could be the addition that leads a team, or business, to victory.
"All the rules are being made up as we go along," says Polman. "It's exciting and scary at the same time."
---
Brian Hickey is a free-agent journalist, freelance web-video producer, crossword aficionado and die-hard Cubs fan who is nursing the wounds of yet-another heartbreak. Send feedback here.
---
Photos:
Alex Hillman in Independents Hall
Freelancers gather to work in Independents Hall
Alex Hillman at his desk
Don Russel aka Joe Sixpack in front of his homemade bar
Beers in line yet to be written about for his blog
All Photos by Michael Persico – All Rights Reserved