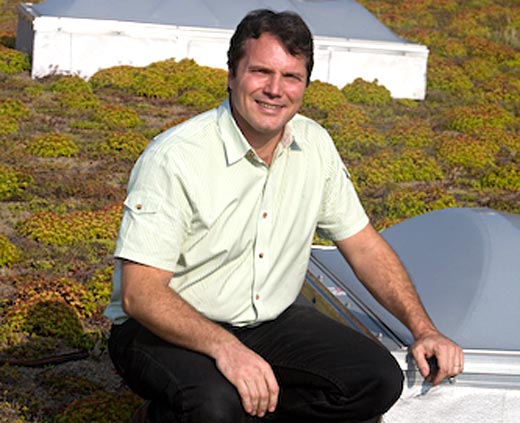 Innovative design is meeting mother nature on important rooftopsin Pittsburgh, where architects and designers from Carnegie Mellon areusing green techniques to integrate buildings with nature. Not only are green rooftops aesthetically pleasing and environmentally sound, they are also more efficient, reducing heating and cooling costs and extending the life of buildings.
Although green roofs in the Steel City are not yet numerous, birds eyeing the view can locate them in significant places like Carnegie Mellon's Henry Hornbostel's Hamerschlag Hall. Hornbostel was the first dean of architecture for the Carnegie Technical Schools, and his century-old design for the great halls around the original campus quadrangle provides CMU–and Pittsburgh–with a distinctive architectural treasure. Hamerschlag fits like the prow of a ship on the dipping slope where the buildings sit. On its portside roof atop one wing, tall grasses, low succulent sedums, and other greenery cover 4,000 square feet.
About four years ago, Diane Loviglio, a student of environmental sculptor Bob Bingham, led the Hamerschlag project through the campus' Green Practices Committee, winning support from CMU Environmental Coordinator Barb Kviz, facilities staff, and faculty and students from environmental engineering and art and architecture. The committee's approval awakened campus and community to the beauty of botany covering bare building-surfaces, like rooftops.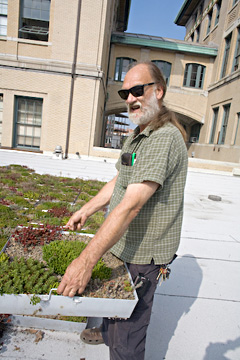 These days, roofs all over campus are sprouting green. A similar roof on nearby Doherty Hall holds a green cover of sedums and other low-growing grasses overlapping an array of moveable planting trays–a method of planting that allows easier access to the roof surface underneath. Porter Hall and Mellon Institute have similar tray plantings. For a new project of grasses and strolling paths atop one of Doherty's lower wings, Bingham, Kviz, and Loviglio advised the outside team of Burt Hill Architects, Eisler Landscaping, and Green Roof Services hired by the university.
Across a campus hollow the new Gates Center for Computer Science, currently under construction, may owe its existence to silicon, but some of its roof surface has been designed for a load of substrate where plants can grow.  
About 10 years ago, when he began to suggest that engineers should share with nature the job of shaping spaces, Bingham may have sounded like a pied piper, at least to buildings and maintenance.
"My mission is literally to grow buildings," says Bingham. Now, CMU's green rooftops multiply.
Working with a German colleague, Jorg Breuning of Green Roof Services, Bingham has noted the acceptance of green roof technology in Europe. He becomes enthused when describing "the sea of green" covering commercial rooftops in the city of Stuttgart. About 15 percent of German buildings have green roofs, the result of an annual rooftop planting rate of approximately 12-million square feet. In contrast, all of Canada and the United States added only about 2.5-million square feet of green rooftops in a recent year, according to the journal Landscape Architecture.
Chicago leads U.S. cities in green rooftops, having planted some 4-million square feet of public and private rooftops, including 20,000-square feet of garden atop city hall. The city's promotion of planting emphasizes the goal of reducing city heat reflected from the toddling town's great sea of tar rooftops, where temperatures reach as high as 150 degrees in summer. That's some 75 degrees hotter than temperatures on greentops.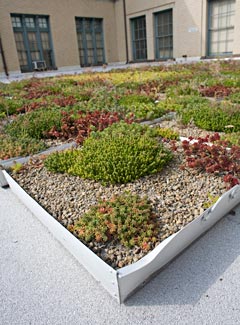 Besides urban cooling, green roofs are nicer to look at. Change in perspective inspired architectural firm Burt Hill to plant a roof in downtown Pittsburgh when it converted the Gimbels building to the North American headquarters for worldwide food giant Heinz (now owned by Del Monte). On the 14th floor executive suite, roof surfaces surrounding stepped-back glass walls of the penthouse-shaped structure looked awful. So a 9,000-square-foot green roof now encircles the top story, the first green rooftop in the Golden Triangle.
Covering gardens also extend roof life. The planted buffer against extremes of heat and cold helps tops of buildings to endure up to 2 to 3 times the life spans of exposed surfaces, and long-term maintenance costs drop as a result. Interior spaces under the roof also gain natural insulation against daily temperature extremes–a source of energy savings in big-box commercial structures and shopping centers.  
Most cities have another issue to consider. Hard city surfaces send stormwater running straight into sewers. This is a costly problem in Allegheny County, where storm water overflowing to the sewage system often pollutes rivers. More underground pipe to fix the situation will cost billions, but green rooftops offer an alternative: they capture most of the rainwater that falls on them and reduce runoff, sometimes to zero, with results that multiply rapidly as green rooftop technology becomes more widespread.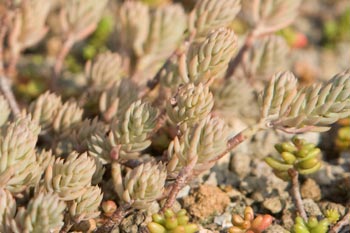 This summer, a 1,700-square-foot green roof went atop the South Side headquarters of Conservation Consultants Inc., the Pittsburgh region's utility-cost-reduction experts. Project costs were prohibitive only five years ago, but pricing it again last year, Executive Director Ann Gerace and CFO Dave Defide found a way forward with assistance from Pennsylvania's Energy Harvest Program. Their experience reflects lower prices for materials and installation and more push from Pennsylvania and local programs, such as 3 Rivers Wet Weather, which works the regional storm water issue as hard as it can. As it grows into place, the green roof will add value to the building and to CCI's mission of conservation education. Working with area community colleges, CCI wants to create a training program to certify green roof installers.
CCI also found an incentive in the U.S. Green Building Council's Leadership in Energy and Environmental Design (LEED) program, which rates building performance against a wide-range of conservation practices.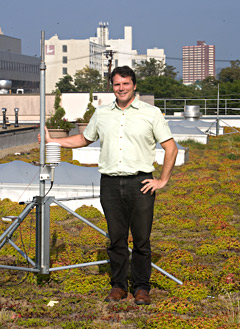 "Companies adopt LEED because they want to signal to customers that they are doing green things," says Marc Mondor, principal of evolve Environment::Architecture, a consulting firm deep in the green space. The company helped plan grocer Giant Eagle's green roo–and other LEED project–for its Shadyside Market District. At 12,000 square feet, it is the largest green roof in the region.  
Other players are looking topside for building conservation. Earlier this year, the Carnegie Museums prepared a growing space atop a new maintenance building behind its Art Museum.
In downtown Pittsburgh, another Hornbostel landmark, the City-County Building, had a green-rooftop makeover proposed this summer by Chatham University's Green Roof Design Studio and graduate students directed by landscape architect Joel Perkovich. They planned a park-like planting on the topside perimeter roof of the ten-story, city-block-sized seat of local government. For the galleria roof, which nestles lower inside the four walls of the building's office box of inward facing windows, they also proposed a green landscape. 
Perkovich says that Western Pennsylvania can gain a lot from green rooftops. He notes generous rainfall as one very good reason for planting them. But he also stresses the boost to biodiversity by multiplying small rooftop meadows of native plants, birds, and insects.
Cities across the globe are going for it. It's a requirement for all new flat roofs built in Basel, Switzerland, and Londoners do it for the Black Redstart, using rooftops to replant that endangered bird's dwindling habitat. Greening can only improve the view of Pittsburgh's home-studded hills, and as Perkovich says, "The potential is tremendous."
---
Joseph Plummer, who writes about innovation, discovered in his research for this article that a small meadow on a rooftop works a little bit like a thinking cap. It gives you a whole new way of thinking about the building. Send feedback here.
---

Photos:
Marc Mondor  at Eagle's green roof–Center Avenue Market District in Shadyside
Bob Bingham shows the movable trays of Sedums and other low-growing grasses at Doherty Hall.
Green covers of sedums and other low-growing grasses arranged in moveable planting trays
Up close with the Sedum plant
Marc Mondor – principal of evolve Environment::Architecture
Photographs by: Renee Rosensteel all rights reserved