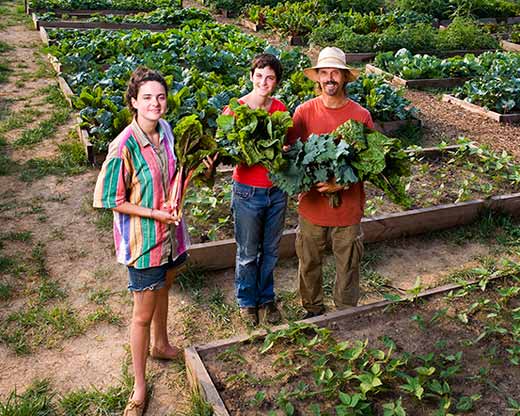 It's a chilly early autumn morning at Braddock Avenue and 10th Street, in the heart of Braddock, industrial Pittsburgh. To the east, the sun rises hard and gritty over US Steel's historic Edgar Thomson works. Here, on a half-acre of reclaimed land, is Braddock Farms–nano-sized by ConAgra standards, but in this hardscrabble landscape it's a beacon of hope, and perhaps the wave of the future.
Inside a plywood shed, lanky, pony-tailed Jeff Jaeger is writing orders. "Right," he says on the cell. "I've got oregano and thyme, sweet peppers, kale, scallions, okra, tomatoes–with cukes and eggplant coming." Scrawling on a wrinkled yellow pad, he jots the i's, dusts off his hands, and picks up a basket. He's the project manager, and it's yellow bean pickin' time.
One knee on the dew-covered ground, Jaeger discusses the trend toward urban farms. While community gardens have been more mainstream in other countries, notably Great Britain, Jaeger recalls that they were once the rage here (think World War II Victory Gardens). But as the price and plentitude of food moved millions away from gardening, the pendulum, he says, is swinging back. Freshness, healthy living, and local connections have all contributed to an increased number of urban farms in Pittsburgh and Philadelphia–and indeed all across the Commonwealth.
"It's hard to come up with numbers," Jaeger says, "but there's a craving, a desire, for green growing things. Especially in blighted areas like this."
Stepping lightly through his cornucopia–sunflowers, beets, lettuce, carrots, garlic, squash, turnips, strawberries, sweet potatoes, asparagus–Jaeger takes out a small knife to cut big, leafy mustard greens. "This is just the beginning," he says.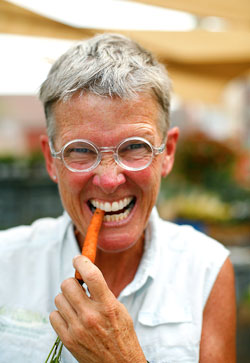 A beneficiary of Grow Pittsburgh, Braddock Farms is part of an effort to revitalize local economies through urban agriculture. The mission, writ small, is to increase affordable healthy food, expand the land dedicated to sustainable food production, and promote urban agriculture.
The growing Pittsburgh urban farm movement is hardly alone. In Philadelphia, Greensgrow Farms has been the bellwether for a decade and more. Led by Mary Seton Corboy, Greensgrow transformed an abandoned Kensington lot into a nursery and farm stand. Now one of four-dozen-odd farms in Greater Philadelphia, "it makes a difference when green is permanently part of our life," Corboy says.
Growing lettuce, carrots, and heirloom tomatoes, Greensgrow offers "things that make a difference in quality," she says. "We're doing something sustainable. We're in an underserved neighborhood–it's a concrete jungle. But with local food, and a nursery, we do some things that round out the concrete edges of their lives."
In addition, she says, an urban farm can be the bond that unites disparate neighborhood segments. "You come here on a Saturday morning," she says, "and you've got all the neighborhood people here. This is a place where they can see each other. My role is to be the liaison between groups–like the corner grocer who knows everybody on a first-name basis. It's not about the amount of product we put out," she adds. "Instead, it's about the quality of life that we lend to these communities."
So just how big is this urban farming movement? As Greg Boulos, Western Regional Director for the Pennsylvania Association for Sustainable Agriculture, says, while numbers are hard to come by, "the increase in interest for urban agriculture is growing rapidly. Communities are flooding non-profits like Grow Pittsburgh and PASA with calls about starting up operations in the city. One way to gauge the farming metric is to look at Community Gardens," Boulos adds, "large green spaces subdivided into 20 x 20 gardens rented by local residents. In 2007, Pittsburgh was named Number One in the nation for community gardens, with nearly 200."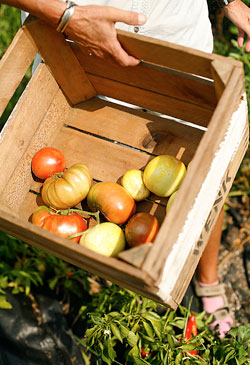 Sooner or later, a lot of that produce finds its way to market, most often at farm stands or farmers markets. "Farmers Markets are doing better than ever!" Boulos says. "With the increase in demand for buying fresh and local produce, farmers markets are commanding a larger share of total sales for agricultural products–up nearly seven percent last year alone. We're in the midst of an Agricultural Renaissance!"
As the statewide Buy Fresh Buy Local campaign likes to reminds us, buying local helps enrich the local economy and reduces the hydrocarbons used to ship food. In addition, the PA Preferred program extends to meats, cheeses, and other products. With 93 percent of Pennsylvanians preferring to purchase local products, the PA Preferred logo helps consumers identify products of Pennsylvania agriculture.
While there are countless restaurants that buy local products for their menu, in whole or in part, one Philadelphia landmark is Johnny Brenda's on North Frankford Avenue, which uses local food exclusively. "Customers are getting hip to the fact that you get a really superior product locally," avers chef Al Anderson. "They also like supporting local farmers. So do I. I'm not paying some guy in California. I know these people."
So do the folks who shop at farmers markets, often building up relationships with the farmers over time. That's one of the attractions, says City of Pittsburgh farmers market coordinator Eric Van. Supervisor of eight City-sanctioned markets, by his last hard count–in 2004–some 375,000 people shop at the city's markets. At an average price of $16/market basket, "we're in the several million dollars of gross business," he says.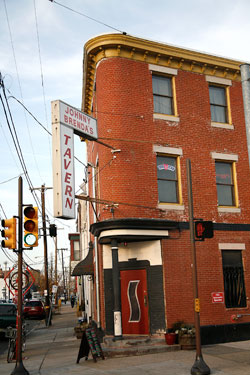 Not so long ago in the Oakland section of Pittsburgh–the Pitt and CMU and UPMC district–there was not a single market selling fresh food. Seeing the crying need, the Oakland Business Improvement District created its own farmers market. Every Friday afternoon, June 20 to November 21, Sennott Street between Meyran Avenue and Atwood Street is blocked to vehicular traffic as a dozen local farmers and food purveyors set up shop.
This day, with storm clouds gathering in the west, a couple of hundred people heft acorn squash, squeeze apples, and hoist cider. Spread across a white plastic table, Jonathan Cingota's Mushrooms for Life features Shitakes, Blue Oysters, and Portobellos as big as basketballs. "Farmers markets are more like social events than work," he says. Growing and foraging his own mushrooms in Indiana, PA, Cingota sells some 100 pounds of mushrooms a week. "It's a great lifestyle," he smiles, then picks up a delicate-looking Yellow Oyster. "Often, when I've convinced someone to try something new, they come back, and I see the glow on their face."
Down the row Lucas Schilling of Sandhill Berries chats up the customers. "I love working the Oakland market," he says. Part of a family operation in nearby Mount Pleasant, Schilling points out the fresh raspberries, blueberries, and scores of apples, including such heirloom varieties as Cortland, Red Astrachan, Calville Blanc, and Opalescent. "Everyone's nice; everyone wants to know about our business. I feel as if I'm contributing something to society: people are getting the freshest possible produce for a lower price."
---
Abby Mendelson's latest book, End of the Road, a collection of short stories, is available at amazon and bn.com.
To receive Keystone Edge free every week, click here.
---
Photos:
Erika Barrington, Lucy Churchill, and Jeff Jaeger at Braddock Farms, Pittsburgh (Photo courtesy of Grow Pittsburgh)
Mary Seton Corboy
Picking Vegetables at Greensgrow farm – Kensington, Philadelphia
Johnny Brenda's Tavern – Philadelphia, PA
Photographs of Greensgrow and Johnny Brendas by Michael Persico