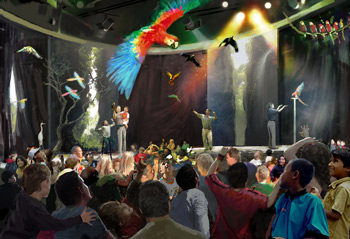 Birds from every continent will be able to soar above audiences at the National Aviary after completion of a $23-million expansion announced Tuesday at the popular Pittsburgh home for the world's birds.  
The 56-year-old facility will expand its own wings and add new facades on both east and west sides while also creating space inside and on the top of the building where the Aviary's permanent residents can demonstrate the beauty and majesty of natural flight.  At the same time, changes in design to the building's exterior will allow visitors to recognize more easily where to land when coming to visit their feathered friends.
The highlight of the project, which is aiming for completion in June 2010, will be a new FlightZoneTM Theater where audiences will be treated to indoor displays of birds, such as macaws and other entertaining fliers, in free flight overhead.  Equipped with high-definition video screens, a sound system, and movable stages, the theater, as well as the open-air audience space on the rooftop, will invite visitors to observe and enjoy a broadened array of avian behaviors, including the dramatic chases of birds of prey.  With lighting effects, climate control, and video projections, the displays will "immerse guests in the habitats of birds and blur the line between audience and performance," according to board member Gary Wilson.
The improvements will also expand the facility's ability to cater to school audiences and "inspire a lasting love for nature and perhaps even a commitment to protect these magnificent creatures for future generations," said Linda Dickerson, president and CEO of the National Aviary.  Thus far, the project has raised $16.9 million toward the plan, which sets the start of construction in Spring 2009.
Source: The National Aviary
Writer: Joseph Plummer
To receive Keystone Edge free every week, click here.