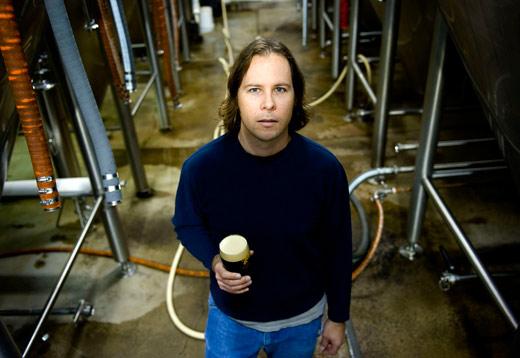 To say Pennsylvania played an integral role in American beer history would be an understatement.
The nation's first brew house–the Tun Tavern–was built near the Delaware River in 1685, and our founding fathers debated how best to declare independence from England in watering holes across the city.
Out in Pottsville, the D.G. Yuengling & Son Inc. lays claim to running America's Oldest Brewery, which has been in business since 1829. And, having opened its taps the year Abraham Lincoln was elected, McGillin's Olde Ale House–located around the corner from historic, but younger, City Hall–is among the nation's five oldest continuously operating taverns.
So, it should come as no surprise that this remains a brewing-arts hotbed. Home to one of the Top Ten Beer Festivals in America–the Philly Craft Beer Festival, held each March–there are some 70 breweries in the Commonwealth and at least that many have come and gone over the years.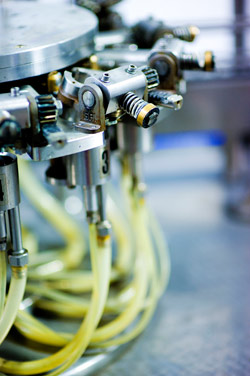 To get a sense of the state of the $7 billion Pennsylvania brewing industry, Keystone Edge visited Sly Fox Brewery in Royersford and the Philadelphia Brewing Company, located on the aptly named Amber Street in the city's post-industrial Kensington neighborhood.
Sly Fox is unique in that it was the first microbrewery to can craft brews, while Philadelphia Brewing, which grew out of an ownership divorce at the still-running Yards Brewery, sets an example for neighborhood commitment. Like their peers across Pennsylvania, the brewers remain concerned about looming potential changes to how beer can be distributed here.
Canning Because it's Cool
When you walk in the front door at Sly Fox's Royersford location, you enter a standard brew pub/restaurant, but walk down a long hallway through another set of doors with Brewmaster Brian O'Reilly, and you'll see much more. Namely, the brewing operation that churns out bottles, cans and kegs of some 16 different varieties.
"Pennsylvania is blessed with many local breweries making many world-class beers," O'Reilly says. "We also have an abundance of restaurants and taverns that have embraced craft beer."
Sure, some beer snobs will look down their nose at a canned craft beer, something that Sly Fox has been offering (for a selected handful of beer varieties) for three years. But canning is more expensive than bottling–print new labels for standard bottles, instead of ordering pallets of pre-designed cans–and protects the brew from light that penetrates glass much easier.
"Ultimately," says O'Reilly, when asked why Sly Fox will be canning some 517 cases at a pace of 30 cans a minute the following day, "we're doing it because it's cool."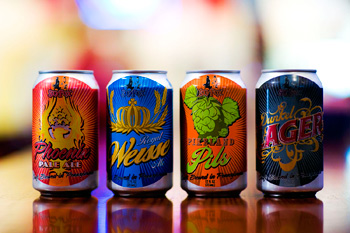 Sly Fox has been brewing for a while now but eight years ago, the brewmaster decided to start selling excess brew to other restaurants. They haven't looked back, with 30- to 40-percent growth in Pennsylvania, New Jersey and New York distribution–without an expansion push.
"If you grow too quickly, you will not have a good foundation," O'Reilly posits. "We don't have an exact formula of where we'll be going from here. We need to make sure we support the people who we're already serving."
Neighborhood Loyalty
The challenges are a bit different at Philadelphia Brewing Company, co-owner Nancy Barton said a few weeks back. In Aug. 2007, entrepreneur Barton and her husband Bill severed their business partnership with Yards Brewing Co. after eight years, but rather than setting up shop elsewhere, they sold the name Yards and stayed at their Kensington facility. Considering themselves a community anchor, they got to work on Philadelphia Brewing Co. beers in a nearly 70-year-old, 40,000 square-foot building that originally housed the Weisbrod and Hess Oriental Brewing Company's bottling operation.
"We have lots of employees who live around here, so it was important for us to stay in the neighborhood to support all of those who were sticking with us," Barton says. "The neighborhood and our employees are invested in what we do."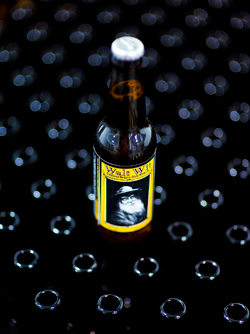 Committed, for the time being, to four mainstays and one-off seasonal beers, they bottled and kegged their first beers seven months after the split.
"The whole thing toughened us up a little bit," says Barton, noting that their weekly tours and tasting room, "gives people an appreciation of what goes into brewing when they can come here, see it and be a part of it. We try to make getting our beer in our customers hands as easy as possible because nobody really needs it."
The Supermarket Question
To be sure, distribution is the biggest issue of concern for Pennsylvania brewers today. Rather than sticking to the case-only beer-distributor set up, a beer-in-supermarkets issue arose in Dec. 2007 when officials with Wegman's supermarket chain petitioned Warrington (Bucks County) town supervisors to allow them to sell brew in its aisles there.
Wegman's officials said that the locations already had restaurants, making libations a logical fit, even as the Malt Beverage Distributors Association of Pennsylvania objected. Wegman's took its case to the state Liquor Control Board that granted approval in March 2008 for beer in the chain's locations in Bethlehem, Dickson City, Lower Nazareth, State College, Wilkes-Barre and Williamsport. The MBDA filed an appeal in Commonwealth Court that has tied up supermarket-beer distribution through today. (Oral arguments in the case could begin as early as December. A similar case involving Sheetz Inc. was heard by the Supreme Court in March and a decision is pending.)
While many Pennsylvanians have grown tired of the archaic laws, beer vendors remain worried about what the increased competition would mean for their bottom lines.
"I often tell our customers to be careful what they wish for when I hear them rant about the convenience of purchasing beer at a grocery store," says Sly Fox's O'Reilly. "I think our system has leveled the playing field a bit. While it may be convenient to make one less stop, or to purchase a six-pack, I can't think of any supermarket states that have the beer abundance that we do.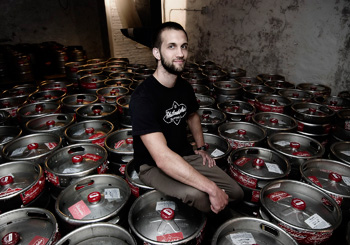 "Our home-state breweries may be limited to just two brands on a grocery store shelf. It is usually difficult for a small brewery, just starting out to get their beer placed in a big chain. Sometimes the beer decision maker lives in another state. Even our smallest beer stores have a huge selection. Our best beer stores have a selection unlike any in the world."
Adds Barton, "Unless it's a Trader Joe's/Whole Foods type store the large companies (A-B, Coors, etc.) will essentially 'buy' their shelf space, leaving smaller breweries out in the cold. From a sales perspective, it's easier to sell to one person than four. There are four six packs in a case. That means we need to reach four people and get them to buy our beer. With the case we only have to reach one. Also, it seems like a waste to buy a six-pack. Wouldn't you just have to go back to the store and buy more? What a big waste of time and gas!"
While brewers remain concerned, however, Don Russell (aka the Philadelphia Daily News' Joe Sixpack) thinks Pennsylvania will remain a brewing hotbed, regardless of how the Wegman's case ends.
"In states with supermarket sales, craft brewers are doing just fine, and regardless of where it's available, craft beer fans will find their beer," he says. "They already buy plenty of it in Pennsylvania, where we can all agree that state laws make beer purchases difficult. If supermarkets squeeze out craft beer, it'll only create alternative specialty beer retailers. Look at gourmet cheese. You can't buy it at the Acme, but you still find it easily, in specialty shops, farmer markets and upscale places like Whole Foods.
---
Brian Hickey is a free-agent journalist, freelance web-video producer, crossword aficionado and die-hard Cubs fan who is nursing the wounds of yet-another heartbreak. Send feedback here.
To receive Keystone Edge free every week, click here.
Photos:
Brian O'Reilly – Sly Fox Brewmaster
Bottling Machine at the Philadelphia Brewing company
Sly Fox's line of craft beers in cans
Philadlephia Brewing Company's Walt Wit
Josh Ervine – Phiadelphia Brewing Company Brewmaster
All Photographs By Jeff Fusco
---