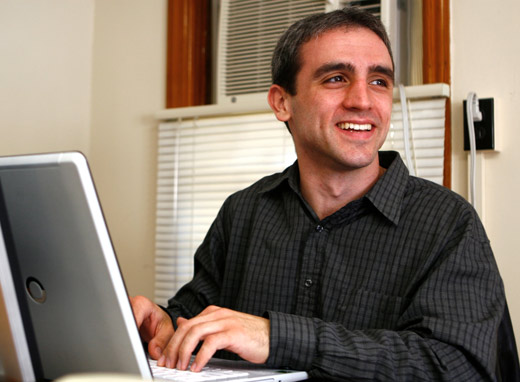 The worlds of boxing and software couldn't be more dichotomous. Brian Pedone, however, has managed to bob and weave successfully through both realms with a simple approach that translates easily from the sweet science to computer science.
 
"The best punches are down a straight line. I think people can apply that concept to business," he says. "Be direct, be focused, and make sure when you strike, you make it count."
That mantra has garnered the 25-year-old Pedone much success at a young age. The East Stroudsburg University graduate was named one of BusinessWeek's Top 25 Under 25 Young Entrepreneurs for his work with ABP Software, the company he founded in 2007. Pedone also owns and operates Pedone's Heavy Hitters LLC, a boxing club he founded at his alma mater in 2002.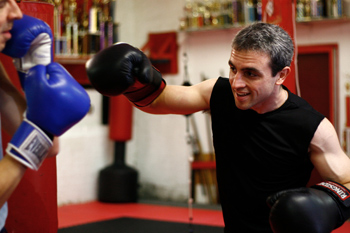 While boxing and software are usually mutually exclusive, it's easy to trace Pedone's roots in both.
Pedone's parents are computer programmers, which helped him develop a passion for solving problems with mathematics; he was a Computer Science major with a Math minor at ESU. That passion led him to create needmypassword.com, ABP's signature product.
When Pedone was working as a database administrator for My Choice Medical in Stroudsburg in 2006, he noticed the phone operators, who weren't very computer saavy, had sticky notes stuck all over their monitors with different passwords.
"I knew if I wanted to do something, it would be fun to do something like that and make it simple to use," says Pedone.
So he took his best shot, creating a free service designed for ease of use for those with basic computer skills–like baby boomers. He has since created a private label version that has gained interest from his alma mater and a local bank, who would store all the data on its site with its own security.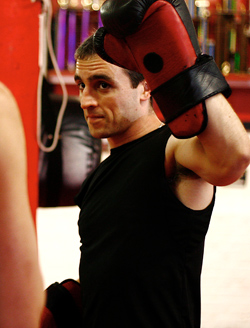 "People are very hesitant to store passwords because of security, so if you partner with a company, they feel safer," Pedone says.
"Safe" isn't something that would seem to concern someone who was once nicknamed "Fists of Stone Pedone." Pedone got started in boxing when he moved from Manhattan to the Poconos at age 13. His new neighbor was a boxing instructor and taught Pedone the sport. By 2003, the 119-pounder was a 2003 East Side Athletic Club Golden Gloves runner-up.
When Pedone got to college, there was no organized way for him to continue competing so he started a boxing club that eventually became Pedone's Heavy Hitters, which he operates in Stroudsburg. Pedone is the head trainer and, not surprisingly, has big hopes for his prize pupil, 16-year-old 2008 Pennsylvania Golden Gloves champion Danny Sandoz.
"We're shooting for the 2012 Olympics," Pedone says.
That might be Pedone's best attribute–he's always willing to take a shot, and he makes it count.
For his senior thesis in ESU's Honors Program, Pedone wrote plagiarism protection software. His professor liked the idea so much he encouraged Pedone to enter the Great Valley Technology Alliance Business Plan competition in 2006. Pedone won first place among 17 small start-ups, earning $20,000 in capital and $30,000 in in-kind services.
"That really propelled me," Pedone says.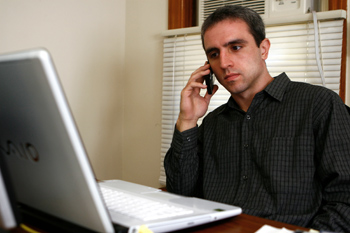 In late 2006, Pedone started GradTechs, a software development company. Although the company never got any projects off the ground and he split with his business partner, Pedone learned some valuable lessons.
"The main thing was I learned to get my head out of the code," he says. "Everything I learned in college, it's nice to have that skill, but to actually run a business you have to be more of a business person. What kind of product would someone actually want?"
Pedone currently has an investor for a patent-pending mobile version of needmypassword.com. It's a full system that's accessible via cell phone and features voice recognition. Need your Facebook password? Just say 'Facebook.'
Pedone can also add promoter to his list of titles. He held a boxing showcase dubbed "Pedone's Saturday Night Showdown," in early November with a 12-bout card and live entertainment at a downtown Stroudsburg theater. It's evidence, perhaps, that there can be some crossover between technology and boxing: You still need good marketing.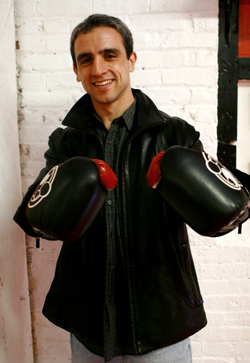 "It's a labor of love," he says.
That love leaves Pedone with little free time. He boasts some premature gray hair, admits he doesn't go out with friends much, and hasn't had time to have any relationships. His family, however, has helped him along what at times can be an "overwhelming" trip down the entrepreneurial road.
"It would be a lot easier to get a regular 9-to-5 job," Pedone says. "My father kind of regrets it. He tells me if I can do it now, do it, and if it fails you get a job."
Pedone, who makes most of his money doing consulting work, sees himself shifting toward a career in boxing in the future. With boxing's popularity waning and its information sources fragmented, Pedone is hoping to apply one of those straight-line software punches to the boxing world.
"There's definitely some sort of niche there," he says. "Especially to combat Mixed Martial Arts, which is taking over in terms of the Internet."
---
Joe Petrucci is a freelance writer inPhiladelphia. Send feedback here.
To receive Keystone Edge free every week, click here.
Photos:
Brian Pedone at work in his office; and training at his gym – Pedone's Heavy Hitters.
All Photos by Roni Moore
---