On a warm morning in August 2008, several dozen state bureaucrats, federal legislators, local officials and community advocates for various causes met in the rural Northeastern Pennsylvania outpost of White Haven to go look at a bridge.
And not a very big one, at that. Traversing an intermittently used rail line and hidden deep in the woods, the roughly 35-foot expanse had been recycled from a larger pedestrian bridge that once spanned an interstate.
But for those attending the bridge's grand opening, its installation portended a potential economic boom in an industry that, just decades before, the region barely acknowledged–and even hindered. Land that was once seen as an impediment to extracting valuable minerals is now itself seen as valuable.
The bridge didn't just connect physical locations, either. State and local government agencies, working from the top down to secure permitting and funding, partnered with grassroots efforts like the Anthracite Scenic Trails Association, which agreed to take ownership of the trail for legal and liability reasons.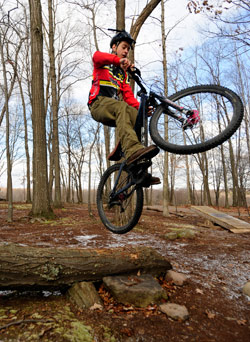 The association was already working to improve and extend the Back Mountain Trail to Misericordia University in Dallas, Pa. In November, the association unveiled a new two-mile stretch of that trail. Association President Judy Rimple, who had attended the bridge opening three months earlier, has spearheaded the project since she dreamed it up almost two decades ago.
Though it roughly parallels the four-lane heavily traveled state Route 309 and comes within feet of it in some places, the trail mostly exudes the serenity of its wooded surroundings and provides pedestrian access to businesses that were previously isolated by asphalt in the suburban, vehicle-centric community.
As trail expansion projects like this bloom across the region, people are beginning to think about recreation and ecotourism as real prospects for new industry.
"Already, when I start to sell this thing, I say, 'You can go to Starbucks; you can go to Pizza Perfect. You can stop; you can shop,'" Rimple says. "Economically, the potential is way, way up… You have nothing out here for shirts, shorts, no gear shops, no bike shops."
Reclaiming King Coal's lands
The new environmental focus is an about-face for the region's philosophy. In 1808, Jesse Fell demonstrated in his Wilkes-Barre home that coal makes a fine heat source. The region went on to make its fortune by exploiting the land and exporting the hard anthracite that powered the Industrial Revolution.
Among King Coal's many legacies are the environmental repercussions, including acid-mine drainage, massive culm banks of waste coal, and mine fires that have claimed lives and continue to claim the land under which they still burn. Several once-bustling communities have returned almost completely to wilderness, thanks to seething underground fires that forced hasty and permanent evacuations.
Laurel Run is one of those ghost towns, but, in a bit of irony, its failure as part of the coal industry will likely make it an important link in the region's burgeoning ecotourism industry.
Despite the environmental impact of coal mining, the region remains rich in natural resources, boasting 16 state parks, a state conservation area, thousands of acres of state game lands, and county parks and private land set aside for conservation. Outdoors recreation areas attract thousands of visitors annually, from the geologic grandeur of the Boulder Field at Hickory Run State Park to the waterfalls at Ricketts Glen State Park and the miles of prime hunting grounds in between.
But northeast Pennsylvania lacked for recreational infrastructure linking the various sites–until now. With the laying of the bridge near White Haven, the 20-mile Black Diamond Trail connects in a safe, maintainable and legal way to the D&L Trail, which the advocates of the Delaware & Lehigh National Heritage Corridor call its "backbone."
Navigating a series of local paths and old railbeds, walkers, hikers and bikers can now trek from Bristol in Bucks County to the Mountain Top area in Luzerne County.
"It definitely links people, just like the railroad did," says Lee Curry, an avid mountain biker who runs the North Eastern Pennsylvania Mountain Biking Association.
The trail doesn't end there, though. To reach its full 165-mile vision, a roughly 7-mile addition is being planned through the abandoned Laurel Run section of Luzerne County to the Seven Tubs Nature Area.
Beyond that, the county began developing this year a City of Wilkes-Barre Trails and Greenways Master Plan to connect the D&L Trail system to the county's own regional trail system, including the Back Mountain Trail and the Susquehanna Warrior Trail that run parallel to the Susquehanna River.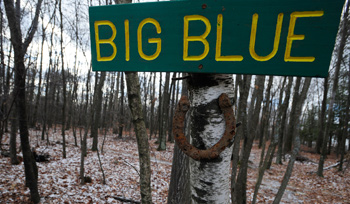 A latticework of trails
Other projects are either being planned or built that would eventually connect, among other things, about a dozen trails in the Wilkes-Barre area, the city's River Common project, the county's Moon Lake Park, Ricketts Glen, Misercordia University in Dallas, Pa., the cities of Nanticoke, Hazleton and Pittston and the Susquehanna Riverlands Environmental Preserve at Susquehanna Steam Electric Station nuclear plant near Berwick.
"Absolutely, it's going to happen. It makes sense to happen," says Nikki Banfield, Moon Lake's naturalist and a science teacher at a local high school. "If you have a hub and you connect trails from here to New York or here to Jim Thorpe or here to Ricketts Glen, it absolutely makes sense… I just think that people for a variety of reasons are… more energy conscious and enjoying the outdoors more."
And that, say project advocates, spells a whole lot of economic potential–from bike shops, accessories stores and snack shops along the trails, to opportunities for hosting national outdoors events. For Andy Gegaris, the director of the county's Department of Parks and Recreation, it's a twist on government's usual vision. "They like to drive recreation with economic development," he says while touring the Black Diamond Trail. "I like to drive economic development with recreation."
Chuck Kovach drives commercial trucks for a living, but his dream is to attract pedal power to the Luzerne County. Since 2006, he, Curry and other mountain bikers of the NEPMTBA have been tearing away brush, aligning rocks and installing obstacles to create about 20 miles of trails at Moon Lake Park.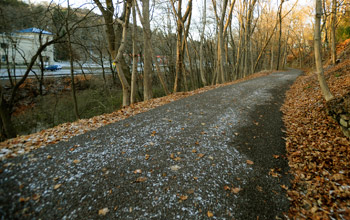 So far, the trails have only hosted recreational and training rides, but Kovach hopes to change that soon. His son Ty competes on a national riding circuit at other destinations, and they want to make Moon Lake one of the tour's premier stops.
"This could be a major Mecca in mountain biking in Pennsylvania," he says while pointing out the features his group added to challenge the strongest riders. "Once they start blogging about how good it is, this will explode. They have enough camping space."
And that's just fine for Cliff Madrack, the park's director. "I think it's really great. It's already bringing a lot of people to the park," he says. "We're turning money (in revenue) back to the county."
Michele Schasberger wants to bring the recreational spirit to the city. As the project manager for the Wyoming Valley Wellness Trails Partnership, she's advocating for more bike racks throughout Wilkes-Barre to give cyclists a place to park while they patronize downtown attractions. She says such small changes have done wonders in cities like Portland, Ore., which has been called the "greenest city" in the country. There, fewer cars and more bikes have created a better quality of life, which in turn begets a better economy.
Sharon Bower is a good example of that. When the weather's nice, the Wilkes-Barre resident commutes to her job as an assistant art professor at Wilkes University. While aging, her bicycle has two helpful features: wire baskets that she estimates hold about four bags of groceries or similarly sized items. "You can get places pretty quickly on a bicycle," she said. "I like the convenience of not having to search for parking."
"I love alternate transportation. I love the idea that we don't have to be in our cars everyday," Rimple says. "You're having fun. You're exercising. … These are the kind of economics I like."
---
Rory Sweeney writes on energy and the environment when he's paid to and sits around talking about them when he's not.
Send feedback
here
.
To receive Keystone Edge free every week, click here.
---
Photos:
Trail Developer Lee Curry heads out on the "Big Blue" trail which has a fresh dusting of snow.
14-year-old Tyler Kovatch practices in the skills area of in Moon Lake Park before heading out to the trails.
Trail Developer Chuck Kovatch points out a man-made rock garden so bikers can practice before heading out to the trails in Moon Lake Park.
The Big Blue trail head.
The Back Mountain Trail runs parellel to Route 309, and is a good spot for walks, bike-riding and other activities.

All Photographs by Aimee Dilger