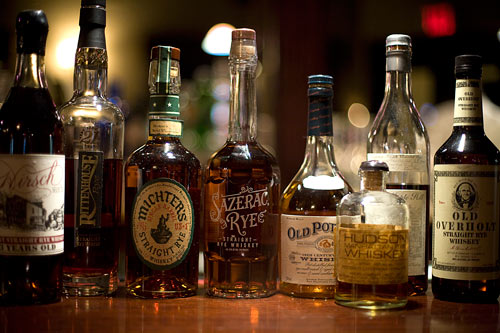 Philadelphia has always conjured up gritty, blue-collar images in the collective imagination. Mythical Eagles fans pelting Santa Claus with snowballs, Rocky pounding meat in the Italian Market, and the long shadows under the rumbling El–not a glamorous montage, and only partially true. Still, Philly is ever the Yo-no-bullshit, shot-and-beer town to New York's chilled Manhattan. But these days, it's the beer that has changed–delivered by neighborhood bars serving the swelling urban population coming of age alongside the explosion of craft beer in the nineties.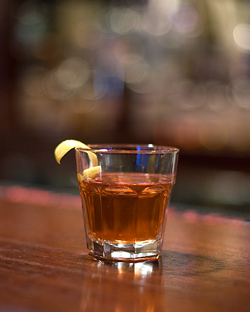 The city's "beer renaissance" has recently garnered notice from the New York Times as a craft beer destination, especially after the inaugural Philly Beer Week in March drew 15,000 attendees to more than 100 events. These days, you can't walk five blocks without crossing a neighborhood chalkboard-menu taproom. And although you can now get a great beer almost anywhere, a well-made cocktail is a far more elusive.
Only a few barkeeps in Philadelphia have taken on the task of serving carefully crafted drinks from recipes both traditional and innovative. By perfecting the art of the cocktail, these establishments have attracted a multi-generational, devoted and diverse customer base.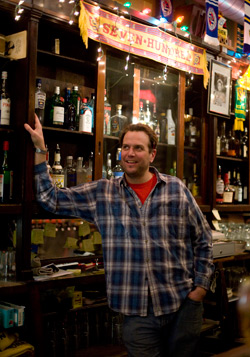 Kurt Wunder and partner Tracy Stanton opened the 700 Club in 1997, just as the trend for flavored vodkas mixed into rainbow cocktails was showing its face. The 700 crew decided prior to opening that they couldn't possibly carry every mango- choco- raspberry- concoction, and elected instead to make classic cocktails from standard bar staples.
"I'm into old-timey, classic cocktails," says Wunder. "I like drinks where the main ingredient is liquor." Eleven years later, bartender Anders Larson's modern cocktails (which bar guests get to name) created a following for his Sunday night shift–but the best-selling cocktail is still the classic rye Manhattan. The rye spirit would ultimately play the pivotal role in defining Philadelphia's few cocktail bars.
Southwark never intended to become the insider bar destination of Philadelphia. Kip and Sheri Waide opened the restaurant in 2004 focused on serving locally grown, slow food to the neighbors. As Kip's interest in pre-Prohibition cocktails evolved over time, the restaurant went from carrying two basic ryes to seeking out every bottling of the spirit they could acquire–a collection that now hovers around 23 choices. Along with Manhattans, the most popular cocktail on Southwark's menu is based both on rye and a traditional American recipe.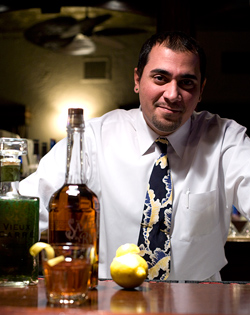 The Sazerac has been called "the first American cocktail", despite a lack of written evidence. Rye liquor was distilled by George Washington and is considered the original American spirit, predating bourbon. Southwark's local emphasis in the kitchen spills over into their bar: rye is indigenous to Pennsylvania, and the drink is lightly flavored with locally distilled absinthe Vieux Carre, made by the Philadelphia Distilling Company. Grassy, spicy, herbaceous and just a little bit sweet, every bar that is considered a cocktail destination in Philadelphia mixes up a textbook Sazerac.
The waxed ends of APO bartender Christian Gaal's handlebar moustache quiver as he crushes a bar towel full of Kold-Draft ice cubes. This custom snow is destined to chill the tumbler in which his Sazerac will be served. Such attention to correct method and precise proportions are the credo at APO, which pays homage to pharmacists as the original mixologists. Their sleek white marble bar is stocked like an apothecary's cabinet with hundreds of bottles, as well as house-made tinctures, syrups and fresh-squeezed juices–the better to blend both reinvented classics and innovative elixirs meant to stimulate, refresh or soothe.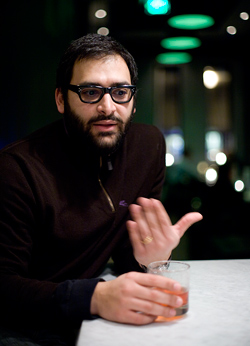 "Pharmacists created gin and bitters," says APO co-owner Sam Shaaban. "They were effectively 'dosing' the people who came to them in need, with herbs, tinctures and spirits, all mixed into something palatable that makes you feel better."
Christian Gaal, clad in 19th-century-style sleeve garters, tie and vest, is well versed in the history of mixology. "All ingredients were fresh before the 50's obsession with material sciences," he says. The Space Age delivered convenience powders and mixes to bartenders eager to embrace edible technology and gladly sacrifice time-consuming practices like squeezing fresh citrus juice daily. APO's concoctions like Dermis Fantasticus (for glowing skin) and Rust-Oleo (to prevent oxidation), though totally unique in Philadelphia, are really just a return to the original purpose of the cocktail.
In the public houses of Philadelphia, everything old is new again. While local breweries resurrect founding father's beer recipes, forward-thinking barkeeps learn the ways of the pre-Prohibition bartender, with his fresh fruit, sharp bitters and skilled hands. This gritty little city has demanded great beer in every corner bar; perhaps a superlative cocktail in every glass is our next step away from Rocky.
---
SLIDESHOW – Here's Christian Gaal preparing a classic Sazerac Cocktail at APO.
1. Frappe a short tumbler with crushed ice and water to chill.
2. In a shaker, combine over ice:
    2 oz. rye whiskey
    ¼ oz. simple syrup (or one packet sugar)
    3-4 dashes Peychaud's Bitters (Angostura does not work for this recipe)
    
3. Dump the ice and water out of the tumbler.
4. Take 3-4 drops Herbsaint, Absinthe or other pastis (Pernod, Ricard) and roll around the glass to coat, then dump out excess (In-and-Out method)
5. Shake or stir rye, syrup and bitters to chill.
6. Strain rye mixture into prepared chilled tumbler.
7. Twist a lemon peel (rind only, no pith) over the drink and garnish on rim of glass.
Enjoy in the old style.
---
Felicia D"mbrosio is co-editor of Philadelphia City Paper's new food and drink blog, Meal Ticket. She can be seen about town cycling through traffic at breakneck speed, holding forth at the finest, cheapest gin mills, and consuming as much raw fish as a small killer whale. Send feedback here.

To receive Keystone Edge free every week, click here.
---
Photos:
Selection of Rye Whiskey at Southwark
Sazerac Cocktail made by George Costa
Kurt Wonder at the 700 Club
George Costa, Southwark
Christian Gaal mixes at APO
Sam Shabaan, APO
Slideshow – Christan Gaal preparing a Sazerac Cocktail at APO
All Photographs by Michael Persico