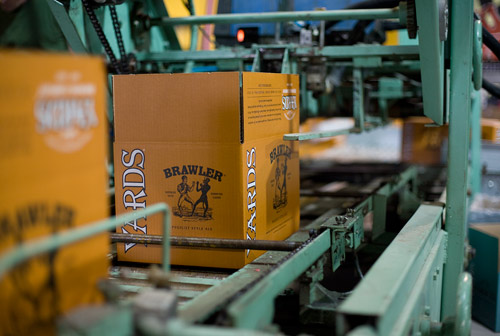 In Yards Brewing's new facility on the Delaware River in Philadelphia, the shattering bass line of a jackhammer on concrete keeps time with the clangor of the bottling line filling and packaging 300 cases of beer an hour.  
Yards founder and president Tom Kehoe looks ridiculously pleased as he regards his noisy kingdom. The jackhammer will create space for additional plumbing in the 26,000-square-foot brewery, adding a kitchen to the 3,000-square-foot tasting room and event space. "We're manufacturers now," says Kehoe. "We're learning to do everything more efficiently."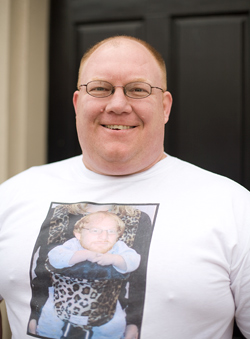 Kehoe and original partner Jon Bovit started out brewing beer for themselves in the humble confines of their college dorm room; twenty-plus years has brought changes in business partners and brewery locations. Though Yards has gone from brewing three barrels at a time to 137, Kehoe and partner Steve Mashington still regularly appear at Philly pubs to tap bar-top firkins (small casks) of their suds for the local hop heads.
This sort of neighborhood camaraderie is a driving factor in Philadelphia's emergence as America's premier beer-drinking city. The spirit of cooperation runs strong through the region's microbrewers, bar owners and beer lovers–this is a town of aficionados, not brand loyalists. That thriving culture finds its cataclysmic celebration of good times during Philly Beer Week, which kicks off its second year on Friday, March 6, and runs through Sunday, March 15.
In 2007, Philly Beer Week was dreamed up by Monk's Cafe owner Tom Peters, Philadelphia Daily News writer Don Russell, aka "Joe Sixpack" and Bruce Nichols of Museum Catering, as a way to expand the fun of beer writer Michael Jackson's annual tutored beer tasting, always the finale of The Book & The Cook culinary week in the city.  
"This is a multi-day, multi-event festival," says Steve Mashington. "Though our Beer Week was copied by cities like New York and San Francisco, there is nothing like it anywhere else." Over ten days, pubs and restaurants spanning the city and surrounding suburbs will host talks, tastings, classes, dinners, charity luncheons, and all manner of "zany ideas", as Mashington put it. Preeminent brewers from around the globe are flying in to meet the craft-beer enthusiasts who will be crowding bars for a chance to shake the hand of Guinness brewer Fergal Murray, John Maier of Oregon's Rogue and Larry Bell of Bell's Brewing, among dozens of others.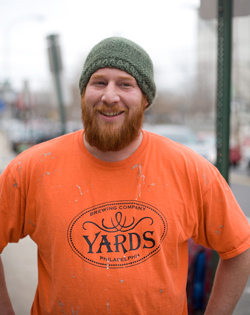 Pennsylvania brewers will be on hand as well, representing the commonwealth's strength and diversity in the craft-brewing sector. Sly Fox of Phoenixville, Victory of Downingtown, Stoudt's of Adamstown, Troegs of Harrisburg and Philadelphia Brewing Company are all represented at events spanning the city. Which brings us back to Yards, and just one of those zany ideas.  
Jim Kirk, co-owner of Philadelphia pub The Kite & Key, is like many Philadelphians: he is a fairly rabid Eagles fan. To advertise his status, he wears a custom-made green and white Mexican wrestler (luchadore) mask and cape to every single Eagles home game.  Tom Kehoe, Yards owner and equal Birds fan, wants that mask.
"We joked about stealing the mask and making him wrestle Tom for it," says Mashington. "But then it turned into, how can we come up with something different for Beer Week?"  
"Everybody says, pair my stout with your oysters, or my IPA with your spicy fish dish," says Kehoe. "We had to find something to set ourselves apart."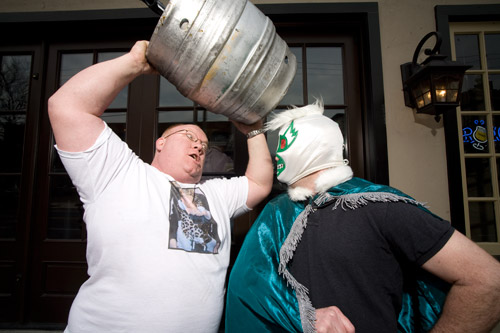 This brainstorm took a turn towards the ridiculous in final concept. Kirk and Kehoe's faux-bitter rivalry will be the main event at The Throwdown in Franklintown, a Saturday outdoor party that will pit the two men against each other in an inflatable-suit sumo wrestling match. If Kehoe, a former collegiate wrestler, takes it, the mask is his. If Kirk prevails, free kegs of Yards beer will be delivered to his bar.
Both will be accompanied into the "ring of glory" will their respective foxy female entourages, and the crowd will be encouraged with live music and specials on Yards Brawler Ale.
"This is what Philly beer week is all about," says Kehoe.  "It's not just about the great beer we are making and bringing into this town. We're serving up the entertainment here!"
---
Check out some of the more unusual diversions during Philly Beer Week, in addition to more than 600 other events. Full details at PhillyBeerWeek.org:
Sat., March 7, 10 a.m.: Dock Street/Brew Lounge Scavenger Run. Join Dock Street Brewery's West Philly crew as you hurtle though the streets on this five-mile scavenger run, with a free buffet and beer specials at the finish.

Sat., March 7, 9 a.m.: Le Philly Tour de Brew. Serious cycling and beer appreciation combine on this 60-mile ride to visit some of the region's best brewpubs.  

Sat., March 7, 11 p.m.: New Holland's Burlesque Show. Philly's Revival Burlesque girls will be performing beer-themed entertainments at South Philly beer bar, the P.O.P.E. Michigan's New Holland Brewing is bringing along their new Existential hop wine, a 10 percent ABV bomb made with ten hop additions, among other brews.

Fri., March 13, 9 a.m.: Friday the Firkinteenth at the Grey Lodge. Grey Lodge beer master Scoats has changed the luck of Friday the 13th forever with his firkin frenzies. The Beer Week incarnation will feature 30 firkins and gets popping when the rest of city is just pouring milk on their Wheaties.
Sat., March 14, 11 a.m.: Brewery Bike Ride. Start off at the Nodding Head brewpub for a breakfast beer before taking off on this 14-mile, two-wheeled cruise around Philly's best brewpubs.  
Sat., March 14, 2 p.m.: The Throwdown in Franklintown. Get in on this neighborhood block party that pits Yards owner Tom Kehoe against Kite & Key owner Jim Kirk in a sumo-wrestling match of epic proportions. Yards Brawler Ale specials to get you in the mood.
---
Felicia D'Ambrosio is co-editor of Philadelphia City Paper's new food and drink blog, Meal Ticket.She can be seen about town cycling through traffic at breakneck speed,holding forth at the finest, cheapest gin mills, and consuming as muchraw fish as a small killer whale. Send feedback here.

To receive Keystone Edge free every week, click here.
---
Photos:
Yards Bottling Line
Tom Kehoe
Steve Mashington
Tom Kehoe (L) and Jim Kirk (R) try to intimidate each other at their ' weigh-in '
All photographs by Michael Persico