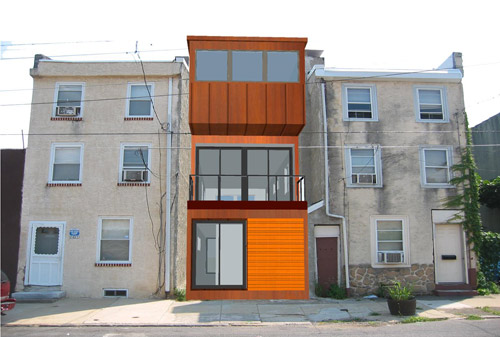 Green housing is all the rage these days, and although a newfound interest in sustainable buildings on the part of developers in Philadelphia could be a sign of budding environmental stewardship, it's more likely just shrewd budgeting. Green buildings mean lower energy bills–a fact that hasn't generally primed private home development but has increasingly engaged developers charged with long-term care of their buildings.
Sustainable, efficient design has also begun attracting community-focused groups dedicated to lower utility costs. It's therefore no surprise that the New Kensington Community Develop Corporation and partners are considering the weeHouse–a modular green home created by the St. Paul-based firm Alchemy Architects.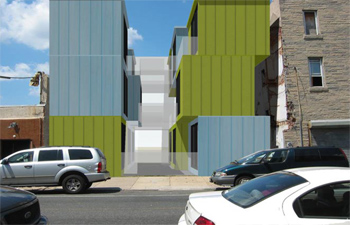 One of the priorities of the NKCDC's Real Estate Development program is the construction of affordable housing on abandoned tracts of land–or, in developers' parlance, urban infill sites. And Kensington sure has its share: according to 2007 data, there are over 1,400 vacant parcels in the 19125 zip code alone, which makes up only one-third of the organization's service area. The weeHouse, an experiment in progressive, sustainable design, could be the perfect fit.
The "pop-up" discussion
A team of local development and architecture experts has examined the potential of the weeHouse and other prefab designs in recent months. The weeHouse was one of several module designs featured in A Clean Break, an exhibition last October of "high-design, low-waste innovations for the urban environment" at Old City's Minima gallery.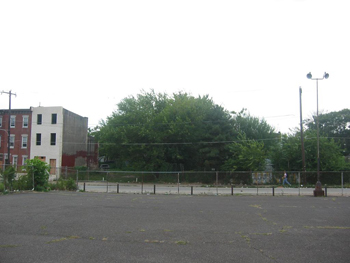 Gentrification, plenty of available infill sites, and a general penchant for risk have helped make Philly's post-industrial neighborhood of Kensington a breeding ground for ecologically minded projects, including Greensgrow Farms and Postgreen's 100K House, slated to be the first LEED Platinum, single-family home in Philadelphia. And just this past month, the Partnership for a Green Community kicked off Sustainable 19125, an initiative "to make the 19125 zip code the greenest neighborhood in Philadelphia."
In the months since A Clean Break, representatives from various organizations and firms have kept the conversation going about the weeHouse, with NKCDC supplying the groundwork. Minima's Elizabeth Oliver, along with the Philadelphia Association of Community Development Corporations, Alchemy Architects, NKCDC, and Diamond & Associates, studied the weeHouse careful and produced a white paper last October that included detailed financial information. Peilin Chen of Diamond & Associates crunched the numbers for the "not-so-weeHouse"–the name for the 10-unit and 40-unit weeHouse scenarios under consideration. The numbers, as always, are tricky.
A hard sell
Clearly, one major issue for the weeHouse is funding, which is further complicated by the current economic downturn. Says Chen: "Allocating government agencies, as well as investors, are now less willing to provide financing for any type of development, much less non-traditional development like modular housing."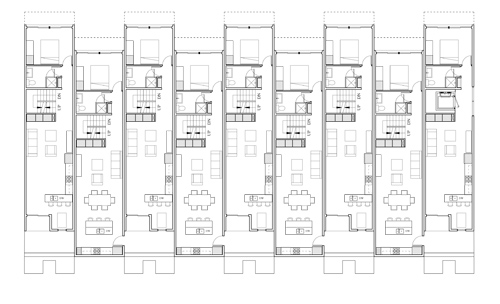 Also, city and state agencies may opt out of subsidizing a project that bares little resemblance to traditional affordable housing and whose factory production model eliminates a lot of union labor and accompanying requirements. Furthermore, the narrow streets and narrow lots of Kensington could pose a serious headache for the team delivering the weeHouse, which arrives on a large flatbed truck.
"Most of the sites I've seen Alchemy do have been larger, more spacious plots of land that allow them to easily maneuver onto and plop down the homes and assemble them right there," says NKCDC Real Estate Development Director Kevin Gray.
As Alchemy's Betsy Gabler acknowledges, the weeHouse's modern features–its "flat" roof and window-walls, for example–would make the homes stick out dramatically from the neighbor's existing stock. It may be a hard sell for community members already unimpressed with affordable housing designs–especially untested ones.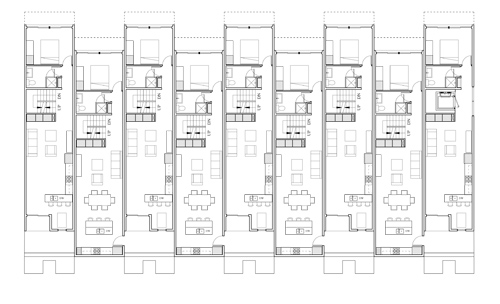 Money, and other green things
But certain features of the weeHouse may be compelling enough to draw the right forward-looking investors–at least for an initial demonstration project. Frugal funders will certainly be enticed by the study's cost analysis, which predicts total savings of approximately 20 percent for the "not-so-weeHouse" developments, compared to conventional construction.
Then there are its touted green features–LED bulbs, skylights, spray foam insulation, and in-floor heating–which guarantee long-term energy savings. And as long as Alchemy's home delivery plan finds a way through the narrow streets and around service wires, the firm believes it could help fill in the "missing teeth" that result from the razing of so many small row homes over the years.
It is in these lots that the flexibility of the weeHouse design could achieve an optimal effect and create eye-catching configurations. Gabler envisions numerous possibilities in the ways the modules can be "turned, stacked, layered and cantilevered for interesting entrances, overhangs, decks, and common walls."
Most advocates, however, would concede that innovative residential design will only bring a neighborhood and a city so far. Or, stated another way by Postgreen's marketer Nic Darling: "It's not just the home itself, it's how the home is used that makes it sustainable."
(For a closer look at the commissioned study on the weeHouse, go to www.nkcdc.org and scroll down to the weeHouse icon on the right.)
---
Brian Baughan is a freelance writer and editor living in the Kensington section of Philadelphia. He thinks his city would do well to add more bike lanes, local enterprises, and World Series titles. Send feedback here.
To receive Keystone Edge free every week, click here.
---
Photos:
An urban infill site (third photo from top), New Kensington CDC
All other photos and renderings, Copyright Alchemy LLC