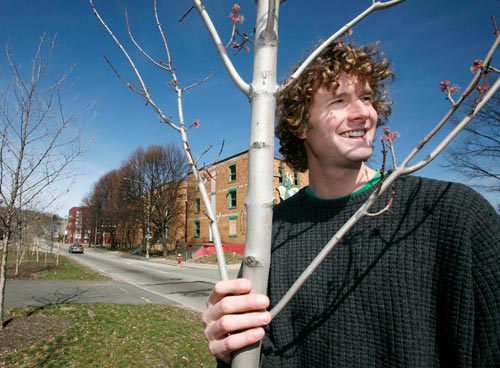 "Anyone" can build a new certified-green building or development, says Nathan Wildfire of East Liberty Development Inc., located in one of Pittsburgh's larger and poorer East End neighborhoods.  "It takes something a lot more special to build a truly sustainable neighborhood."
Wildfire will present one such plan at the Green Building Alliance's Green$ense conference in Pittsburgh on March 31. Experts from the U.S. and Canada will hold forth on what Wildfire calls "the three big E's" of sustainability: economic prosperity, social equity and environmental stewardship. Pittsburgh's convention center will be awash in new perspectives on green buildings, green jobs, and what to do with all that green coming from the federal government.
Wildfire, ELDI's sustainable policy coordinator, will focus on a new neighborhood development dubbed Mellon's Orchard South. "The basic concept is to repair our broken street infrastructure [and] reconnect the residential to the commercial core," he says.
Decades ago, East Liberty was pushed toward its decline by one very car-centric development–a traffic circle that separated the stores and social amenities on Penn Avenue from the populace surrounding it. Mellon's Orchard South will take the opposite approach, emphasizing those old urban ideas embodied in New Urbanism: living, working and playing all in the same place.
The nine-acre development will include up to 84 units of green housing based on a prototype house ELDI helped to create recently. The development will also aim for zero water run-off into the city's combined (and overloaded) storm and wastewater sewers, and will consider the use of technologies such as geothermal heating and cooling for the buildings.
"All of that is centered around a newly positioned neighborhood park," Wildfire says–a park that is currently just concrete surrounded by chain-link fencing, the traffic circle, vacant lots and one side of a police station (the side without windows).  
Mellon's Orchard South–former site of the famous banking family's fruit groves–is just one of five Pennsylvania developments to participate in a new LEED (Leadership in Energy and Environmental Design) certification pilot program called LEED-ND (Neighborhood Development). Another is in Downtown Pittsburgh, two in suburban Oakmont along the Allegheny River, and the last in Smithfield Township, Monroe County, in the Delaware Valley.
Once it becomes official this summer, LEED-ND will be the latest addition to the much-sought environmental standard created by the Congress for the New Urbanism, the Natural Resource Defense Council and the U.S. Green Building Council.
"We're hoping people will start looking at developments in a new way," says Sophie Lambert, director of neighborhood development for the latter group, who will be talking about LEED-ND at the Green$ense conference alongside Nathan Wildfire. "It's the first rating system that places an emphasis on location" of the building or development, she says.
Developments that are walkable, compact and provide complete services to connected residents reduce greenhouse gases even more efficiently than stand-alone green buildings. While low-density sprawl sparks an increase in pollution from transportation, dense urban areas can reduce pollution from both transportation and the buildings themselves.
"LEED-ND," Lambert adds, "is about… shifting the patterns that have been so automobile-dependent over the last 40 to 50 years."
Wildfire emphasizes that Mellon's Orchard South remains in the "very preliminary" stages since its announcement in mid-2007. ELDI is still gathering funding for major infrastructure work and to build the housing, as well as for acquiring properties. But he also notes that the development "is part of something larger–it's part of a plan for comprehensive greening of the neighborhood."
When ELDI releases that plan next month, it will be one of the first such "green vision" plans for an urban neighborhood in the state. Begun two and a half years ago, the plan is funded by the state Department of Conservation and Natural Resources as well as two local foundations.
Even though their LEED-ND development is still under discussion, Wildfire's group has been busy on the ground. Seven houses envisioned for Mellon's Orchard South have already gone up on one neighborhood street.
"They are the greenest homes ever built by a community development corporation in the city of Pittsburgh," he claims. The homes were constructed with 40 percent more energy efficiency than national standards, and designed by Downtown Pittsburgh energy-efficiency experts IBACOS, local architects and suburban home-builder S&A Homes–an unusual trio to work together, Wildfire adds.
"We're setting a regional precedent. We own the plan… and we can use it over and over again in the neighborhood. We're influencing how the region is building housing."
ELDI is also test-piloting green infrastructure to keep storm water run-off to a minimum and turn vacant lots into community assets through gardens and other uses.
"Everything we do is about making our neighborhood more sustainable," Wildfire says. "Our neighbors wouldn't necessarily use the word 'sustainable.' But if you asked them what an unsustainable neighborhood is, they can tell you every time. It is around them every day"–from crime to the general lack of amenities, crumbling houses with lead and asbestos, no place for kids to play, and pedestrian disconnects between housing and businesses.
Environmental improvements "are things that should be happening through the city, not just in the rich areas," says Lambert. "Everybody deserves access."
The Green Building Alliance's Green$ense conference will be held March 30-31 in Pittsburgh. Register here, and check out the schedule here.
---
Marty Levine is a Pittsburgh freelance writer trying to cover the waterfront from the water. Send feedback here.
To receive Keystone Edge free every week, click here.
---
Photos:
Nathan Wildfire stands by newly planted trees on East Liberty Boulevard

Photograph by Heather Mull