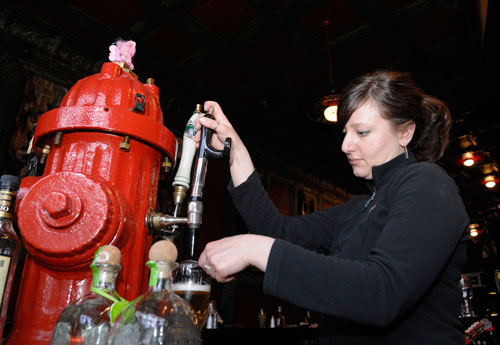 Harrisburg Mayor Stephen Reed is known for speeches chock full of facts and figures indicating just how far the City has come since he took office more than a quarter of a century ago.
It was just under 10 years ago, however, that the city–specifically, the downtown strip of North Second and parts of North Third and their intersecting latitudes–became a destination for locals from the nearby suburbs and even more rural areas, drawing diners and imbibers from more than five counties.
Since 2000, a long-running list of bars and restaurants have set up shop on the city's emergent "Restaurant Row" and beyond, garnering the attention of thirsty state employees, hungry attorneys and lobbyists as well as the young 20- and 30-something crowd desperate for a place to see and be seen on weekends.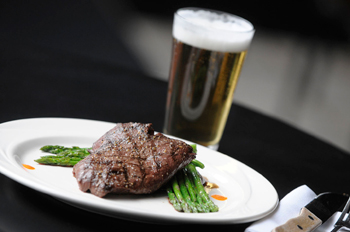 And although the list of successes runs as long as failures, an enterprising and creative group comprises downtown Harrisburg's thriving restaurant and tavern owners. The scene on Second Street may vary by season, but a handful of motivated restaurateurs have taken a hands-on, personal approach to running their businesses–and proven that they're here to stay.
Tom and Amy Scott moved to Harrisburg in the early 1990s, fresh from corporate restaurant jobs and ready to take on the world. They opened Scott's Grill with a simple goal–to run a nice restaurant and a good bar, to have good food, and "keep it simple."
By the mid-90s, business had picked up in an otherwise dilapidated Harrisburg, and Scott's Grille, known as "The Capitol Steakhouse," became a favorite of legislators, lobbyists and other politicos.
Scott's was, and is, known for its steaks, which remain a menu staple. But it was also was one of the first spots downtown to bring in a DJ on weekend nights.
Although it changed hands several years ago, when the Scotts sold the place to restaurateur Jeff Rose in 2003, its song remains the same. From its great happy hour to Saturday night dance parties, Scott's also boasts the only true "deck" in downtown; its full-pane front glass windows have always made it a place to see and be seen.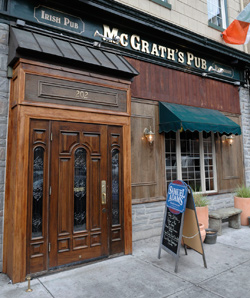 Weekdays, locals come in for $1 domestic drafts, discounted well drinks and half-price bar menu from 5 p.m. to 7 p.m. Monday through Friday–plus daily specials like $5 Martini Mondays. Come the weekend, Scott's opens its famous raw bar for Friday Happy Hour, offering shrimp, clams and oysters (raw or steamed!) for just 50 cents each. As added incentive, Scott's has begun a midnight buffet on Friday and Saturday nights to feed hungry imbibers in an economy that has turned cold.
When the Scotts sold their restaurant, they didn't move far. Tom and Amy opened up McGrath's Pub next door to Scott's Grill in 2002. Using their same simple business methodology–"to be hospitable and put out good food"–they've succeeded in creating yet another downtown staple.
"We are hands-on owners and operators," Tom Scott says. "We live here, we want it to be a good business."
The pair says working together as a married couple hasn't always been easy, but they have found their decision-making groove. Most days, you'll find Amy working the day shift, and Tom comes in for the nights. Together, they are the face and personality of the pub, along with long-time bartenders and servers.
McGrath's draft and bottled beer selection has been one draw for regulars. The taps change at least weekly, and the duo is considering adding the option of growlers–creating a "to-go" option for beer aficionados.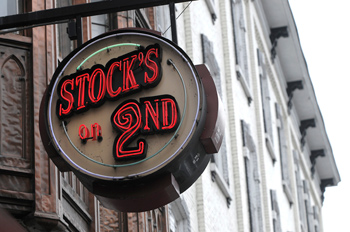 In an otherwise stagnant economy, the Scotts said the state smoking ban, enacted last fall, has actually benefited them. In an effort to maintain numbers, the couple built a separate entrance to their second floor bar and lounge area to adhere to the ban while allowing smoking upstairs. While younger imbibers (and smokers) crowd upstairs most nights, food sales increased on the first floor.
Stephen and K.J. Weinstock, another married restaurant team, have run Stock's on Second since 1998.
"When we opened the restaurant, the majority of our business was reservations only. We got very few 'walk-ins," says Stephen Weinstock. "Since then, Whitaker Center opened, the Crowne Plaza opened and many new restaurants opened, which created a lot of foot traffic. Harrisburg now has a nightlife, compared to 1998 where most people went home after work."
Like the Scotts, Stephen Weinstock attributes their success to being hands-on and a "face" for the restaurant.
"Being involved in the day-to-day operations enables us to provide the consistency of great food and great service, which many of our guests can't get at other restaurants," he says. In 1998, Stock's was a new, modern restaurant serving "American Eclectic" food. They change the menu seasonally, though customer favorites often return.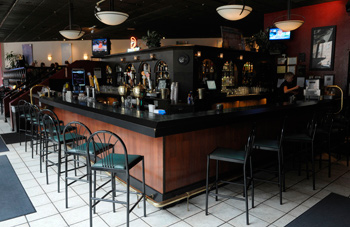 Stock's is also known for one of the best happy hours downtown. Their bar menu looks not like those of typical fried meats and vegetables, but miniature versions of their always-interesting menu. Items like Asian-style Duck Dumplings, the Pastrami "Reuben" Sandwich or Stock's famous homemade chips and dip grace the pages of its bar menu, which, like its full counterpart, changes seasonally. To drink, the bar offers $1 domestic drafts and $2 single liquor well drinks from 5-7 p.m. on weekdays.
Given the Weinstock's success, the duo decided to open a sister restaurant, Carley's Ristorante & Piano Bar, just around the corner–next to McGrath's. The two restaurants connect in the back.
"K.J. and I can be at both locations each day, so either one will not suffer," Stephen says. "This restaurant has been a huge success."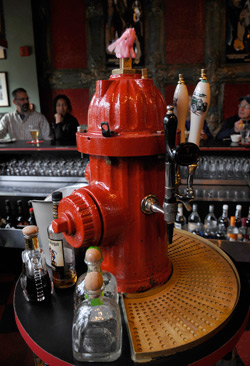 Of course, in the current economic slump, huge successes can be fleeting. So these pro-active  restaurateurs are finding ways to stay busy. Weinstock says his restaurants are not suffering so badly from the recession–but only because they choose to adapt.
"People are coming in, but they are spending less," Weinstock says.  "[But] we aren't sitting back and doing nothing."
At Carley's, they just rolled out a new "Beat the Recession" menu, Sunday through Thursday–a three-course dinner for $20.09 per person.
Amy Scott says a stronger future for downtown Harrisburg lies in the collaboration of the business community: "We all need to get together more often and promote downtown together."
Through active promotion, says Weinstock, locals will realize they have a bone fide "Restaurant Row" in downtown Harrisburg.
"This was not possible years ago; they can come downtown and have dinner, see a show or concert, than come afterwards to have a nightcap, all within walking distance," he says. "If you think back to 1998, this is truly remarkable."


---
Sara Bozich is your unofficial ambassador to Harrisburg. Read her
nightlife column
or follow her blog at
SaraBozich.com
.
Send feedback
here
.
To receive Keystone Edge free every week, click here.
---
Photos:

Bartender Toni Treece pouring a beer from the Hydrant Tap – Firehouse Restaurant
Flat Iron steak at Scott's Grill
McGrath's Pub
Stock's on 2nd
Scott's bar
Hydrant Tap – Firehouse

All Photographs by – Jason Minick