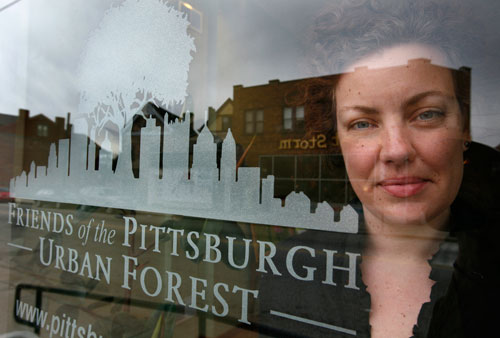 Is your city still wrangling rain runoff with mammoth grey pipes under vast expanses of concrete? That's just not working anymore, explains Janie French. For Pittsburgh's future, says this watershed programs manager for 3 Rivers Wet Weather Demonstration Program, "we're trying to urge nature to manage the stormwater issue."
Enter green infrastructure, from better street tree maintenance, planted roofs and rain gardens to innovations such as porous (or "pervious") paving and Silva Cells. All of these sustainable stormwater solutions hold more water in the earth longer, often putting it to good use, and keeping it away from overburdened pipes.
"These new technologies can really spur new types of jobs," French says. "New industries are springing up because of these new green technologies."
Non-profit 3 Rivers Wet Weather was started 11 years ago to track a major problem in the city's waterways: combined sewer overflows, or CSOs. Because everything from house downspouts to curbside grates flush rain into the city's sewer pipes, their capacity is often exceeded, pushing raw sewage into streams and eventually the rivers. During the May-September river recreation season, the city's river water violates the EPA Clean Water Act an average of 59 percent of the time.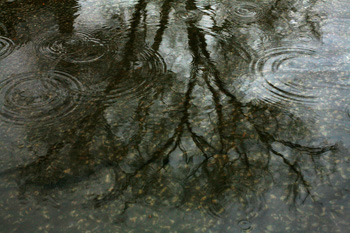 "We've had some years where it's 75 percent of the time," French says. "And as little as a tenth of an inch of rain can cause a CSO," while the average rainfall here is a quarter of an inch.
"We think there's an added value to green infrastructure," says Matt Smuts, sustainability coordinator of the city's Urban Redevelopment Authority. He believes it offers not just economic savings but "added esthetic and other values that traditional grey infrastructure don't provide," from environmental help to amenities like green parks and gardens in place of parking lots. And, he adds, "Now's the time to do it."
That's because the city and surrounding region are today planning to fulfill a 2006 federal requirement that the sewer system be upgraded to reduce CSOs–at a cost of $3 billion, according to early estimates. A report this month by city and county officials put the cost at $10-50 billion.
The plan is due in 2013, while the work is supposed to be completed by 2026. Smuts helped convene a Green Infrastructure Task Force last year to color the plan green. In order to get all the stakeholders on board–including county authorities, which would have to change the law to accommodate green solutions–the Authority is supporting pilot projects in city neighborhoods.
Changing the system, one drain at a time
And one of the city's largest neighborhoods–East Liberty–is farthest along.
East Liberty Development Inc. is building new, Authority-backed houses on one street with their downspouts running to underground gravel infiltration beds, which slow and preserve rainwater to be absorbed by nearby street trees. A neighborhood hotel, currently headed skyward, will channel road and adjacent-building runoff in a similar manner.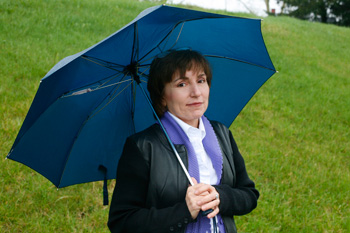 "We're the first neighborhood in the state to have a green initiative plan," says Nathan Wildfire, ELDI's sustainable policy coordinator. "Through our green visioning process… we learned that East Liberty is one of the biggest contributors to the city's CSO problem," thanks to its many large buildings, roads and parking lots. "It would be a missed opportunity not to pilot these stormwater strategies. Being able to shape regional conversations is important to us as a CDC [community development corporation]. We want to be changing how the system works right now."
ELDI is also considering using the pilot project funding it has received from 3 Rivers Wet Weather and the local Heinz Endowments to fund other under-sidewalk treatments, redirecting more downspouts from drains to bio swales and rain gardens (essentially public- and private-land versions of the same rain-catching landscapes with water-loving native plants), as well as porous pavement. They are hoping to retrofit an existing residential street and develop new road-construction and streetscape design plans that slow down more runoff with everything from bigger tree wells to green roofs.
"There are challenges to each of these strategies," Wildfire says. "Pilot projects don't just have to work. Our big goal is to prove that if we have a certain amount of money to spend as a region on our CSO problem, we should spend it on green infrastructure and not costly grey infrastructure."
Other pilot projects, the Authority's Smuts says, include a new waterfront park in the city's South Side Works development. Water from adjacent shops and office building roofs will run into underground cisterns and water the park landscape.
"I'm looking for opportunities to try this stuff throughout the city," Smuts adds.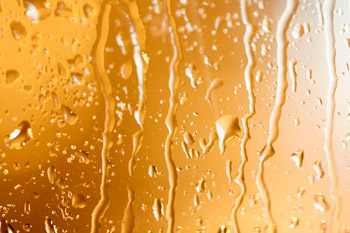 There are many other groups leading the green infrastructure charge in Pittsburgh–and trying to get others to follow along. The Audubon Society of Western Pennsylvania is about to launch the Three Rivers Rain Garden Alliance with a website that tells you how to size and install your garden, set to debut later in April.
Rain gardens put plants in a small dish or depression to which runoff from roofs and driveways is directed. "They're mimicking nature's way of dealing with stormwater," says local Audubon head Jim Bonner. A well-maintained rain garden works as a filter and helps keep pollutants and debris from the waterways, not to mention preventing CSOs.
That big grass lawn of yours? Not quite good enough. "It's only getting maybe 60 percent of all the water that goes into it–particularly with the hillsides that Western Pennsylvania has."
At their website, you'll be able to type in your house dimensions and the number of downspouts and then plan the proper garden, down to the cost. You can register your garden, upload pictures, even tie it into 3 Rivers Wet Weather's digital rain gauge so you can see how much rain is falling and how well your garden is working, as well as how well the community, region and watershed are doing. The Alliance will offer mini-grants of $100-300 for people to purchase their plants.
"We'll also give you a wonderful sign to go into your yard," says Jim Bonner, announcing that you're part of the Alliance.
Amazing pavement
In Pittsburgh's North Hills area, Art Gazdik is showing how pervious pavement can be part of the solution as well. As Ross Township Engineer, Gazdik has been testing the material since 2003 in several areas around the municipal building and nearby ballfield, allowed by new Ross ordinances.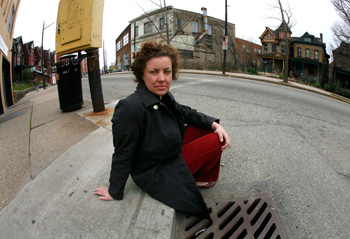 "This material is quite amazing," he says. "quot;If you take a bucket of water and pour it out, it'll just pour through." It doesn't have the smooth look of ordinary concrete, with its fine material rising to the top. Pervious concrete has larger aggregate, all of the same size, mixed with cement. Where the stones touch, they stick together, leaving air pockets for water flow.
"It looks like peanut brittle in a way–it looks more organic than finished concrete," he says. "As people begin to develop and redevelop, we expect more people will use the material because of its benefits for storm runoff."
In Downtown Pittsburgh, Phyllis Barber hopes the green roof on a third-floor terrace of Highmark's state headquarters building at Fifth Avenue Place becomes a model for more green among the city's skyscrapers.
As sustainability coordinator, Barber says, "we would like to work with interested parties Downtown" and show off Highmark's efforts as an example for other buildings. "We're hoping that it's a good tool to help others in the city do green roofs."
Opened in 2008, its 22,000 square feet hold 25,000 plants, from day lilies to grasses. The health insurer estimates it will capture most of the 37 inches of average annual Pittsburgh rainfall and last at least 40 years. The previous roof lasted only 20.
Toward an urban forest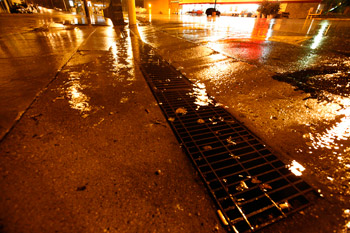 The ultimate urban green–street trees, the larger the better–are getting a boost from Friends of the Pittsburgh Urban Forest, a three-year-old nonprofit. The group released a city inventory last year that counted 29,641 street trees of more than 130 species. But their canopy only covers 1.5 percent of the city, and fully a quarter of the trees are in two East End neighborhoods with large parks. The report also found that there were too few young trees, and that half were only in fair condition. Replacing them all would cost $137 million.
But those trees currently capture 41.8 million gallons of stormwater each year, or 1,411 gallons per tree, saving the city $334,601 (or $11 per tree) each year for stormwater mitigation alone.
The Urban Forest group has now raised $1 million from three local foundations to maintain the city's larger trees and plant 20,000 new ones. They're also planting in a new way–in 30-square-foot wells, more than three times the traditional size.
East Liberty is certainly ahead of other neighborhoods, notes group head Danielle Crumrine. "They're the neighborhood to look at because they are looking at large-scale tree planting, larger pits–they're really out looking at green infrastructure, not just neighborhood beautification."
Her group's own demonstration project is downtown, next to the August Wilson Center for African American Culture, which is currently under construction. They'll be using Silva Cells–"imagine large milk crates," Crumrine says–that allow for greater soil volume and root growth, and thus water retention, under the sidewalk, instead of the typical Western Pennsylvania mix of gravel and compacted clay.
"It'll be an ideal place to look at planting in an urban core," she says. "This really takes it to the next level."
---
Marty Levine is a Pittsburgh freelance writer trying to cover the waterfront from the water. Send feedback here.
To receive Keystone Edge free every week, click here.
---
Photos:
Danielle Crumrine at Friends of the Pittsburgh Urban Forest
Water collects in large puddles
Janie French of 3 Rivers Wet Weather
Stormwater on a Pittsburgh window
Rainwater collecting at a drainage point
Danielle Crumrine

All Photographs by Heather Mull