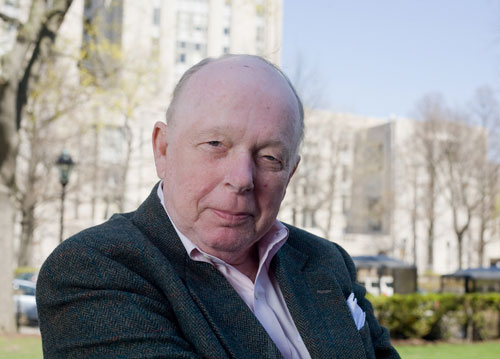 As a former newspaperman, John G. Craig, Jr. possesses a honed talent for challenging the veracity ofstories told to him. That habit of mind helps drive his work to secure Pittsburgh Today as one of America's rarerepositories of information about the relative performance of a metropolitanregion.
Two aspects of Craig's career come into focus when the former editor of thePittsburgh Post-Gazette explains how his years in a newsroom inspired him tolead a civic project to publish accurate, independent datacharacterizing Pittsburgh's position in the world–and force attention ontomeasures to change its future.
First, he has a professional journalist's memory for just about everystory that attracted ink during his newspaper career. And he's a practicedseparator of facts from the many modes of storytelling that skillfulpetitioners use on an editor when seeking either more or less attention in the dailynarrative of public life.
"I'm really influenced by my experience at the Post-Gazette," hesays. "Somebody says we have a world-class symphony. Let's assume that youcare to have a world-class symphony orchestra. How do you know it'sworld-class? What's the basis for that statement? If you're going toraise a million dollars for charitable good works, and 50 percent of the moneyis going to the symphony because it is world-class, you'd better know why it'sa world-class symphony."  
Getting a grip on the Pittsburgh region for the purpose of measuring any numberof its "world-class" comparisons is no small achievement. Aselsewhere, the relevant geography here pays tribute to the interstate commerce clause in theU.S. Constitution by overflowing state and local boundaries that define the numbers. Craig's colleagues follow a map that tracks where people move in the region to make a living and set down roots. The project thusincludes parts of northern West Virginia and eastern Ohio among 22 countiesthat share relevant social and economic ties.
"It's an organism," Craig says. "You start thinking about wheredoes the Post-Gazette circulate newspapers? Where do people come from to get onan airplane? Where do the Pirates (and Steelers) have season ticket holders?Where does PNC put branch banks? Where do people come from to work inPittsburgh? You don't want to overlook any part of it."
Within that whole vital basin of regional life, Pittsburgh Today measures jobs, earnings, business vitality, the quality ofhousing, arts and entertainment, government, health care, education, theenvironment, and other domains of civic well-being. Activelydisseminated through regional organizations, indicators from the dataare updated daily at the Pittsburgh Today website and discussed in a report that Craigwrites for each issue of the Pittsburgh Quarterly.
While driving the vehicle that tracks everything vital in the Pittsburgh region, Craig, who serves as president of Pittsburgh Today, collaborates closely with allies Paul O'Neill,former Secretary of the U.S. Treasury and CEO of Alcoa, and three other membersof the Pittsburgh Today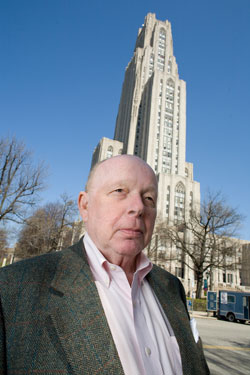 organizing committee: Dr. Bernard Goldstein, retired dean of theUniversity of Pittsburgh Graduate School of Public Health, Dr. Granger Morgan,Professor and head of the Department of Engineering and Public Policy at Carnegie Mellon University, and Dr. Lauren Resnick, Director of the University of Pittsburgh Learning Research and Development Center.
"I never doanything without checking with them," Craig says of the group he calls"the Five Witch Doctors."
      
With the backing of that robust panel of fact-oriented leaders, Pittsburgh Today found a place to call homewhen Carnegie Mellon University andthe University of Pittsburgh agreed together to promote the collaboration of scholars and provide space, administrative and research support. The latter draws Craig almost every day to theUniversity of Pittsburgh's Center for Social and Urban Research. There he collaborates with research specialist Chris Briem, Pittsburgh Today'sdirector of finding the answers to everything.
In deciding what to measure, the team actively consults with foundations and other key regionalpartners, and also with a community of professionalinterpreters of regional data. The project thus elevates a platform in the community forfact-oriented discussions of public policy.
"We have really gotten into peoples' heads that this is a region; and thatit isn't Pennsylvania only but includes West Virginia and eastern Ohio,"Craig says. "About 28 percent of the people who live in [the] Pittsburgh[region] aren't citizens of Pennsylvania. You have these areas that are part ofPittsburgh but they've been outside the profile. Getting them in and peoplethinking about it is the first step."
A next step might be organizations or agencies using the boundaries of real life to offergoods and services for the entire region. Meanwhile, more remains tobe measured for followup by those powers that would be able to influence outcomes.
For that reason, Craig has pioneered this rare regional data archivethat publishes every day. "That comes out of my newspaperexperience," he says. And perhaps also it comes from knowing after so many years at the head of a major news organization that peoplein place to decide the future of Pittsburgh are doing so every day–andnot always with the facts.
"I think that the odds of having people make a correct decision areimproved if they have access to good information," Craig says. "Thereis no guarantee if you have this information available that they are going touse it. But if you don't have it available, there's absolutely no hope at allbecause there's no choice."
---
Joseph Plummer, Innovation and Job News Editor for Keystone Edge, writes about companies andorganizations that are creating change in the Pennsylvania economy. Inan earlier part of his career, he wrote daily editorials for the Post-Gazette afterlively morning debates with Editor John Craig. Send feedback here.
To receive Keystone Edge free every week, click here.
---
Photographs of John G. Craig by Renee Rosensteel