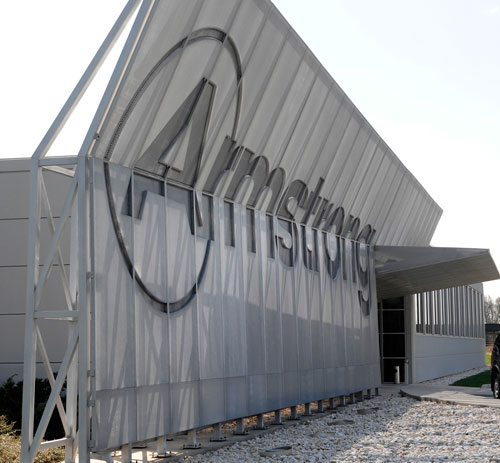 Nick Grasberger is used to sailing rough seas. His father passed on his love for the water, a passion that became even stronger in college when he met his future wife, who grew up boating. He and Michele have a second home on the Chesepeake Bay, to which they steal away with their five children every chance they get.
"I have saltwater in my veins," he says.
It's fitting, then, that Grasberger has been equally adept at steering the ship of some of Pennsylvania's biggest corporate entities. In the last decade, he's done it in stormy conditions at two different companies, most recently at Armstrong World Industries, which promoted him from CFO to CEO of its Armstrong Building Products unit in March.
A $3.4 billion global leader in design and manufacturing of floors, ceilings and cabinets, Armstrong operates 37 plants–six in Pennsylvania–in 10 countries. The company was born in a one-room shop in Pittsburgh when a son of Scotch-Irish immigrants, Thomas M. Armstrong, joined with John D. Glass to carve bottle stoppers from cork by hand. By 1890, they were the world's largest cork suppliers, and a factory was built on the edge of a Lancaster cornfield in 1906.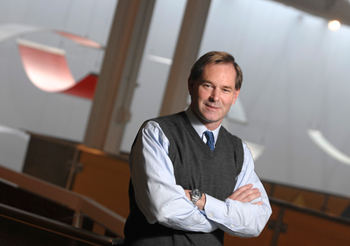 Now Armstrong employs more than 2,000 in the Commonwealth, mostly at its corporate campus in Lancaster, and has made a name for itself around sustainable pursuits. It was only less than three years ago, however, that Armstrong was emerging from a bankruptcy brought on by more than $1 billion in personal injury claims related to asbestos-containing products it made.
Grasberger joined Armstrong as CFO in 2004 from Kennametal, the billion-dollar global cutting tools giant in Latrobe. In four years there, Grasberger restored the company's credibility with Wall Street and restructured its finance function by putting a premium on discipline.
At Armstrong, Grasberger helped restore confidence throughout the latter half of a six-year stint in Chapter 11.  Soon after Armstrong emerged from bankruptcy in October 2006, the Asbestos Trust, which owned two-thirds of the company, ordered Armstrong to look for buyers.
"It was very relative to my time at Kennametal," says Grasberger, "which was focused on a turnaround, but with a more traditional set of circumstances."
With credit markets drying up and Armstrong posting significant gains the following year, the plan to sell was abandoned early in 2008. Despite the economic downturn, Armstrong has continued to be profitable with a healthy balance sheet–something many of its peers can't say.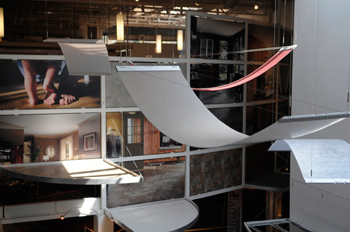 But in his new role–he replaced the retiring Stephen Senkowski–Grasberger has moved from first mate to captain of the company's largest business unit, and has a much broader view of where Armstrong must go.
"We need to create an energy level around new and innovative things," says Grasberger. "There's an opportunity for Armstrong to distance ourselves from the competition. We have the capital and human resources to invest in emerging trends."
That, however, doesn't mean any big changes.
"We can't handle disruption," says Grasberger. "It's not about me as a new leader, it's about what we need to do to keep the business on level ground."
One of the first things Grasberger undertook was a basic, yet surprisingly overlooked detail. Armstrong did not have a vision statement for its celings business. There was nothing–in writing, anyway–that clearly outlined what the business unit wanted to be.
"When I suggested this, I thought the rest of the leadership team would look at me like I'm nuts," Grasberger says.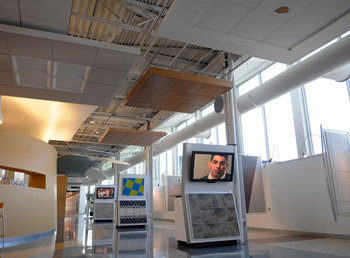 Grasberger presided over a half-day session that led to a statement that will help define "why we come to work every day" and hopes to roll it out shortly. In addition, he's been focused on integrating the functions of the company's former North American building products business, a position that no longer exists.
Mostly, though, Grasberger has been managing the daily grind of a troubled economy. Armstrong has not been immune to plant closings and shift layoffs, and has taken proactive measures, like reducing its pool for merit raises. The company, Grasberger says, has managed it tightly.
"There's been no luxury of a 30-day orientation," he says.
Armstrong has been focused on doing what it does best–produce award-winning and increasingly environmentally friendly building materials. In November, 2008, it was one of four companies to form the EMerge Alliance, launched to create a new standard for power distribution and device control in commercial buildings.
The alliance will lead the creation and deployment of a new power, control and device-level technology standard for commercial interiors developed around the use of safe, low-voltage, direct current (DC) power. It's the beginning of a shift from devices being wired for a building's lifetime to adaptable buildings that integrate methods of improving energy efficiency.
Armstrong is affiliated with more than two dozen other stewards of sustainability throughout the world. The company's own corporate headquarters in Lancaster is LEED-EB Platinum certified by the U.S. Green Building Council. It's something Grasberger believes can be the next big wave for Armstrong to conquer.
"If architects and designers and building owners are as serious as they claim to be about environmentally friendly products and manufacturing processes, there's a big opportunity for us."
---
Joe Petrucci is a freelance writer inPhiladelphia and one of Keystone Edge's Innovation and Job News editors. Send feedback here.
To receive Keystone Edge free every week, click here.
---
Photos:
Armstrong Exterior
Nick Grasberger
Armstrong Ceilings
Armstrong Showroom

All Photographs by Jason Minick