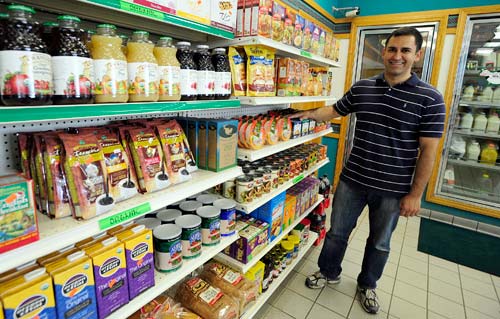 Awais Ahmad doesn't fit the usual profile of an organic, local food proponent, nostalgic for the days of local farming and regular visits from the milkman. In fact, given his background as an investment banker, he might seem quite the opposite.
 
But it's actually through his business lens that Ahmad sees a growing market for exactly that service, and he's trying out his hunch in Northeastern Pennsylvania.
 
In September, Ahmad and partners V.J. George of Nanticoke, Pa., and Thomas Job from New Jersey opened what Ahmad calls "a hybrid between a grocery and a convenience store" in the Mountain Top suburb that overlooks Wilkes-Barre and the many small towns of the Wyoming Valley.
 

Ahmad recently moved to the area so his children could be closer to his in-laws, and he believed there was a market for his idea.
 
The store, Good2Go, offers the usual conveniences–candy bars, newspapers and snacks–but also markets premium options such as locally baked breads and pastries, organic eggs and glass-bottled milk from grass-fed cows living on the other side of the valley.
 
"Demand was four or five times where we thought it would be. It surprised me," says Ahmad, who graduated from the University of Texas in 1997 and worked in Philadelphia at an investment firm dealing in mergers and acquisitions. "It dawned on me that it might be worth it to just take the milk to them… People are sort of nostalgic about it."
 
And the overwhelming response gave him an idea. Starting this month, Ahmad is making organic foods purchases even easier by bringing them to customers' doors. His company is hiring two delivery drivers and buying two specially made refrigeration trucks to deliver the products it sells in its store to area homes and offices.
 
Currently, the service is offered only in Luzerne and Lackawanna counties and limited temporarily in some rural areas, but Ahmad hopes to expand throughout the region and along the Pennsylvania Turnpike's northeast extension.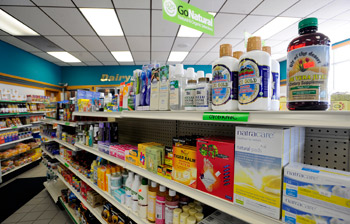 "It would be challenging for us to deliver to one person in a secluded area, but we'll make every effort to do it," he says. "We'll get to them, it's just a matter of a few weeks."
 
The return of a service that died in the rush to make everything cheaper and more efficient comes at a premium: each delivery includes a $3 charge and prices per product are higher than they are in the store, which are already higher than most dairies and bakeries, as well as basic milk and bread products at the local supermarket. But Ahmad is betting people are willing to pay for the convenience, nostalgia and superior products.
 
"We're not trying to compete or differentiate ourselves on price," he explains. "Certainly our pricing is high, but the market is going to go for quality."
 
And he's got results to prove it. Within a week of sending out a postcard soliciting customers, he said there were more than 100 people signed up. Although the target demographic is people who want quality beyond what's available at Wal-Mart, Ahmad says and effort is made to keep things reasonable for average consumers. The prices of certain packaged organic products have been reduced, and, he says, "if you look at our overall [$3-per-order] delivery charge… we're not pricing it so it's out of the reach of the average individual."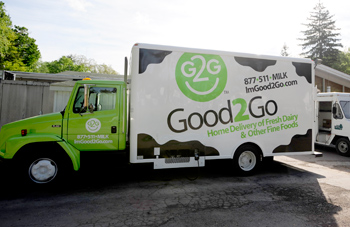 Ahmad's research prior to opening the store took him to Rhode Island, where the delivery business never dried up. He rode along with deliverers, whose well-established itineraries include entering empty houses, replacing stock and reorganizing customers' refrigerators.
 
Ahmad isn't sure if his business will get that service oriented because of the liability issues, but he's very conscious of the importance of quality deliverers.
 
"I was told we have to be very careful in terms of who we hire because they become the face of the company," he says, noting that an incident involving a driver and misappropriation "would be a business killer."
 
Ahmad's proposal was like a dream come true for Chet Mozloom, executive director of the Lands at Hillside Farm. He had always hoped to see the farm's products delivered, but the business idea didn't fit into the farm's nonprofit structure.
 
"We think it's important, sort of the throwback, the nostalgia of it," Mozloom says. "The basis of home delivery is always milk."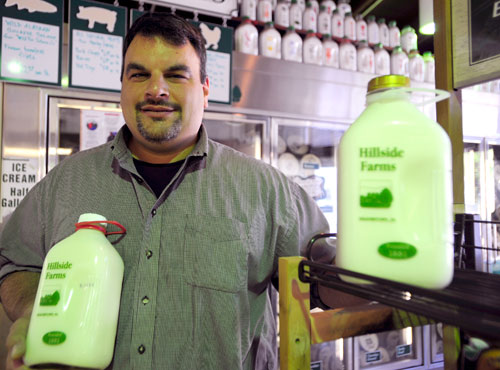 The plan would bring Ahmad's refrigerated trucks to the farm, where the refrigeration units will be charged while farm workers fill them with specialized crates of bottled milk. Other products, such as bread, will be supplied by the Mountain Top store or retrieved from the producer directly.
 
Mozloom isn't sure what effect the side business will have on his dairy, which markets its own "Gold" milk and ice cream along with products from other local farms. But he hopes it becomes more than the farm can handle. "It would be our dream to not be able to make enough of it, so that we had to approach another farmer," he says.
 
Initially, the drivers will make between 50 to 70 deliveries per route, but Ahmad hopes to have seven to 10 trucks making 350 deliveries per route every weekday within 18 months.
 
From there, Ahmad is looking into replicating his Mountain Top store in other affluent, suburban areas where he believes consumers, especially parents, are willing to pay for these products.
 
"When I have my 5-year-old and my 2-year-old at the table drinking [organic milk], I have that comfort level in my mind, that I'm not giving them something that's going to harm them," he says. "We wouldn't have taken this on as a new business if this wasn't going to be profitable."
---
Rory Sweeney writes on energy and the environment when he's paid to and sits around talking about them when he's not.
Send feedback
here
.
To receive Keystone Edge free every week, click here.
---
Photos:
Owner of Good2Go grocery Awais Ahmad.
The Good2Go grocery on Mountain Boulevard in Mountain Top, Pa.
Good2Go market carries a wide variety of organic products.
The grocery store will soon be delivering milk from Hillside Farms dairy.
Chet Mozloom, Executive Director of the Lands at Hillside Farms.

All Photographs by Aimee Dilger