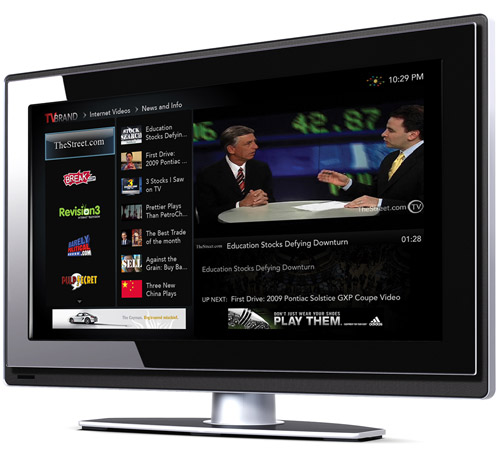 Mike Harris thinks it's high time you were able to watch Internet videos on HDTV. And he isn't just talking about hooking your laptop up to a flat-screen monitor; he means watching the Internet as if it were a TV, surfing through channels with a standard remote control.
Harris' company, Malvern-based AnySource Media, is on the verge of delivering an Internet-enabled TV platform in partnership with major HDTV manufacturers nationwide. The idea, says Harris, is to integrate seamlessly with the normal TV experience by embedding software directly into the television set.
"When we got started here one of the big things we saw was this enormous wave of web video that's being put out, and such a broad range of content–user-generated stuff all the way up to premium quality, full-length programs and movies," Harris says. "Of course, most of that stuff you don't want to watch on a PC, you want to watch it on a TV set. So the concept is really simple. Obviously the implementation is a whole other thing."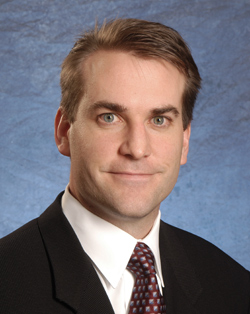 Fortunately, Harris knows what he's doing when it comes to implementation; in the 1990s, he was founder and CTO of Ravisent Technologies Inc., which reached a market capitalization of nearly $1 billion before STMicroelectronics acquired it and made Harris VP of Global Software Strategy. After that, Harris served as president of Digital 5, a software provider that enabled streaming of media content within connected homes, and prior to launching AnySource in 2006 he was president of OpenPeak, a software provider for home control.
So Harris comes to this new venture with hefty chops in the software business and a solid understanding of how to make new technology catch on–namely, don't make it seem like new technology.
That's the key to AnySource Media's software model: instead of cramming TV content into a PC, Harris and company are cramming the Internet into a souped up HDTV that can support Internet video formats.
"We went out to build a technology platform that would take the best of the web from a video perspective and make it useful on a TV, like you watch TV–simple remote control, channel up channel down, normal navigation," Harris says. "Make it a TV experience as opposed to trying to browse the web on a TV set."
So how do you get hundreds of Internet videos to appear as channels you can surf through on a TV remote control-style menu? AnySource engineers split the work into two pieces. On the one hand, they built software directly into the TV set that renders a consumer-friendly user interface and manages the presentation of videos–descriptions, thumbnails, etc.
On the other hand, they designed software that's housed at the company's data center, which communicates to web-based video content publishers–such as Brightcove, with which AnySource has a partnership. The data center brings descriptive metadata from those sites into its system, massages it and prepares it for transfer to the more lightweight embedded software on the TV set.
With this two-pronged system, AnySource will be able to deliver some 400 Internet video channels on next-generation television sets when it hits the market in late 2009 or early 2010. As the company grows, web-based content providers will be able to add their "channels" to the software service.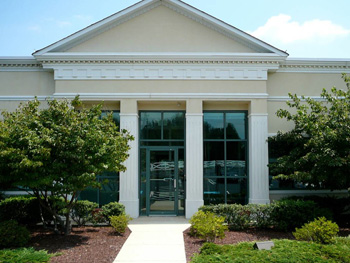 Because the heavy lifting will be done remotely at AnySource's data center, the TV experience of flipping through Internet video channels will be as fast as flipping through cable channels.
But changing the technology model wasn't enough for AnySource; it also changed the business model. Instead of charging TV manufacturers for the software, AnySource will license the technology to manufacturers for little or no cost, and instead bring in revenue from advertising. As a user is navigating between sites–or channels–small, targeted ads will appear on the screen, geared toward that user's interests. In addition, if a user orders a movie or buys music or does any kind of transaction through the Internet TV service, AnySource will receive a small commission.
The appeal of this model, explains Harris, is that AnySource will generate revenue without any extra cost to the manufacturer–or the consumer.
"That's why it's really attractive to the TV makers, because they're getting this feature and it doesn't cost them much–it already works on the TV they're designing," says Harris.
And although Harris admits AnySource is not be the first software startup that has attempted to marry the TV and the Internet, he is quick to add that his company has a uniquely intuitive and fairly straightforward approach that he thinks will catch on.
"There have been a lot of false starts, where people were trying to put a browser on a TV and replace the PC, and that really never has translated," he says. "Where we started and where we think we can really bridge that gap between TV and the wide world of the Internet, is to take all this content that's available on the Internet that's not traditionally available on the TV and making it a TV experience first, to harvest the power of the Internet, and then grow it from there."
---
John Davidson is the editor of Keystone Edge. Send feedback here.
To receive Keystone Edge free every week, click here.
---
Photos:
Typical on-screen presentation
Mike Harris
AnySource building Malvern, PA