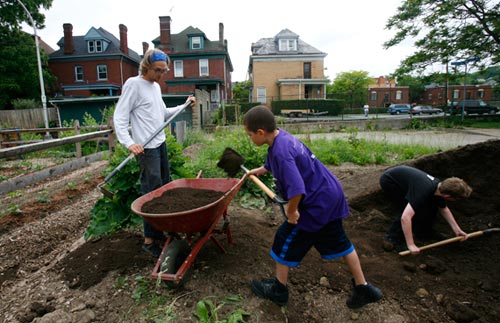 Matt Miller stops assembling wooden frames for raised vegetable beds on this late spring day and rises to survey the rest of the Enright community garden, started last summer on an abandoned lot in the middle of Pittsburgh's East Liberty neighborhood.
"The lettuce is doing well," he says, gesturing toward a bed of green and purple loose-leaf heads. He walks over to another plot. "These are tomatoes from last year. I turned the soil over twice–but they're still growing."
Miller may be employed by Whole Foods, whose popular grocery outlet is just three blocks away, but he works right here, every weekday morning. Whole Foods isn't just a project partner–this garden was the idea of Kim Wynnyckyj, the local store manager, and other store staff, who were hoping to teach kids "the whole seeds-to-table concept," Wynnyckyj says.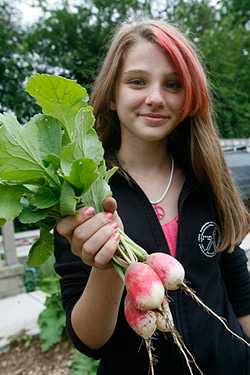 Once full of head-high weeds, the quiet space is now surrounded by a simple post and rail fence and bordered by Enright Park, which lent the garden its name. Half the beds already have inch- to foot-high plants: eggplant, red and blue raspberries, cucumbers, zucchini. Four rain barrels catch the runoff from the neighbor's roof. A tool shed holds shovels, a wheelbarrow and five gallons of fish fertilizer–"That's precious stuff for this garden," Miller says. Pallet-bordered compost bins line one end. Flats of geraniums, a bucket of rocks and stacks of bamboo stakes await their use at the other. The tops of tall buildings and church spires in East Liberty's business district are still visible from here, but the constant traffic is too distant to ruin the pastoral mood.
From the start, Wynnyckyj has involved the neighborhood's community development group, East Liberty Development Inc., in choosing and clearing this site at the end of South St. Clair Street's final block. Now kids from the private Kentucky Avenue School, also within walking distance, use the garden for classes once a week. Located in a church basement, with no grounds of its own, the school can now offer pupils lessons on growing and harvesting their own food to eat in the school's "Living Lunch" program, to which Whole Foods adds donations. The kids also help to sell the produce–for charity–at a monthly farmer's market in Whole Foods' parking lot.
Gardens like Enright often sprout from the efforts of surrounding homeowners hoping to prevent, or eliminate, blight. Instead, the Enright Garden has seeded a new neighborhood group.
"The other day I came home," says Sallyann Kluz, who lives a few doors away, "and there were a bunch of neighbors who I knew didn't know each other, but they were hanging over the fence."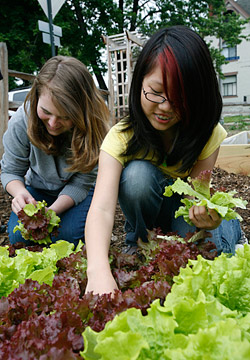 Kluz and husband Dan Allen are now at the center of a fledgling, Enright-inspired organization. "You no longer drive down this street and feel like it's on the decline," she says. "You feel like it's another neighborhood where cool stuff is happening."
Allen credits Whole Foods and subsequent local developments of the past few years, from retail to housing, for fertilizing East Liberty's transformation. The house next to the garden is in the process of being renovated by a new owner; it had been a haven for drug deals and single-night sublets, Allen says. "If you want to have a safer neighborhood, having residents involved with what's going on in your street really helps," he adds. "The idea of having a chance to see people growing stuff in the middle of a city block is just outstanding. It changes the dynamic of what you can do on the street."
Creating this dynamic took a lot of old-fashioned toil.
"If we were in Lancaster County, we'd go right into the ground and turn it over," Miller says. "But this [site] was a house. It seems like they destroyed it and crushed it and covered it with a few inches of soil. We're finding plumbing. We're finding slate."
Several local nonprofits, including Grow Pittsburgh, played critical early roles in removing weeds and debris, testing the dirt and moving in a layer of fresh material.
All the plots are now spoken for. "From almost every block there seems to be some interested individual. There's actually a waiting list," Miller says.
"Once folks heard about it on the streets [they] really took a lead role," says Whole Foods' Wynnyckyj. "There were neighbors saying 'I don't have time but here's a wheelbarrow.' Or 'I can't weed every Friday but here's a check.' It was a really beautiful thing."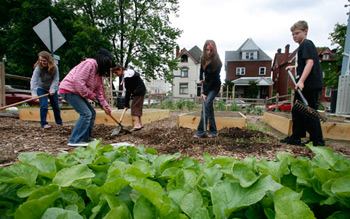 It is Whole Foods' lead role that really impresses Kluz. "There's lots of community gardens out there, and they're great," she says, "but unless you have one or two committed individuals, by the end of the summer the whole thing looks off kilter," with some plots abandoned. Matt Miller's role has guaranteed the garden's future, she adds. It is now "somebody's job."
The garden has also been fertile for Whole Foods, of course. "This project has rooted us in the neighborhood long-term," Wynnyckyj says, helping to teach "alternative ways to eat." This is the only store-sponsored garden in the company's mid-Atlantic region, which stretches west to Kentucky and south to Virginia. Now other Whole Foods stores are calling her for advice on how to start their own gardens.
Kluz, an architect and former community planner with East Liberty Development, probably doesn't need advice for getting the new neighborhood group off the ground. But she acknowledges potential pitfalls. As improvements like the Enright garden help property values rise, landlords may raise their own prices.
"What we don't want to see is displacement of renters, which means displacement of low-income residents," Kluz says. "We don't want to become a middle-class enclave in the middle of the city"–and in the middle of this poorer, predominantly black neighborhood.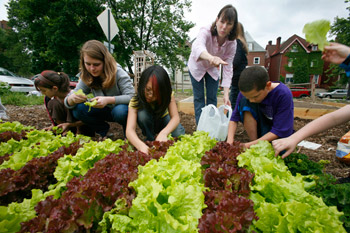 Residents of the mid-rise apartments on the opposite side of Enright Park are already kept from easy access to the garden by the park's chain link fence.
For right now, however, there's some gardening to do. She bends over her tomatoes.
"They're doing great," she says. "They're very happy."
So is Katherine Camp, East Liberty Development's planning coordinator, who works with the garden. "For East Liberty, it's a good example of how partnerships can make something really great happen," she says. "This was the first time that we had this type of successful garden project." For the future, she hopes "to have the neighbors continue to be engaged, have kids from other schools come… and to be a model for other similar projects in the neighborhood and in the city."
By early June, the first radishes and lettuce leaves are ready for Kentucky Avenue School students to pick.
Half a dozen middle schoolers arrive, looking a little out of place in a garden, with their dye-streaked hair and skull-emblazoned T-shirts. Some of the girls rake mulch over their painted toenails and flip-flops.
Miller teaches them how to pull up the cherry and French breakfast radishes first, then the Redina and black-seeded Simpson lettuces.
"There's critters all over the leaves I got," Miller exclaims. He doesn't sound disappointed.
"There's a lady bug," one student says, examining his own.
"That's good," Miller says. "They're eating the green bugs."
"We'll take it back and wash it and make a snack," says middle-school teacher Pam Jordan about the bounty. "I think students are more likely to eat the food they've grown themselves." She recalls the purple, gnarly heirloom tomatoes her students got out of last year's harvest: "They couldn't believe how good a strange-looking tomato tasted."
---
Marty Levine is a Pittsburgh freelance writer trying to cover the waterfront from the water. Send feedback here.
To receive Keystone Edge free every week, click here.
---
Photos:
All Photographs by Heather Mull