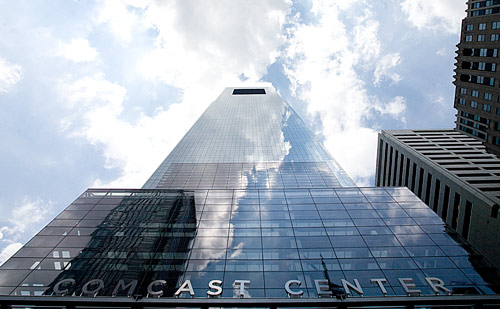 Philadelphia is a town that appreciates a good fight. The home of Rocky has seen its share, but never one quite like this.
The challenger, Verizon, is a feisty telecom giant from New York that connected first with a one-two punch combination featuring negative advertising and some unsavory quotes in the press.
But the fiery local hero (or villain, depending on whom you ask), Comcast, fought back with a little uppercut of its own. One thing is for sure: this fight won't end with a bell; it will end with a gavel.
When Verizon began installing its fiber optic television service in the Philadelphia suburbs back in 2005, it was only a matter of time before the famous phone company took aim at becoming the region's number one television provider.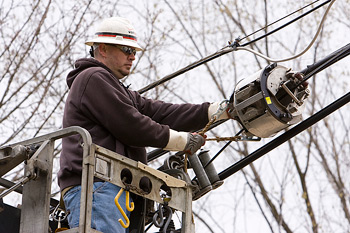 This would be easier said than done; after all, Comcast is a household name in Philadelphia. Verizon produced a series of ads that took aim at the concept of Cable, featuring a portly cable installer trading quips with a slightly smug Verizon installer in a Goofus-and-Gallant-style duel for new customers.
Comcast soon fired back with some commercials of their own in a campaign they called Don't Fall For Fios. The ads struck a noticeably harsher tone and may soon land Comcast in court.
"Their argument is based on unsubstantiated claims that Comcast offers more HD channels than Verizon, which is simply not true," says Verizon spokesperson Sharon Shaffer.
On June 10, Verizon sent a cease and desist order to Comcast, demanding that the cable giant edit certain unsavory content from their "Don't Fall For Fios" campaign, including images suggesting that Verizon's installation representatives are incompetent and dangerous, and that their salespeople might steal your information without your consent. While Shaffer wouldn't comment on the current state of the legal action, she went on to call Comcast's content "unfair, untruthful and illegal."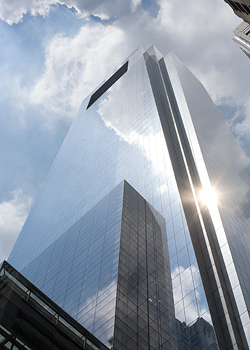 Comcast has said they are simply fighting fire with fire. In a prepared statement, Comcast responded "Verizon's been running a negative campaign against Comcast for years and its response to our campaign shows that they can dish it out but they can't take it."
"Competition is certainly nothing new for Comcast," says spokesperson Jeff Alexander. "But we love our competitive position as we have been here for years and Verizon is the fourth entrant into the video services market after us and the big satellite companies."
So why the legal firepower from Verizon? The complex nature of Verizon's product is confusing enough, spokespeople say, without complicating the message. As it stands, Verizon is a phone company offering signals transmitted along fiber optic cable. This technology offers larger bandwidth but also requires new infrastructure and wiring. The majority of this cable is strung above ground but occasionally a neighborhood already has wires buried beneath it. In these situations, Verizon technicians would have to access buried wires. But ads that show heavy machinery and technicians creating havoc in a neighborhood amount to "scare tactics."
"Comcast's ads only seek to distract attention from the fact that Comcast does less when they install cable service and to avoid discussing their quality of workmanship," Shaffer says.
All of this may have been a moot point for Philadelphians because Comcast holds the rights to all 76ers basketball, Flyers hockey and Phillies baseball games. Forgoing broadcasts that travel through the air where satellite providers could get them, Comcast instead runs their signal through wires direct from the city's South Philadelphia sports arenas. This practice is protected by a congressionally mandated terrestrial exemption that allows local broadcasters to remain exempt from satellite broadcasts. For years, the exemption has served as a competitive advantage for Comcast over satellite providers trying to make headway. The answer from residents has always been the same: Philadelphia is a sports town so Philadelphia is a Comcast town.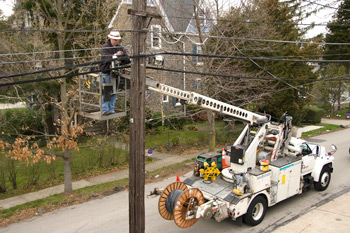 But knowing the follies that came before them, Verizon was prepared, striking a deal with Comcast back in December 2006 to offer Comcast SportsNet in the Philadelphia area. Comcast says that their service offerings will make this deal only a minor setback.
"We have a track record of offering Comcast SportsNet to a variety of competitors," says Alexander. "While we feel we offer superior products and value, we are years ahead of Verizon. As they build and deploy, we will continue to innovate and enhance our services."
Even with the local sports problem solved, the confusion over what Verizon service entails would seem to give Comcast a competitive edge. But the corporate giant's near-monopoly over sports content has led some customers to feel trapped. This feeling was summed up in a recent Philadelphia Inquirer column about Jesse Foyle, the famous ticket lady.
Foyle is Philadelphia's most famous fan. At 94, she has attended every World Series game in the last 44 years. And she has the proof sewn into three cape-like sweaters that she wears. Last year, her beloved Phillies became World Series champs and Foyle became a local hero. But this year she moved into a retirement home that is wired with DirecTV. She called Comcast to have her service transferred over but was told that Comcast wouldn't wire just one room. So Foyle is left with no baseball.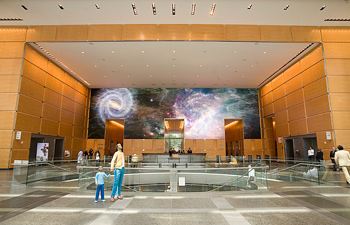 Stories like these don't endear Comcast to the citizens of Philadelphia, despite the sponsorship dollars, philanthropy efforts and technology jobs they have brought to the city.
So which one should you choose? According to customer satisfaction surveys, Comcast is the leader in OnDemand content, with more movies, a faster interface and more desirable content. But when it comes to channels in HD, Verizon simply has more. With the addition of Viacom networks like MTV, VH1, CMT, and Comedy Central to the Philadelphia market just this week, Verizon remains the leader in HD programming. Both offer comparable picture and sound. Verizon's Internet is a bit faster in both directions with higher bandwidth, but Comcast has seen interest in their bundles like the highly-selling Triple Play and feel that they are in position to challenge Verizon's phone service.
Its up to you which provider you choose. But one thing is for sure: neither of these companies is backing down. Verizon has already announced plans to expand their network and continue building deep into the next decade. And while a verdict has not come down on the disputed ads, this battle has only just begun.
---
John Steele is a freelance writer andblogger in Philadelphia. He enjoys music snobbery, trash television andlaughing at hipsters. Send feedback here.

To receive Keystone Edge free every week, click here.
---
Photos:
The Comcast Center (Michael Persico)

Verizon Technician Installing aerial fiber-optic cable (Courtesy of Verizon)

The Comcast Center (Michael Persico)

Verizon Technician Installing aerial fiber-optic cable (Courtesy of Verizon)
Comcast Center Lobby (Michael Persico)