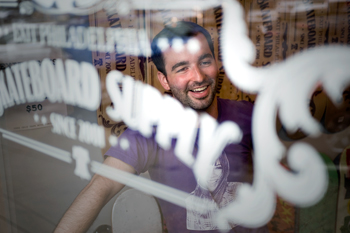 Pop's Playground, a near-derelict park in Philadelphia's Kensington neighborhood, has been rebuilt as a skatepark and celebrates its grand re-opening Saturday, July 25. The project, spearheaded by locals including Exit skate shop's Steve Miller, is something of an experiment in how communities and private groups can take initiative and create community assets.
Keystone Edge: How did the idea for the skate park come about and how did you first get involved?
Steve Miller: About a year ago I was approached by NKCDC, the New Kensington Community Development Corporation, they're a non-profit based in New Kensington, the area in which the park is located. Laura Semmelroth, she approached me and just basically said that there was a former Philadelphia Parks and Rec center that's kind of just been abandoned, basically. There hasn't been any programming, anything going on in the past couple of years; it's just been a haven for drugs and everything. She wanted to see some positive stuff happening so she asked if we would possibly be interested in opening a skate park. And I said of course, it's hard work but if you want to we'll push forward. We met that week and looked at some of the options. She was down to help out with fundraising, she was down to handle all of the communications with Philadelphia Parks and Recreation and all of the insurance issues and whatnot, and she did a great job. So we said yes, we got the design together and we dug in.
KE: So how was the project funded, and who will be responsible for maintenance?
SM: Part of the reasons why Philadelphia Parks and Rec were so excited to work with us is based on the fact that the entire budget for the park will be through fundraising. The entire building of the park will be done by volunteers, so they were okay with donating the land. But I assume maintenance and cleanup will kind of be a volunteer issue as well. It's kind of what happens in Philadelphia at a lot of the parks that have been underutilized, the neighborhood kind of takes initiative and takes it into their own hands, which is what happened initially and what will happen in the future with this park. So I see myself out there cleaning up quite a bit of trash for the next year or so.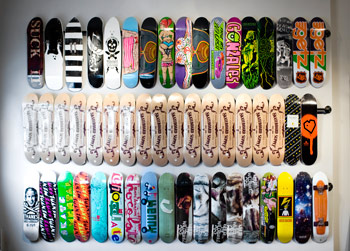 KE: Are you or other groups planning to use the skate park to stage events?
SM: Absolutely. We've always kind of lacked a place to do stuff like that. We always have these events, we have skateboarding teams in town every month, every year, in summer it's huge and we never have a place to really hold demos or signings, stuff like that to connect with the kids. There's really nowhere to go. There's a skate park down in South Philly, but it's kind of out of the way for us and it doesn't necessarily have the vibe that we're looking for. So this is an awesome opportunity for us
KE: The way this has all come about, could this be a model for future community-driven projects?
SM: Yes. The one thing we're riding on with this especially is the fact that when this project is all said and done, we're going to make a big deal out of basically making the records public on how much we spent–every dollar that went into every nail, every yard of concrete, every blade, every welding rod that was spent on this job. Our final budget, I think, is about $23,000, which when it comes to something like this, you know, it was just a tennis court that has been rotting for years. If we can in some way get the community and other skateboarders or other people involved in the community excited by a project like this, then yes, and we'd be more than willing to help. We've talked to Parks and Rec about several other parks in the future, so there definitely are plans to keep this project going. I've been involved in the Franklin's Paine Skatepark Fund for a while, that $7 million park that's supposed to be built on the Art Museum. I figure that any development for skateboarding in the city will basically be fought in tons of board meetings and we'd have to try to get politicians to back us. But to actually get grassroots, get in there and start building within a week or two of talking about it was really exciting and I plan on doing it again.

---
John Davidson is the managing editor of Keystone Edge. Send feedback here.
To receive Keystone Edge free every week, click here.
---
All Photographs by Chris Gabello