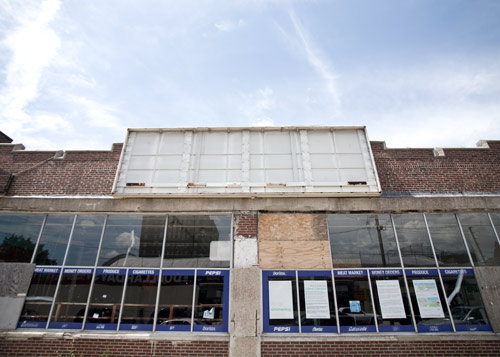 Food, in one form or another, has transformed Center City Philadelphia in the last 25 years. From Georges Perrier to Stephen Starr and now Jose Garces, the City of Brotherly Love is known throughout the country for its food culture almost as much as it is for its history.
The Enterprise Center, a business accelerator that provides access to myriad resources for minority entrepreneurs, is hoping to achieve the same result in West Philadelphia with a much different recipe. It starts with a community development plan mixed with an old supermarket and a dash of classic business incubator services.
The hope, says The Enterprise Center's Della Clark, is that the Center for Culinary Enterprises will develop food entrepreneurs, increase access to local, affordable and healthy food for neighborhood residents and develop an area of the city that has long been underserved.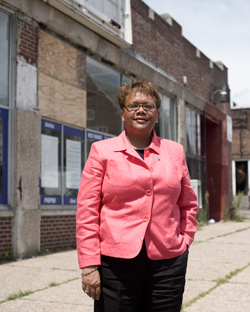 "Here's a way for people to make their product without making a significant investment, to feel camaraderie and networking with other entrepreneurs and opportunities to get mentored with more seasoned entrepreneurs," says Clark.
The kitchen incubator concept is hardly new, having originated in California in 1984. But the Center for Culinary Enterprises is groundbreaking in that it incorporates community and economic development. That's where the Philadelphia arm of the Local Initiative Support Corporation (LISC), a national non-profit community development corporation that offers funding, technical assistance and advocacy, comes in.
LISC is working with The Enterprise Center on the project as part of its Sustainable Communities Initiative, which focuses LISC's investments on workforce and economic development, health, safety and education in targeted communities. LISC liked the culinary center idea, which The Enterprise Center had been sitting on for almost five years, because it touched all those focus points and has funded the center with $175,000.
"There is an opportunity to connect the work that is done at the culinary center with the greater community," says LISC-Philadelphia executive director Mark Edwards, whose organization has invested some $250 million in Philadelphia since 1981.
Essentially, a kitchen incubator is a business incubator that provides commercial kitchen equipment and food safety regulation assistance to early-stage food companies, enabling them to advance to the stage where they can invest in their own facilities. Usually, a kitchen incubator also helps users with business planning and access to financing and mentoring.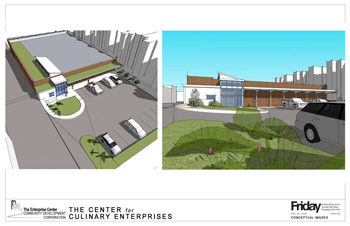 There are close to 60 kitchen incubators in the U.S., with one-third of those in the culinary meccas California and New York. There are only two others in Pennsylvania. Philly KitchenShare, located on bustling South Street, provides kitchen space for up to $44 per hour and also offers cooking classes and other food-related events. The East Side Community Kitchen in Lancaster offers hourly kitchen space in its 1,400 square-foot facility and also connects members with business assistance organizations and certification classes.
Design plans are complete for The Enterprose Center's 13,000 square-foot, $5 million center located in a former Food Rite grocery at 48th and Spruce Street. The space will have extensive commercial kitchen rental options, including one large baking kitchen, two standard commercial kitchens and a separate demonstration kitchen.
"Commercial kitchens, with ventilation, drains and meeting health codes, are very expensive, which is why many don't have them," says Clark.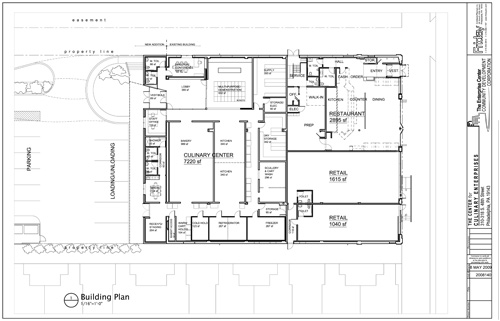 Little Louie's BBQ will be the center's large social enterprise–a sit-down restaurant that incorporates a hospitality management training program, integrating young adults and teenagers into the food industry.
The demonstration kitchen will be housed in a computer center, where TEC plans to record recipes and place them on YouTube and in a digital cookbook. Entrepreneurs can also use the videos for their own websites.
For free or a nominal charge, the center will offer a food entrepreneur workshop series that will focus on product labeling, sourcing ingredients, pricing a recipe and insurance requirements. The center will also provide business consulting links to independent consultants and vendors who do nutritional content labeling or commercial recipe conversion.
The center will also assist with certifications, like the state's food-handling license (ServSafe) and offer a variety of food-related classes on business capacity, recipe development and reinventing menus.
"If you make a great brownie and want to sell it to small delis, you technically can't do that, and you can't perfect your model," says Clark. "What will take you four days at home could take four hours at our center."
The center's Fall, 2010 planned opening is ambitious considering The Enterprise Center has well over $4 million to raise. But LISC's grant writers are helping the center apply for federal funds to develop the property and are also helping it avoid large debt, a problem that sinks many a food entrepreneur. Part of that plan is establishing more fundable programs that touch the community, like healthy and recreational cooking courses.
"I think it's going to have a big impact," says Edwards. "We need fresh food choices to come to these neighborhoods, and we need to be creative how we do it."
---
Joe Petrucci is a freelance writer in Philadelphia and one of Keystone Edge's Innovation and Job News editors. Send feedback here.
---
Photos:
The Proposed location, an old grocery store at 48th and Spruce
Della Clark
Exterior Rendering
Proposed Floor plan

Photographs by Michael Persico