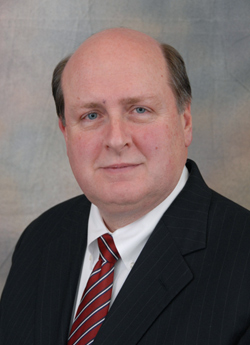 The Harrisburg region encompasses a melting pot of different industries–from food production to life sciences to logistics support for state and federal government. As President and CEO of the Harrisburg Regional Chamber and the Capital Region Economic Development Corporation, it's David Black's job to figure out ways to create sustainable regional development in Central PA, so we asked him a few questions about it.
Keystone Edge: The American Chamber of Commerce Executives recently selected you for a Regional Sustainable Development Fellowship. What does that entail, and what might it mean for the Harrisburg region?
David Black: The fellowship is both about sharing best ideas and practices from around the country and also hearing from experts about sustainable development. As part of this we're supposed to come up with a project, and I'm still debating what that's going to be. Ideally, I'd like to come out of it with something that we could implement here and it may be with something we've already started in the area.
KE: The Brookings Institute recently ranked Harrisburg among the top metro areas in the country that have best coped with the current recession. What are some of your region's best practices?
DB: One of the best things we've done is that we've managed to work across political subdivisions, including county lines. Our organization serves Cumberland, Dauphin and Perry counties, and Harrisburg is our hub city. But there are a hundred municipalities within our footprint here and we've worked to make everyone, particularly elected officials, understand that when people look at us as a place to create jobs, they don't care about the political subdivisions… when they think about Harrisburg they don't just think about the city, and that's a different mindset than those of us who live here have. So it's about bringing a broader perspective. I think you can be very successful when you understand how people who are looking at you think about you.
KE: From an economic or industry perspective rather than a political one.
DB: And that's where we tout our advantages: our location advantages as far as our highway system, our freight and passenger rail system, the international airport. It's a location from which it's easy to get to larger cities on the east coast–Washington, Baltimore, Philadelphia, New York. It's three hours to New York, and then with the I-81 corridor you can get to New England in no time at all, and you can get south and west through the rail lines. So we're a key location and in many ways Harrisburg mirrors what we are in Pennsylvania: Harrisburg is a "keystone" for transportation. We're also targeting specific industry clusters like life sciences, anchored by the Hershey Medical Center and the Penn State School of Medicine, as well as advanced manufacturing, logistics technology in the form of back office support for local, state and federal government, and another one that makes a lot of sense here: the food service industry and agri-business. There's a lot of food in Central Pennsylvania, with Adams County and all its orchards just down the road and of course Hershey the chocolate-making capital of the world, right here.
KE: What can other parts of the state learn from the Harrisburg region in terms of being able to weather a recession and make the most of the industries that are natural to it?
DB: It starts with identifying what your economic strengths are. It may be natural resources, it may be education, or it may be a combination of things. But it's about identifying assets and building on and leveraging those strengths. Not only to attract businesses, but I think it's really more important to grow businesses. Attraction is our fourth priority here. Our first priority is to keep what we have, our second is to grow what we have, our third is to start new businesses, and the fourth priority is attraction.
So, fundamentally, best practices are to understand where you are, understand what you have, understand how you fit into a larger regional economy–a statewide or even a multi-state regional economy, and to an extent how you relate to the global economy. What are we exporting from our region? What are we importing to our region? Understand not only how you see yourself, but how others see you.
---
John Davidson is the managing editor of Keystone Edge. Send feedback here.

To receive Keystone Edge free every week, click here.
---