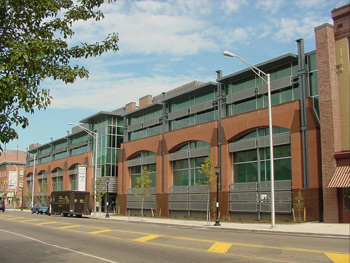 Scranton Enterprise Center director Kristine Augustine spends a lot of time with people hoping to open a small deli, coffee shop or other typical mom-and-pop operations.  Unlike many incubators focused on high-tech or cutting edge outfits, Augustine's job in the Electric City, where so many people have worked hard for one company their entire lives, is to promote a cultural of entrepreneurism that was lacking and is now sorely needed.
Augustine points to IMS, a telemarketing company started by two young men in 2003 that eventually expanded to three locations in the region before being sold. Those two caught the bug, however, and now own a Sonic franchise in nearby Wilkes-Barre.
"When we talk about serial entrepreneurs, IMS may not have been a sexy tech company, but it still employed over 50 people and grew from there," says Augustine, in her 11th year with the Greater Scranton Chamber of Commerce, which administers the incubator.
The incubator has its share of sexy companies, though, and has run at near 100-percent capacity for several years now. It boasts software developers, healthcare companies, a venture capital firm, an organic product manufacturer, and other business services providers. That diversity is key to the city, as well, Augustine says.
Most encouraging is the number of referrals and inquiries for the incubator's programs has remained brisk throughout the recession and applications for its funding program for those who can't apply for traditional financing has doubled in the last 12 months.
"Most of our companies are doing well," says Augustine. "I've seen the growth take place step-by-step."
Source: Kristine Augustine, Scranton Enterprise Center
Writer: Joe Petrucci