I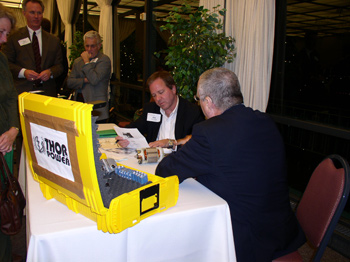 t took two decades and the crumbling of much of the region's industrial roots, but finally, the pieces are in place throughout Northeast Pennsylvania to stimulate new and diverse economic growth through entrepreneurship in the region's strongholds of Scranton, Wilkes-Barre and Hazleton.
Those pieces have come together to form the NEPA Venture Partnership, which hopes to officially launch next month as a comprehensive toolbox for entrepreneurs and early stage companies throughout the region, state and country.
Bernadette DeBias of economic development organization Hazleton CAN DO, part of the partnership along with the Innovation Center of Wilkes-Barre and the Scranton and Lackawanna Industrial Building Company, says she has received calls from as far away as California expressing interest in the region.
"The resources we've lined up, beyond investments, support entrepreneurs at their most vulnerable stage," says DeBias, "and they'll go where the money is." DeBias also noted that, although the much of the industry that once defined NEPA is gone, its trademark work ethic remains.
The partnership, along with Ben Franklin Technology Partners and about 50 private investors, contributed a combined $4 million to the Mid-Atlantic Angel Group's second early stage venture fund (MAG II), which will invest in Pa.-based companies as well as those outside the region.
Beyond funding, however, the goal of the partnership is to be a one-stop shop for entrepreneurs–it already has a website and is finalizing its marketing strategy along with plans for upcoming events, including Ben Franklin Venture Idol, a entrepreneur's version of American Idol, on Nov. 5 in Scranton.
"It can be a daunting task for entrpreneurs," says John Augustine of the Innovation Center. "It's really just knowing where to go."
In addition, NEPA Venture Partnership will host MAG II's monthly meeting, a forum to educate potential investors in the region, on Nov. 4 in Scranton.
Says Christine Hitchcock of SLIPCO: "One of the keys is a synergistic approach, with no duplication of effort, and we have it."
Source: John Augustine, Innovation Center of Wilkes-Barre; Bernadette DeBias, Hazleton CanDO; Christine Hitchcock, SLIPCO.
Writer: Joe Petrucci