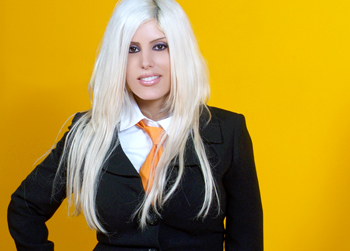 At first glance, it appears the phrase that accompanies the stunning photo of Philadelphia's Karina Bradley on the cover of the September issue of AutoSuccess, a leading automotive trade publication, reads "America's Next Top Model." A closer look, though, reveals "model" is crossed out and replaced by "automotive executive."
The cover is especially fitting considering Bradley, a certified FranklinCovey trainer, is in fact a model who happens to be making a huge impact on the automotive industry during a challenging economy through her work as co-owner of Dealer Synergy, a Philadelphia-based training, consulting and technology company she runs with her husband Sean. Even still, Bradley's career requires a closer glance. She's an up-and-coming singer who owns a stake in a New York rap group and has starred in several music videos.
One of Dealer Synergy's focuses is the use of technology, digital marketing and social media, and those same forces are driving her entrepreneurial pursuits in entertainment. She generated 115,000 plays in three weeks on her Myspace music page, which features the single she wrote, Dance Floor Diva, and her modeling photos have over 700,000 views on Flickr. Bradley, who moved to Reading as a child and was pre-med at Drexel University before chasing her modeling and singing dreams, is confident those numbers–and her brand–will continue to grow.
Keystone Edge: What do you do for Dealer Synergy?
Karina Bradley: I'm co-owner and vice president of Dealer Synergy, and we help car dealerships build their business development and internet department from the ground up or help them take their existing set-up to the next level with training and consulting. I have a hand in the daily operations of the company. I started out on the sales side, helping bring in clients, but really wanted to get on the customer support side. We developed a customer service team that I oversee. Our client retention has skyrocketed as a result of the workshops we do. They're every other month or so and we meet with clients and talk about what's going on with them.
We believe a dealer's business development center is made or broken by four key areas: people, profits, promotions, and products. We qualify dealerships based on their current situation in those qualifiers. We find out where their weaknesses and opportunities and threats are and help those dealerships improve.
KE: What's it like for a woman working in the male-dominated automobile industry?
KB: I've helped many dealers hire female managers, and just give them a woman's perspective on what's it like to purchase a vehicle. There's a great commercial by Johnson Automotive (in North Carolina) with a badger character who asks a woman shopping for a car if she brought her husband with her and tells her the mirror is to apply makeup. It's funny, but it's an experience women go through every day. I try to educate dealers and make them realize that 85 percent of all car purchases are influenced by women. We also encourage our dealers to have a section on their website that describes them as female friendly and why.
Women can achieve a position of power in auto dealerships. We helped one woman who started as an internet consultant more than triple her business. Now she's managing a bigger group of people.
KE: You're an entrepreneur, singer, and model. What's nearest and dearest to your heart?
KB: Singing is my passion. I love being able to create art, to take concepts and then create lyrics and a whole song based on my vision, and then being able to apply a beat to it, which can change the whole vibe of a song. A lot go into my songs. I do the background vocals. We lay it down in stages to get that end result.
Dance Floor Diva, I love it. It makes you want to get up and move. It's mine, I wrote it and laid it down, so it's my baby. It's about me. It also acknowledges my fellow dance floor divas, who feel just like me–they want to get down and dance. It's about having fun. Life can be too serious.
KE: What's operating a hip-hop group like?
KB: I have a 20 percent stake in TF Mafia. They're a very serious, awesome hip-hop group from Brooklyn, N.Y. I do have an influence on what they do. I'm always looking to do things outside the box. They call me Boss Lady–these real aggressive men are so humble and sweet. It's not that different than what we do for auto dealers.
KE: What's the most satisfying thing you've done?
KB: Being vice president of Dealer Synergy. Sean is my husband, but he didn't hand things over to me. He wouldn't have put his reputation on the line because of my relationship with him. Being able to go from helping out with sales to being recognized in the industry, developing into more than just a salesperson and being able to speak in front of 500 people who want my advice on building their business and getting that level of respect is very satisfying.