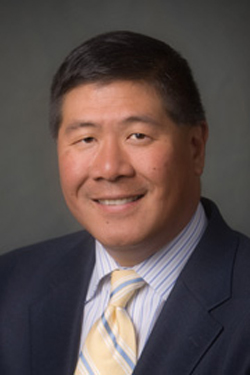 Stephen Tang is the first president in the 46-year history of the University City Science Center in Philadelphia, the nation's oldest urban research park, to have led a company through venture funding and an initial public offering and to also serve as a senior executive for a major life sciences company that acquired and integrated smaller start-ups.
With all that management experience, Tang finds himself as much of a community organizer as he does a driver of innovation along the Market Street corridor in West Philadelphia. The center boasts more than 2 million square feet of laboratory, office and retail space in 15 buildings, where life sciences start-ups reside in the center's Port incubator programs and can also take advantage of its recently launched Quorum community-building space and services. It also supports research through its QED proof-of-concept program and helps bring foreign companies to the city through its Global Soft Landings program.
Just as important, however, is the $5.2 million Market Street Revitalization project, which began this week and aims to make the Science Center campus and community a greener and more vibrant place through streetscape and landscaping improvements. Tang spoke to Keystone Edge about how the Science Center's varied interests and responsibilities are coming together to grow the most innovative corner of the region.
Keystone Edge: What are you doing day-to-day to advance the Science Center?
Steven Tang: There have been 10 presidents of the center and each has had his own agenda and experience base. The pieces of the job requirements that were added before I was hired was they wanted someone with general management experience, which is my orientation anyway. I feel strongly you have to manage all aspects of the business, because the things we do on campus are related to start-ups. I also sat on the opposite side of the table, working for a company that acquired tech companies. On a day-to-day basis, I try to cover all the bases internally and externally. In one sense I'm a member of the community both as an economic developer in the region, a landlord on campus, and more fundamentally a community organizer.
We try to bring people together. We believe the research park has a power of being a place to work, a place to live, a place to play. Our campus should represent that. We've got some challenges and opportunities in this part of West Philadelphia and University City. I've got to be out in the community. I can't simply hope my ideas are the right ideas. I have to constantly air them with my peers and people who are challenging them. That's where thinking like a general manager comes in. Then I have to make sure the people who work directly with me at the Science Center know what they're doing and why it's important. Half the time I'm making sure we're executing against our plans, budgets and priorities.
KE: What does your community organizing role involve?
ST: We have a project starting this week, the Market Street Revitalization project, one that was conceived within the greater community here, through the (nonprofit) University City District, along with Drexel, UPenn, Children's Hospital of Philadelphia, University of the Sciences, University City High School and Powelton Village. About 18 months ago we took on the burden of raising funds to to do this. This is basically a streetscape project, planting trees, greening the community and providing safer walkways and really creating a landscape that ties the community together. It will run from 34th to 41st Street. Our campus ends at 39th Street, so we're consciously going beyond our boundaries.
It's on the street signs but not too many people recognize it: This is called the Avenue of Technology, but there's not much that ties it together to let you know that. The counter example is the University of the Arts on Broad Street, everybody recognizes that as the Avenue of the Arts and a special part of town.. For us, the community development is literally starting at the ground level. We have a new restaurant that just opened up on our ground floor (at 3711 Market) called MidAtlantic, and it's the first restaurant on this part of the street for a very long time. We're trying to create an atmosphere where people want to stay around after hours for the right reasons and feel safe and comfortable doing so. Regionally speaking, we want to be known as an organization that contributes and always brings something to the party, whether we're hosting it or someone else is.
KE: How important is it for your tenants to stay in the city once they graduate from your incubators?
ST: Retaining jobs in the city and making the city the hub of innovation is vitally important. That's something Philadelphia often gets criticism for. Look at the way Boston and San Francisco developed. Cambridge, Mass., is literally the city of innovation within Boston. It's not just the fact they have MIT and Harvard there. It's that they've been able to nurture and grow companies and have them stay there. It's become the place to be. I'd love for the same thing to happen here in Philadelphia.
For that to happen, we have to make sure the option is well known that you can stay here and we'll create incentives to retain or attract you. I think Mayor Nutter was on the right track to reform the way the city does business and reform the tax structure to be more business friendly, but then the economic crisis interrupted it. I think once we get back on track we'll be able to have those types of incentives put into place. Most other cities in the U.S. would love to have the regional strength of our life sciences industry. What they have that we don't is a sense of the city as a friendly urban center to work, live and recreate. I think that's what we want to become.
KE: How can your impact be felt throughout the state?
ST: In PA, we have unique challenges. Much of the state is rural, but a lot of our economy overall is related to education, medicine and life sciences. All of those have a role in health care reform. The real opportunity for our state is for it to take its diverse resources and become a crucible for innovation of health care. The President has mentioned Geisinger (Health System in Danville) on a number of occasions where cost-effective health care is being developed and delivered. It's not just from the city outward, it's searching for the best practices across the state and deploying them across the state for our own interest.