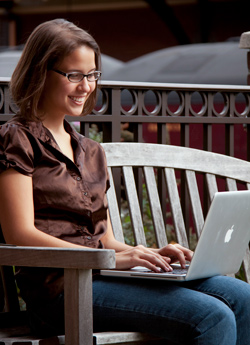 When her Management and Information Science professor at Georgetown University said she didn't understand virtual currency–the latest online platform social media companies and video game makers are looking to cash in on–Catherine Cook raised her hand.
The junior OPIM and marketing major can contribute a thing or two that discussion. As co-founder of myYearbook, the breakthrough social networking site geared toward teenagers, Cook isn't your ordinary Georgetown student (even by Georgetown standards).
The company was founded in 2005 by Catherine, then a sophomore in high school, and her brother David, then a junior. Catherine persuaded their oldest brother Geoff, who had already achieved success in founding EssayEdge and ResumeEdge, to invest $250,000 in their idea. The company launched for their high school in New Jersey and within two years became an international sensation. Today it is the third most popular social networking site and among the 40 most-trafficked sites in the U.S.
myYearbook raised $13 million from three venture firms in the summer of 2008 and continues to roll out new features at its headquarters in New Hope, Bucks County, where it employs 70. Last year, its "Lunch Money" virtual currency platform made headlines with its popularity and generosity–the company donated $250,000 through the site's "Causes" program, saving rainforest acreage and providing books and food in Africa. Just last month, it debuted its myYearbook Toolbar and Shopping Mall, both of which provide members with ways to earn the site's virtual currency.
Cook talked to Keystone Edge about her amazing journey, juggling work and school and what the future may hold.
Keystone Edge (KE): How do you manage to keep up with school and myYearbook?
Catherine Cook (CC): Now that I've been here, this is my third year, I work on myYearbook maybe 40 to 50 hours per week. My freshman year, it was pretty devastating for my social life, just because you always have to be on the site. Now, most of my friends are spending the same amount of time doing homework or school activities. My professors have been very understanding. I've had multiple mid-terms and papers postponed to fit my schedule. If you just speak with the professors, they'll work with you. In class I bring my laptop in and I'm only half-listening to the lecture and half-working at the same time. You know the professors know because I'm typing away when there's clearly nothing I'd be taking notes on.
KE: Are you known on campus as the wildly successful teen entrepreneur?
CC: I can't say I get very much attention. There have been times when myYearbook comes up. I don't do anything to attract attention. I drive a 1996 Mitsubishi Galant. You wouldn't think I have a website. The first week I came here, I was in the school newspaper, but typically I don't bring it up. In business school, I guess I'm a little more popular because people know about it more. One of my friends is launching something of his own, so he likes to get my opinion on things.
KE: When did you realize you were on to something?
CC: Probably when we reached our first million members, about nine months after we launched into schools across the globe, about May of 2006. When Dave and I started the site in high school, we made fake press releases, and one of them was "myYearbook gets one million members, takes over the world." We didn't go to a big high school. I still can't imagine what a million people would look like. That was also around the time we got our first office and started pushing growth. Once we had the office we were able to actually have people working onsite besides just me and my brothers.
KE: What makes myYearbook so dynamic?
CC: In general, our strength is how everyone is so excited about what we're doing and the features we're creating. They're definitely different than the features on any other site. You'll see myYearbook in the New York Times for our "Causes," from members donating virtual currency. This is what I love about working at myYearbook. We're all very close friends. If someone has an idea, we just walk into Geoff's office. It's very easy to get things out.
KE: How did Geoff's success as a teen entrepreneur impact you?
CC: Growing up, when he had his first site, it was just cool. That's kind of what made us want to be entrepreneurs. We went to "bring your child to work day" and it was so dull. We got shipped off to Palm Beach every summer and had a blast with Geoff, hanging out in his office, where they had a ping pong table and couches and foosball. We had a lot of fun there. It's a different atmosphere. We loved the start-up atmosphere. I still love it. He gave us the drive to be entrepreneurs. We saw him do it and he'd show us stuff. If somebody you love is doing it, it hits you a lot more.
Of course Geoff has had his hand in a lot of the features on myYearbook, too. I love being in our office in the summer, when it's Geoff, Dave and I. I feel like every time we go to Starbucks, we pick something that we're going to do. It's just in the moment, the three of us walking somewhere, that we really can hit upon something. We do our best work when we can talk freely. We're not the kind of people to necessarily draw up an entire idea and show it to each other. We work the idea in stages, with feedback along the way.
KE: How has virtual currency become such a big part of the site?
CC: When we first started Lunch Money, it was to drive engagement. There were a bunch of applications we were thinking about launching, but we needed something to push them forward. One of our features allows users to buy and sell friends' photos, and the point of the game would be to buy low and sell high. So obviously to do that we needed some kind of currency. It was the same thing with our "Battles," (virtual currency) allows members to wager on them. It really makes the apps more interesting and enriches the experience. When we decided to actually start monetizing it, it was already engrained in the community. They loved Lunch Money and were asking for ways to get more of it. Then came the ability to buy Lunch Money and the launch of our subscription model, the VIP club, where users have a certain amount of Lunch Money depending on how much their membership is and get certain perks.
The new toolbar really focuses on monetizing the site. It allows members to get lunch money by making searches. For us, we know what our members are interested in, so there's definitely perks for us. They can get coupons–we basically make it like a shopping mall. It enhances their experience and fits into our strategy. Our revenue is in seven figures and a huge portion of that is because of Lunch Money.
KE: So how long before you move on to the next big idea?
CC: I love working on myYearbook. I can't picture doing anything else right now. I can't picture working a 9-to-5 like my parents. I need a high-energy environment. I love the atmosphere and the ideas coming to life. I think I'll definitely be more of a serial entrepreneur. I also have an interest in politics. We'll actually take over the world (laughs).We'd like to be the largest social media site on the web.
---
Joe Petrucci is managing editor of Keystone Edge. Send feedback here.

To receive Keystone Edge free every week, click here.
---