To say Malathy Nair trusted her abilities is an understatement. More like she found it inconceivable to question them.
Right around the time her mother was in the hospital for a heart attack, Nair got an idea for a business. With her own children to raise and knowing she would soon have to care for her ailing mother, she quit her job as a scientist for a large food manufacturer and took up office space in the Hershey Center for Applied Research.
Her idea? Lessen the load on multitasking moms like herself by making food shopping simple. She designed a healthy, tasty, natural food product that all three generations in her household would want to eat, "kind of like this universal food you can give to everyone," she says.
But success wasn't immediate. "It took a lot of trial and error," she says. "There were a lot of experiments that went wrong before I came up with the formula. It was a big challenge to get all the salt out."
Five months later, Nair felt she had hit upon the perfect balance. Elderly people could crush in their pills, kids can make it, everyone's happy. "I think the beauty of these products is you can combine your fruits with it," she says. "It's kind of a healthy dessert or a snack that you don't have to feel guilty about eating."
The end result was Better Bowls, a line of just-add-milk puddings and add-water-and-microwave gelatins with higher amounts of fiber, vitamins and nutrients than competitors. While flavors are limited to the basics–vanilla and chocolate puddings, orange and strawberry gelatins–the company claims greater nutrition numbers than the competition, all-natural ingredients and a taste that even picky kids will love.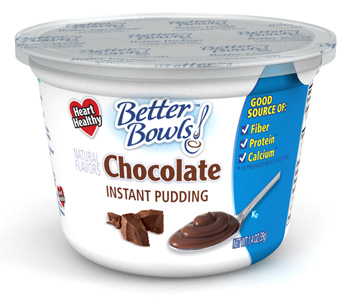 The single-serving-in-a-bowl packages are available in a few grocery chains in south-central Pennsylvania and northern Maryland, for whose support Nair is grateful. The Hummelstown-based company is currently selling them for $1 to raise interest. There's also a coupon for a dollar off two purchases. The next idea is to package multiple servings together to reduce costs.
"We really have a premium product, but in these economic times, it's really hard to price it where everyone can try it," Nair says.
For now, the company isn't getting too fancy. "We didn't want to do a bunch of flavors. We were really trying to focus on the benefits," Nair says.
Nair hopes portion-controlled servings–190 calories with milk in the puddings; 110 calories in the sugar-free versions–have actual impact on the national obesity epidemic, a goal other companies have failed to achieve with recent 100-calorie packages that leave people hungry.
"It's important for companies to provide these healthier food options that they can buy at affordable prices," she says.
Nair has 15 years of experience in food science, including six with The Hershey Co. Previous to that, she launched Yoplait Whips for General Mills. She has several patents and degrees in microbiology, biophysics and food science.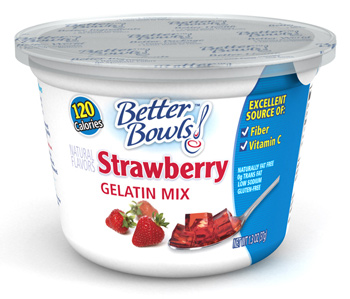 The company is mostly Nair and her husband, Alex Blumenthal, whose background is in marketing. Both quit professional careers and leveraged themselves to launch the business.
But whether the bowls find a niche or not might have more to do with how they're marketed than the nutritional numbers. "The first thing that distinguishes her is gluten free. There aren't a lot of companies who'll do that," says Lynn Brown, a food-science professor at Penn State University. "If she wants to follow up on the gluten market, there's probably room there but she has to get over into the products that make a difference."
That means products that usually contain wheat, none of which Better Bowls' current offerings do. Gluten-free production requires a separate line, Brown says, and because the demand isn't there–"The gluten intolerance group is considered, probably, a small market," she says–big companies haven't bothered. "The food industry, they know about the interest in healthy eating, but they also know that what they sell right now, people buy and eat, so people have to vote with their dollars," she says. "Food companies will respond whether people buy things or they don't. They do this all the time; they put stuff out and see what happens." 
Brown suggested the company needs to do market research into where it can carve a niche. "There's always room for innovation, and they will be watched," she says. "My guess is that she hasn't differentiated herself from the pack yet."
That's exactly what Nair hopes to do. "We can look across a lot of other categories and try to improve them," she says. "That's the benefit of being a smaller company. We can really turn on our innovation hats and if it works, launch it."
---
Rory Sweeney writes on energy and the environment when he's paid to and sits
around talking about them when he's not. Send feedback here.
To
receive Keystone Edge free every week, click here.
---
Photos:
Malathy Nair
Better Bowls Chocolate Pudding
Better Bowls Strawberry Gelatin

Courtesy of Better Bowls