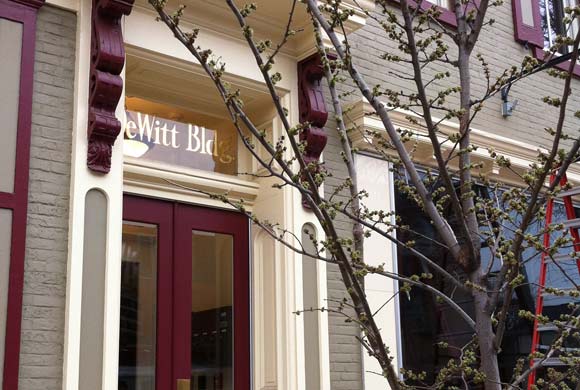 Creating a healthy, lively downtown area in a bucolic pocket of Pennsylvania has its challenges.
For one thing, entrepreneurs in less-populated areas have less access to resources that help them launch new businesses than people who live in metropolitan regions. "You can't really have a vibrant downtown unless you have arts and restaurants and entertainment," says Linda Sterling, executive director of the Lewisburg Downtown Partnership. Just under 45,000 people live in all of rural Union County, which includes Lewisburg.
But its downtown, about a half-hour's drive south of Williamsport, is a vibrant place where residents and visitors can check out a movie in a theater built in 1941 and peruse art in a variety of galleries. Sterling credits much of this to more than a decade's efforts by a collective of business owners, town officials and Bucknell University, located in this borough of about 5,800 people.
"There's a lot of synergy between a healthy borough, a healthy downtown and a healthy Bucknell," Sterling says.
Her organization opened in 2000 in response to the fact that downtown Lewisburg had 13 vacant storefronts. In the decade since, the three groups – local officials, businesses and the college – worked closely to create a more cooperative relationship among all of the stakeholders and draw more businesses to the town.
Now, Sterling says, downtown Lewisburg has just two empty storefronts. And 28 out of 47 businesses that responded to a survey of how well their sales were in 2011 said they actually saw more business than in 2010. Another 15 businesses reported that their sales remained steady from 2010 to 2011.
It's hard to pinpoint exactly why this is. But Sterling credits much of it to a few redevelopment projects that are still ongoing. Bucknell is behind much of the changing face of Lewisburg.
Downtown Draws
A film professor from the college bought The Campus Theatre, an art deco movie house downtown, in 2001. Now Bucknell officially owns the building and leases it to a nonprofit dedicated to the theater's revitalization. It opened in August to a crowd of more than 400 people.
This summer also marked the opening of the new Bucknell bookstore, which is located in a restored historic building downtown. Steve Stumbris, interim director of the college's Small Business Development Center, says locating the bookstore downtown was part of a concerted effort to integrate students and the Lewisburg community.
"It's very clear that there's a Bucknell bubble around campus that's hard to break," Stumbris says.
The bookstore draws students downtown. Sterling says it's attractive to others in Lewisburg, too.
"It has a really urban feel," she says. "It's not a shopping experience you're going to find anywhere else. People of all ages in the community use it."
And the college isn't done. It's now in the final stages of converting another downtown building, already home to the Small Business Development Center, into a business incubator and art gallery.
The incubator includes a conference room, office and shared equipment for up to a dozen businesses. Those who run the incubator anticipate it drawing entrepreneurs in sectors such as technology and professional services. Stumbris says it's accepting applications from interested companies and expects some to be in place by summer. Those who move into the incubator will be able to connect with Bucknell faculty and student interns, further bringing the town and college together.
Sterling says the downtown partnership is taking other steps to make Lewisburg an attractive place. One of its next projects is a First Fridays promotion, in which businesses will be encouraged to open their doors for longer hours one Friday a month. For May's First Friday her organization is planning an art gallery walk that will feature Bucknell's new gallery.
"We're just setting ourselves up as a really great place to do business," Sterling says.
REBECCA VANDERMEULEN is a freelance writer who lives near Downingtown. As she tells friends out of state, that's between the cheesesteaks and the Amish. Send feedback here.