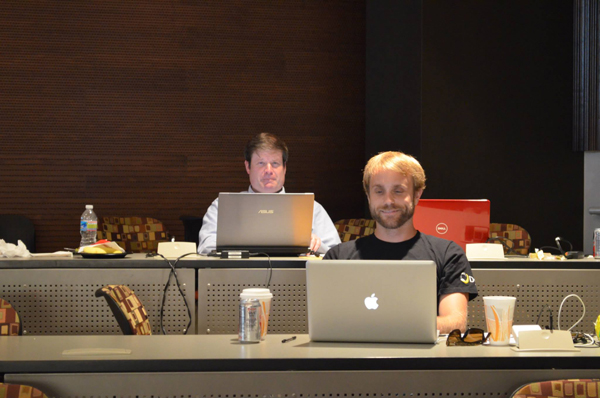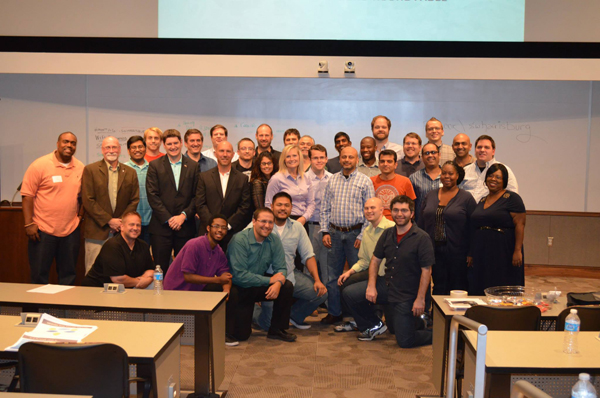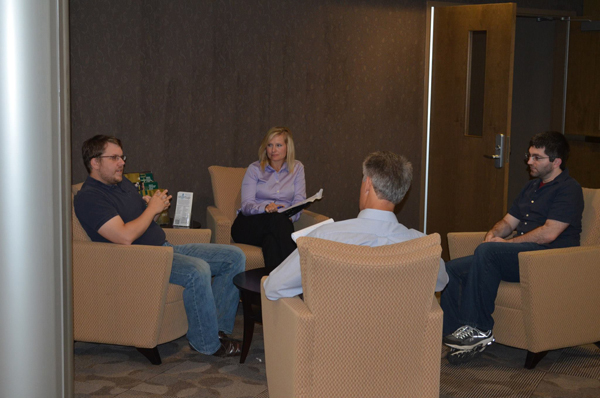 Fueled by plenty of coffee and assorted candy, 33 hopeful entrepreneurs packed the top of Harrisburg University of Science and Technology's beautiful building in the heart of the city's downtown for the inaugural Harrisburg Startup Weekend this past Friday-Sunday. 
The result was pretty sweet.
Seven teams, while boasting no designers, came up with app and internet solutions to problems ranging from how to get people organized for a workday lunch to how to help angst-ridden teens get dressed.
The first-place winning team, a website and mobile app called DateMyApartment, was headed by twin sisters Sheila and Sharon Waples of Philadelphia. The idea is to connect landlords and future tenants, providing the former with a background check and the latter with 24 hours to try out the apartment before signing a lease.
Participants came from as far away as New York, New Jersey and Washington, D.C. The general consensus was that the teams overall had strong ideas for their businesses.
In his introduction to the final presentations Sunday evening, judge and organizer Chuck Russell said the second Startup Weekend Harrisburg will probably be scheduled for October 2014. (Earlier, in an informal discussion, Russell had mentioned that there were few university students in attendance last weekend, possibly because it happened so early in the school year.)
Sheila Waples, whose job as a leasing consultant gives her an inside edge on the apartment business, said this was her first experience with Startup Weekend, and she was thrilled with her team's success.
"My sister and I and the team are going to continue with this," she said. "We feel it's a good idea."
Second place went to the mobile app Wear It's At, which helps teens mix and match clothes from various stores and includes recommendations from other teens. In her presentation, team leader Wendy Keim said she got the idea from going back-to-school shopping with her teenage daughter.
The third-place winner was SurveyRT, another mobile app designed to give restaurant owners real-time instant customer feedback through brief surveys, which could also be used to increase traffic through discounts and promotions. The team leader was Scott R. Davis.
One team won the hearts of the judges by centering on Startup Weekend alumni with a website called Weekend After, winning them an honorable mention and an exhortation to go ahead with the site. Led by Fran Gillot, the team addressed the question, "What happens after the 54th hour?"
With 50 events per month all over the globe, Startup Weekend participants make up a huge talent pool of designers, business people and techies who can be part of a creative community as well as a resource for others, the team pointed out.
The rest of the startup ideas included Give Wave, a facebook app to connect donors to small, local nonprofits by researching their interests, friends and localities (team leader Prem Durairag); Let's Do Lunch, a mobile app for coordinating lunch dates for people working at various locations (team leader Charles Nordine); and Immersive Adventures, a mobile app in which visitors to an area can map their own adventures and add to the content describing various attractions (team leader Troy Yohn).
Judges for the event were Dave Bonsick, president of the Technology Council of Pa.; Ed Harrell, Entrepreneur-in-Residence at Harrisburg University; Pam Martin, executive director of the Ben Franklin TechCelerator Incubator at Carlisle; Michael Hund, attorney at McNees Wallace & Nurick, LLC; and Chuck Russell, senior partner, Collective Intelligence.
Organizers for Startup Weekend Harrisburg were Russell, Ben Donahower, Steve Infanti, Josh Smith and Rich Krott.
Major sponsors were Harrisburg University, [email protected], Team PA, Ben Franklin Technology Partners, Collective Intelligence, [email protected], and Netrepid.
The first-place winner was awarded 12 months of hosting on Netrepid, four months of desk space at the [email protected], access to the TechCelerator Entrepreneurial Program, a chance to pitch at Ben Franklin Technology Partners and pitch practice from the Founders Roundtable.
Susan L. Peña is a freelance writer in Berks County who has covered business, development and the arts for more than two decades. Send feedback here.