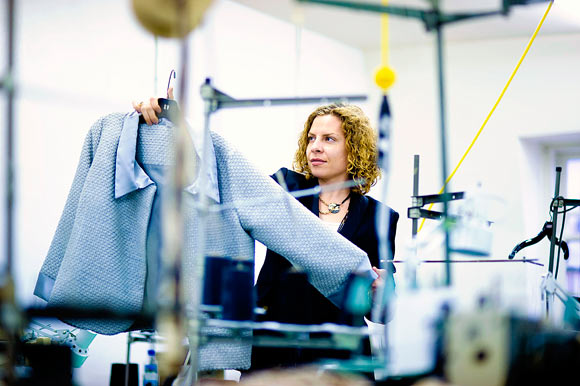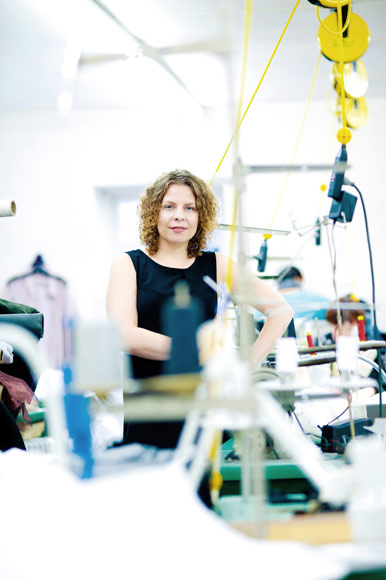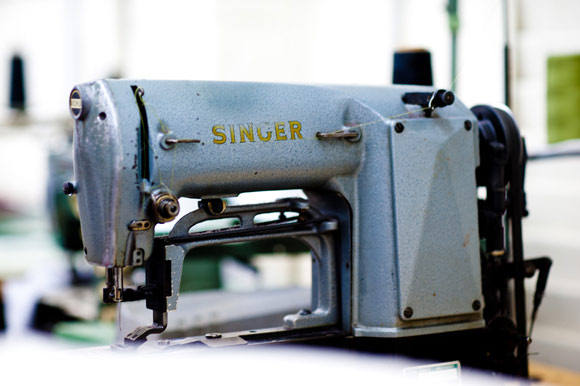 In December, Sarah Van Aken announced that she was closing SA VA, her Center City boutique. Surprise and sadness ensued from all corners — there was nary a local media outlet that hadn't covered Van Aken's remarkable vertical manufacturing enterprise. She set out to make clothes in the same building where she sold them; at its peak, she employed 15 cutters, sowers and packers. Her success seemed like a validation of so many values — shop local, create jobs, produce sustainably — so what does the end of SA VA tell us?
Well, it certainly tells us that Van Aken was exhausted from the day-to-day struggle of running a complex, fickle, cash-poor business. It tells us that longevity is not the ultimate indicator of a worthwhile venture. And it tells us that living the entrepreneurship dream is a tough road: fulfilling, exciting, inspiring, but also incredibly brutal.
Flying Kite sat down with Van Aken in December, during the final week of SA VA. Let's call it an exit interview for one of Philadelphia's most respected small business owners.
So, tell me a little bit about how you ended up here, with the decision to end SA VA.
Startups are risky. There's no guarantee to begin with. I can also say that I very much look back at SA VA as a success. A large part of the challenges we faced would have been encountered in any entrepreneurship situation, not just a socially-driven one. I made a personal choice [to close] because the personal sacrifice at this point in my life was too great.  
So, how did you conceive the ethical, sustainable aspect of the business?
I really started my business in 2006 with a line of men's shirts, then started designing uniforms. I had no inclination to be socially-driven when I first started, then I became more aware of what was going on in the world. 
The apparel industry is one of the largest polluters of the environment in the world. People are working in enslaved labor conditions — we are committing one of the hugest acts of human slavery that mankind has ever known right now. I don't know that people really understand that. I started to really explore how to do it differently, creating a socially-driven business model that was based on creating local jobs and using responsibly-sourced textiles.
Did you understand early on that sustainability could be an essential part of the brand?
I spent months branding SA VA. Most brands that were organic or had some sort of social mission were a lot more granola, and I wanted to be fashion. I inherently understood that it could be added value — we could use it as a platform to differentiate ourselves.
I always assume that when a recession hits and money is tight, socially-conscious buying is one of the first things that goes for consumers. 
Yes, and I started my business September 2009. The economy that we launched in was challenging. I learned a lot on the job. Apparel manufacturing is not the most complex technology-wise, but it is an incredibly detailed process. Things can go wrong at so many points. 
We were creating a [vertical manufacturing] model that hasn't been used in the U.S. in almost 100 years. There isn't an infrastructure here that supports it. When I had a factory in Bangladesh, I didn't have to be an expert in putting on rivets and snaps and studs and labels, because when I needed it done, I would send it to the guy up the street. There was just this whole support system. To do it here in the U.S., there was a big learning curve. 
Success in manufacturing is really being specialized. By the time we got really good at making knit dresses, we were on to doing woolen blazers. Although institutional knowledge was built within our system, it wasn't like we were making a thousand t-shirts a day — there's this benefit you get from that consistency. 
What was the biggest challenge outside of the nuts-and-bolts of manufacturing?
I started without any sort of cash flow. I would never start a business like that again. It really affected my ability to do my job in a creative way and build a brand.
Fashion is highly capital intensive. If you look at any of the big apparel brands, they all started with a lot of capital and, if they didn't, they ended up being bought by a bigger company. Tori Burch started her business with $10 million and her husband was a supply chain guru, so of course she's a global brand. If you ask Vera Wang, she didn't start making money until she was bought and then did a line at Kohl's. On top of that, I'm doing the manufacturing, designing and product development. 
There were times when we couldn't make the whole collection because we really couldn't afford to. We're making design decisions based on financial constraints. After we raised money last year that really shifted, and the result was seen in store sales for the last nine months — we were up 22 to 87 percent every month consistently. November, before we announced [the closing], was up 87 percent over the year before. It's ironic, right?
So, what costs so much?
Just to have your own brand, even without the manufacturing, you need a designer, a sourcing manager, a pattern maker — you're looking at $150,000 in salaries right there. That's kind of a big nut to crack when you consider all the other overhead. A 400-square-foot retail store is never really going to cover that. 
We had a diversified revenue stream that was good for cash flow but distracted me. I'm running three businesses. I would have been very well-served with a manufacturing partner or a business partner who was the CFO/COO type of person. Not having that was really taxing.
Can you talk a little about trying to do fashion in Philadelphia?
Sure. Listen, Philadelphia was a great place to incubate my business. I don't think that I could have explored this model anywhere else. And I think that the support I got from the community is an indicator that this is something really special.
Look at where [the city was] in restaurants and food 10 or 12 years ago, when it was Neil Stein, then it was Stephen Starr — they built a whole community and culture by having successful restaurants. I would love to see that here with fashion, but I think it's more complex. A restaurant is this little contained manufacturing unit. To really have that type of industry, there's going to need to be a redevelopment of the infrastructure. I think that's a huge hurdle to overcome. 
I've been having lots of conversations with people about startup culture, and everyone agrees that Philadelphia has a lot of energy and talent, but we're missing capital. It sounds like you agree.
Someone recently said to me that Philadelphia was one of the hardest cities to raise money in. Well, it took me six months to raise money. I did like 50 pitches in those six months. It was bananas. It's one thing to raise money in tech because people understand that. Investing in a vertical fashion business? (Laughs) 
A good friend of mine facilitated a lot of connections and support for me. When I closed our round, he said, "Congratulations, I didn't think you'd do it." 90 percent of people who set out to raise money don't raise it. At the end of the day, my partners didn't invest in my business, they invested in me. I think that they would do it again, even though I just lost their money. Which is bizarre. 
Any advice you'd give to nascent entrepreneurs?
Whenever anyone says to me, "I want to be a fashion designer. I want to have my own brand," I say, "Go work for someone else first." Someone who's small enough that you can really understand what they're doing, because the personal sacrifices are huge. I made more money when I was 32, selling real estate.
Fashion is tough. It's about creating "need" for the next new item. Meanwhile, you were kind of making the argument that you're better off owning three ethically-produced, quality shirts than 50 H&M shirts.
Yeah, and I think that that's true. Because the H&M ones are going to fall apart in three weeks. But that doesn't feed another underlying problem that Americans have — constantly needing new things because they don't feel good about their lives on a fundamental level. We have driven this compulsive buying society since the '50s. My grandfather bought a new car every two years — that is messed up. I have less clothes now than I did ten years ago and I could have all the clothes I wanted!
When Eileen Fischer or Anthropologie or J. Crew want to manufacture in the U.S., they have the capital to do it. And any factory will drop everything to take their orders. When you talk about all the folks we're putting out of design school and the incubators, they're doing it on a small scale and they have no idea what actually goes into manufacturing…If you're a manufacturer and you have someone who wants 100 pieces made (which is a lot for most small designers), and they [require a lot of hand-holding], or you have Anthropologie who comes in and says, "I want to make 10,000 pieces." What are you gonna do? It takes as long to cut 100 pieces as it does to cut 10,000. It's really challenging in that way. 
If we [as a society] really wanted support this industry we would do it. We've been subsidizing farms, we've been subsidizing car manufacturers. We subsidize every other manufacturing industry.
It seems everyone these days wants to "be their own boss," but that comes with its own sacrifices. 
I posted an article on my Facebook page [about the emotional toll of entrepreneurship]. With what I do, everyone is like, "Oh my god, it's so glamorous." I'm like, I have the schleppiest life. Do you realize that I carry bolts of fabric around half my days? 
And the stress is out of control. My first two years, I didn't have as many close advisors as I needed. I put together a board of advisors, and particularly through our chairman, my work has been transformed. Why do you think our retail sales are up so much? We're finally doing it right because I've learned so much from him. 
At first, I was very isolated. Without having working capital and having to make payroll every two weeks — my payroll at one point was over $30,000 per month, not including the taxes — was nauseating. Raising money when you have to run your business and when you really need it, I've never been through anything like that. I can't explain the level of anxiety I lived with everyday — it was excruciating.
It must also be a point of stress to keep up appearances — you received so much positive press, and you're also trying to build a brand, show strength. You can't show cracks in the facade because it's self-defeating.
Things were going well. When I was making this decision, I was also in the middle of talks with QVC and O Magazine had just pulled shirts for Oprah. I knew over the summer that we were going to have to raise more money, which didn't really scare me. Our lead investor started pushing me to make choices that I didn't think would be a recipe for success — you aren't going to be paid for two years, you basically have to fire all your staff. That's not a brand, and that's not a way to move forward. You need to give me an option I can live into, because I'm 37, not 27.
You talk about wanting to have a family. Can you speak a little about being a woman and being an entrepreneur. Do you feel like there are different challenges?
I think being an entrepreneur is really taxing, and I've lost a lot of relationships because I've been doing this. If I had a life partner, it might be different. I also didn't want to work 100 hours a week and have a kid that I never saw. Do I think it's possible to work and have a kid? Absolutely. And I think it's possible to be an entrepreneur and have a kid. I don't think it's possible in the business that I had, in the way that it was structured.
So, what do you want to do next?
I'm considering a lot of opportunities — some in the fashion industry. But I'm really leaning towards brand consulting, doing the things that I'm really good at, not the things I was forced to do. Maybe help socially-driven businesses raise money? Community development. I might write a book.
The cool thing with your business, as opposed to, let's say, a shuttered internet startup or even a restaurant, is that your clothes are still out there. They have a life after they leave your hands.
That's really incredible. I was heading to a meeting three weeks ago — I arrived and one of the women (someone I didn't know) was wearing head-to-toe SA VA. Dress, sweater, vest, earrings. She looked great.
To use a sports cliche, do you feel like you went out on your own terms?
I did. It's been amazing.
LEE STABERT is managing editor of Flying Kite and Keystone Edge.