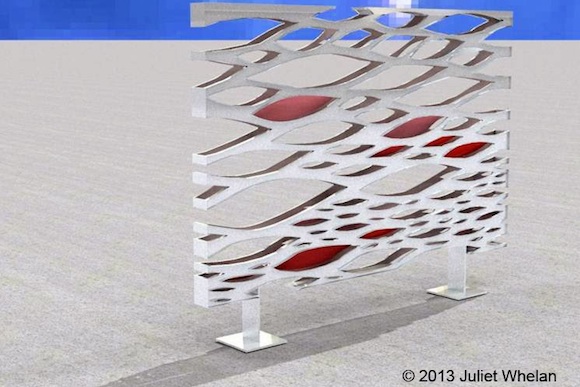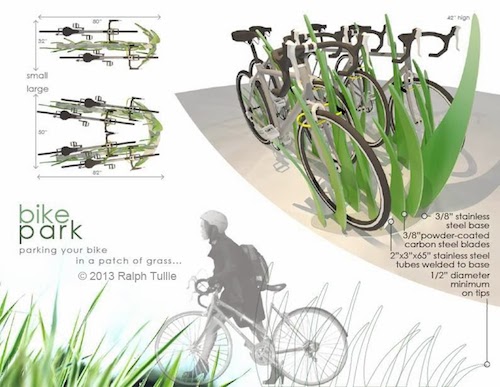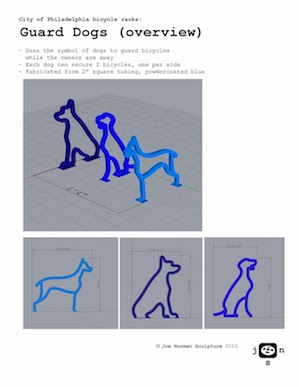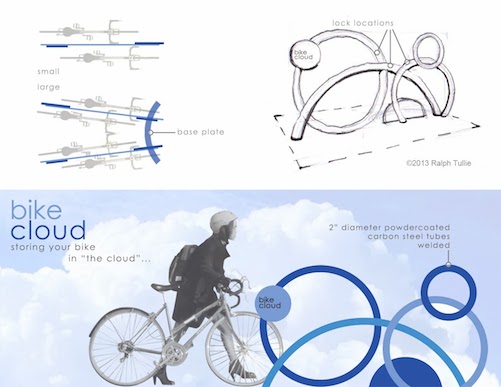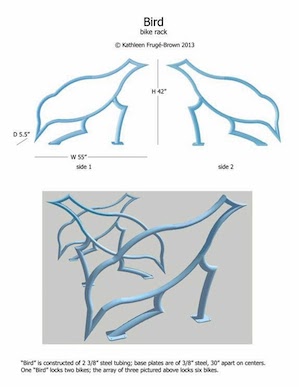 Thanks to a recently-formed partnership between theBicycle Coalition of Greater Philadelphia (BCGP) and the City's Office of Arts, Culture and the Creative Economy, local cyclists — especially those who ride into Center City on a regular basis — will have at least 10 new places to lock up this summer. 
BCGP applied to the Knight Arts Challenge, a contest aimed at beautifying public spaces. "We were one of the 43 winning proposals selected back in May, along with a lot of other great projects of varying size and scope," says BCGP's Nicholas Mirra. 
That application consisted of about a dozen designs for site-specific, artist-created bicycle racks. One particularly unusual rack, constructed from stainless steel with room for four bikes, resembles a patch of waist-high grass. Another rack, this one with space for six bikes, is a minimalist sculpture featuring three life-size guard dogs. 
The Knight Foundation's $50,000 grant was predicated on the two partner organizations' ability to raise matching funds. That goal was accomplished via anonymous donations and money offered by the half-dozen or so institutions scheduled to host the racks on their properties. And while negotiations for a few locations are still in progress, the artist-designed racks are set to arrive this summer outside of City Hall, Sister Cities Park, Boathouse Row, Café Pret, Penn Center Plaza and the Philadelphia Museum of Art's Perlman Building.    
 
And for those who suggest that the city already has more than enough parking for two-wheeled riders, Mirra offers this retort: "There aren't enough. If you look around sections of Center City, the spaces for bicycle parking are as full as the spaces for car parking. And so you get bikes parked to trees, [and] parked to private fencing where they're not supposed to be. There's [simply] not enough bike parking in the city."
Fortunately, that's about to change.
Source: Nicholas Mirra, Bicycle Coalition of Greater Philadelphia 
Writer: Dan Eldridge