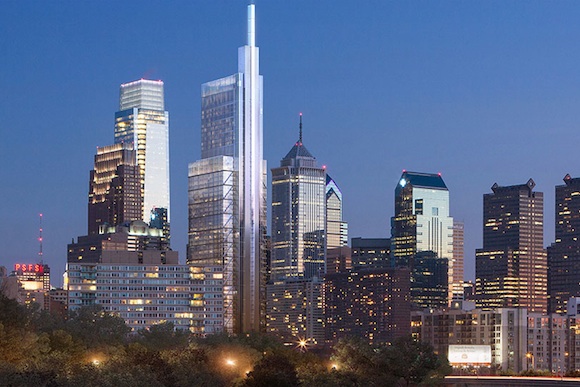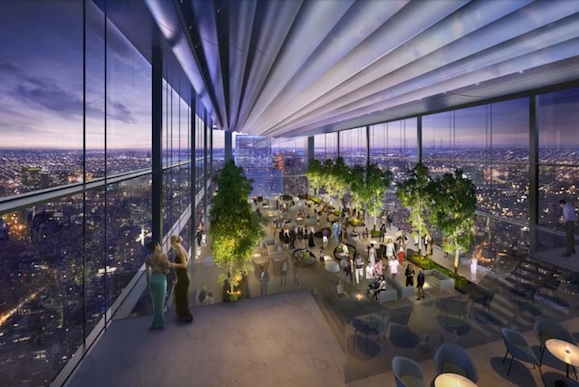 Last week, the news came down: Comcast is building another glittering tower in Philadelphia. The skyscraper will be the tallest building in the United States outside of New York and Chicago; it will also be the largest private development project in Pennsylvania history. 
Designed by British architect Norman Foster, the 59-story, 1,121-foot tower, jointly developed by Comcast and Liberty Property Trust, will also house a brand new Four Seasons hotel and two restaurants — one at the base and one on the top floor.
But what has some folks — including Philadelphia Inquirer architecture critic Inga Saffron — truly excited is the ethos behind the design. The office spaces will be optimized for creativity and innovation. As she wrote in her column:
Until now, America's most glamorous tech companies have largely been housed in suburban oases, velvet prisons that offer employees endless supplies of vitamin water and protein bars, but require lengthy commutes in company caravans from San Francisco to the cluttered highway strips of Silicon Valley. There's plenty of interaction inside the bubble, but hardly any with the wider world.
With its new 1,121-foot-tall loft building, designed by Britain's Norman Foster, Comcast fashions a rebuttal to all that. Think of the towering waterfall of glass that was unveiled Wednesday as a skyscraper version of the great, light-filled factory lofts of the early 20th century, but wedged into the unpredictable heart of Center City atop the region's densest transit hub…
In short, this is what the future of the growing Comcast campus at 18th and Arch Streets will look like: Suits to the east, hipster engineers in cutoffs and flip-flops to the west…What distinguishes the project, now being called the Comcast Innovation and Technology Center, is the organization and aesthetic sensibility of the interior spaces.
That means wide open floors, with the elevator bays pushed to the exterior. It also means thousands of workers streaming into the heart of the city everyday to work and, hopefully, live. In a promising move, the developers have also promised to make certain spaces, such as the ground floor and the penthouse lobby, open to the public. Apparently from the top floor on a clear day you'll be able to see Atlantic City.
LEE STABERT is managing editor of Keystone Edge and Flying Kite Media.