After northeastern Pennsylvania native James Abrams graduated from Wilkes-Barre's
King's College
in 2005 with degrees in economics and history, he took a job as a commercial sales representative for a large company based in New York. He quickly realized that he wanted to do something "with a little more meaning."
The journey toward that meaning has had some bumps in the road, but the founding of his company, EthosGen, enables him to contribute to energy sustainability and the environment.
Abrams' original foray into green technology for generating electricity involved biomass (plants used to produce fuel). When that market imploded during the Great Recession, he had to change course. He and his collaborators came up with the CraftEngine, a device that converts waste heat to electricity.
Now EthosGen helps the military, large manufacturers and other companies fill their energy needs without the use of fossil fuels.
EthosGen placed in the top 25 of 2,500 companies in Sir Richard Branson's Extreme Tech Challenge last fall. This year the company was a Ben Franklin Technology Partners Innovation Award winner for the Innovative Application of Technology. It also won the 2014 BFTP/NEP Venture Idol.
Abrams is also a co-founder of Vitrius Technologies, located next-door in the Innovation Center (co-founder and CEO Patrick Son was profiled in Keystone Edge on March 12).
What inspired you to start EthosGen?
When I was at King's College, in addition to history and economics, I took courses in environmental energy and policy and political science. After I graduated, it was a difficult job market, so I took a job as a commercial sales representative, and quickly realized this wasn't what I wanted to do.
So I started talking with my dad [William Abrams], a 30-year veteran of the aerospace industry (he was the former president of Lockheed Martin). He had spent 20 years tinkering with ideas about alternative energy.
At that time, gas prices were through the roof and we were in two wars (Iraq and Afghanistan). People in the military were getting killed transporting fuel to [generate] electricity at the installations in those areas. We had the idea to use biomass to create the power.
In 2006, I went to King's College and talked to Father Jack Ryan, who at that time was the dean of the McGowan School of Business. I told him I had a business idea, and had an opportunity with the state that I wanted to go for. Even though I wasn't a business student or an engineer, he said he was willing to help. He supported me from the beginning; he introduced me to Mark Leffler, a serial entrepreneur who had retired from the chemical industry and my first angel investor, and was there to help me get started.
I put in the contract proposal to the state and got a flat-out "No." I'm still trying to get that contract.
That first year, we did the research and filed a patent on our first product, a closed-loop system to produce biofuel to be used to generate electricity onsite.
We pitched the idea to the Department of Defense, and they said we were on to something; this was a critical need. They awarded us a $1 million contract in 2008.
This was when the recession started. How did that affect your business?
At that time, my family was going through a lot of things. My 28-year-old sister had a stroke that resulted in paralysis. I lost two grandmothers in two years.
At the same time, the biomass and biofuel market imploded. Oil was cheaper, and it was difficult getting alternative energy into the market.
How did you turn things around?
In 2012, I was invited by the U.S. ambassador to Sweden to come to Sweden. They wanted to form a partnership between the U.S. and Sweden on alternative energy, sharing knowledge and commercialization. When I was there, I attended the World Bioenergy 2012 conference. There I learned of a brilliant company that had some unique technology that would complete our idea. They agreed to collaborate on the CraftEngine. We had great trials, and by late 2013 we were deploying units all over the world.
How does the CraftEngine work?
Every manufacturing company, every industrial company, even the large dot-coms, all have systems that produce waste heat, 24 hours a day, seven days a week, 365 days a year. With waste heat you don't have the expense of storing electricity; you can use it to create electricity onsite.
How has the company grown?
We now have 12 employees — engineers, sales, marketing, operations and development — and by mid-2015 we should have about 20. We have acquired a manufacturing partner, B/E Aerospace, to build our product. We have a contract with the U.S. Marine Corps and many customers, including energy utilities, manufacturing companies and data centers. The world's largest waste-heat producers are also the largest electricity users, so the market is robust. We have deployed our products to six countries.
Now we're beginning our Series A round to get venture capital for the company's growth.
Have you taken advantage of any resources to get the company off the ground?
The Ben Franklin Technology Partners of Northeastern PA supported our initial business strategy in 2008, and then made two investments, one in 2010 and again in 2013, for a total of $240,000. Back when I started, I had a circle of mentors around me: Father Ryan; Mark Leffler; Glenn Tyranski, a King's College alumnus; and my father. All were very helpful.
In addition to King's College, we have collaborated with Cornell University and the University of Arizona science departments.
[The company also received funding from NEPA Alliance's International Market Access and Global Access Program to make international business trips.]
What has been the biggest challenge?
There are a lot of challenges, not any one challenge. The most important thing is perseverance. Building a product, then going through all the changes we talked about and winding up with a disruptive technology, I never could have planned for that. I'm glad I didn't know back in the beginning that that was what would happen. But if you have the right mission and the right people, perseverance comes with that. 
One of the biggest challenges is that we're disrupting a huge industry. You have to do that almost without people realizing that they're part of a revolution. We have to create something they take for granted, that they barely notice.
Fortunately, with this technology, people don't have to change their behavior — this is a solution that helps their operations with their current behavior intact. Industries don't have to change their practices.
Writer: Susan L. Pena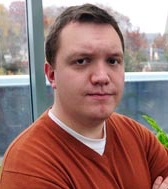 http://www.ethosgen.com/
7 South Main St. Suite 271 Wilkes-Barre, 18701
---
↑

Top