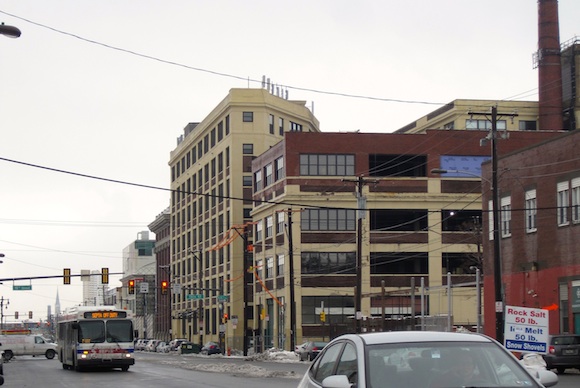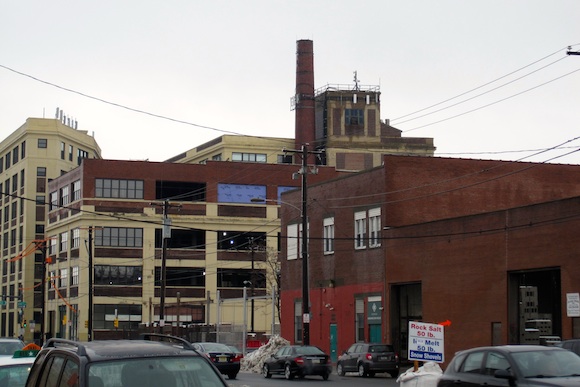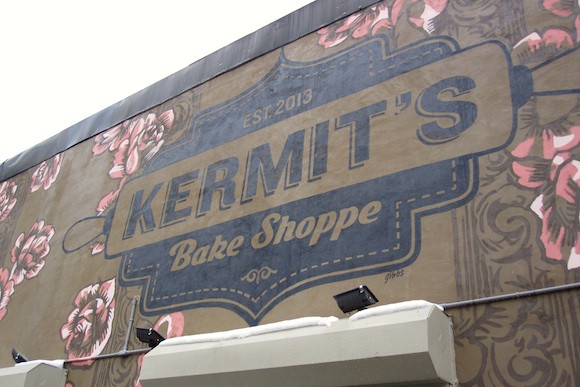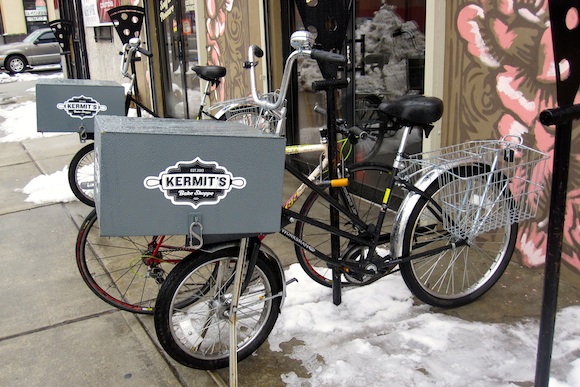 If you were to describe the western half of South Philadelphia's Washington Avenue — the stretch between South Broad Street and Grays Ferry Avenue — to someone who had never visited the city, what would you tell them?
Would you talk about the delivery trucks double-parked on the road's south side? How about the fork-lift drivers who zip back and forth across the avenue at all hours without a care in the world? Would you mention the lead-footed motorists who barrel through red lights and swerve across lanes without using turn-signals, making the experience of traveling the corridor resemble a video game come to life?
If you're the nostalgic type, maybe you'd pepper your description with a few facts about Washington Avenue's proud blue-collar history: In the late-19th century it was home to coal yards, iron foundries and clothing factories. That industrial activity played a major role in Philadelphia becoming known, coast to coast, as the "Workshop of the World." Today, much of the avenue's economic activity comes from a rag-tag assemblage of building-supply showrooms and auto-repair shops. Long-abandoned factories and trash-strewn empty lots are ubiquitous. Frustrated developers who find their efforts to win zoning variances stymied liken it to the Wild West.
But according to business leaders and property owners with a stake in its future, Washington Avenue's western half also has serious potential. Sandwiched between two of Philadelphia's most rapidly changing neighborhoods (Graduate Hospital and Point Breeze), the corridor's location is tough to beat. In fact, if you happened to find yourself in a glass-half-full sort of mood, you might very well describe the boulevard not as it is today (loud, frenetic, aesthetically disappointing), and not as it was back then (an economically vibrant manufacturing hub), but rather as the street so many locals desperately want it to become: An active, safe and diverse mixed use district. One where a wide range of pedestrian-friendly shops and service providers — health-conscious grocery stores, brewpubs, ethnic restaurants — coexist with existing commercial uses and support mixed-use residential development. Hopefully that transition is already underway.
Signs of change
That economic development recipe has proven successful in any number of formerly thriving industrial neighborhoods, such as Red Hook in Brooklyn, and even Northern Liberties right here in Philadelphia. Some of the ingredients seem relatively obvious: Put in a few dozen trees and streetlights, throw down some jumbo-sized planters along the sidewalk, get rid of that parking-in-the-middle-of-the-road business and install a grassy median with park benches instead. Wouldn't changes like those convince the Trader Joe's and Stumptown Coffee Roasters of the world that Washington Avenue West is a no-brainer for investment?
But of course, it's nowhere near that simple. Business owners, residents, developers and community groups don't necessarily share the same wants and needs. Newcomers don't always understand the history or culture of the district, and don't always care to. There are neighborhood natives who are resistant to change. And then there's the municipal government, which is ultimately responsible for rezoning Washington Avenue, an incredibly cumbersome and time-intensive process that's currently underway as part of the City Planning Commission's Philadelphia2035 comprehensive development plan, which won't be finished for at least another three years.
And yet even in the face of all those obstacles, change is coming. The residential revival in the adjacent neighborhoods has been a boon. Kermit's Bake Shoppe, an artisanal pizzeria and bakery that delivers its goods via bicycle messenger, opened last summer at 22nd and Washington. Springfield Beer Distributor, which had long held court at the foot of the South Street Bridge, became Kermit's next-door neighbor just a few months later. A little over a year ago, NextFab Studio, a DIY prototyping facility with an innovative membership model, opened at 20th and Washington, and soon after, a CrossFit gym opened on the avenue's 1900 block. The latest commercial addition is a mixed martial arts studio that also teaches Krav Maga, the trendy self-defense system practiced by the Israeli military.
The planning game
There are, of course, considerations involved in the rezoning process that aren't necessarily as sexy as vegan cafés or artisanal bakeries.
"It's a very legitimate issue — how we try to manage places in town that are transitioning from market forces, from industrial to residential," says Alan Greenberger, chairman of the City Planning Commission. Washington Avenue West, he adds, is one of a few different corridors within Philadelphia proper where there has been a significant commitment on the city's part to preserve industrial properties. "We just need to be mindful of not wanting to create a situation where [those properties] are inevitably put out of business or forced to move."
According to Greenberger, who also acts as the city's Deputy Mayor for Economic Development, one of the Planning Commission's major struggles involves identifying the line between market-driven residential growth and legitimate industrial uses on the corridor.
"We shouldn't be callous or flip about that [issue]," he cautions. "If all those building supply places were to disappear from West Washington Avenue over the next couple of years, then a legitimate question might be, 'Where are they going to be?' 'Is [the avenue] going to be vested in the [same] kind of family-owned businesses that have been there for decades?'"
Or is it going to be taken over by, say, Home Depot or Lowe's?
"We can't stop the tide," says Greenberger. "But we should at least thoughtfully consider the possibility that there's some way for these businesses to survive."
Looking back to move forward
South of South Neighborhood Association (SOSNA) Program Coordinator Andrew Dalzell makes it clear that his organization has no problem with preserving Washington Avenue's historic economy.
Back in 2005, SOSNA released a City Planning Commission study that suggested marketing the western end of Washington Avenue as something of a Design District — advertising the fact that just about anything available at a big box store can also be purchased in the Avenue's many showrooms and supply shops. And in 2009, SOSNA released a walkability plan suggesting various pedestrian-friendly improvements.
"We see Washington Avenue as a place where you can do things that you can't do anywhere else in the neighborhood, whether that's a larger-scale grocery, a plant nursery, a bowling alley, [an entertainment venue], or an apartment building with commercial on the ground floor," says Dalzell. "[The Avenue] is zoned industrial. That's where you put that stuff, and that's what neighborhoods need."
"I'm so proud of Washington Avenue," says Tom Donatucci, gazing at a mural of the city that greets visitors to his Washington Avenue West kitchen and bath supply showroom. A fourth-generation Washington Avenue resident who took over the 50-year-old Donatucci Kitchens Baths & Appliances from his father, Donatucci is a picture-perfect example of the area's old guard.
But in South Philly's development and community organization circles, Donatucci has a different claim to fame — he's head of the Washington Avenue Property Owners Association (WAPOA).
WAPOA was first formed as a standard business owner's organization back in the early 1980s, when Donatucci was just a kid. That was a difficult time for the neighborhood.
"This was during the crack epidemic," says Donatucci. "Your car was getting broken into if you left 50 cents on your dashboard." But things began to change in earnest, he says, during the last building boom. "I remember Dunkin' Donuts coming to 16th Street was like a breakthrough. It was like, 'Hey, somebody believes in us!'"
Today, WAPOA acts as a connector group. Meetings take place monthly in Donatucci's second-floor conference room. ("We almost need a second meeting," he says. "There's so much to talk about.") Current membership is just north of two-dozen. Representatives from the City Planning Commission, various community development corporations, and representatives from Councilman Kenyatta Johnson's office have met with the group to discuss best-case scenarios for the future of Washington Avenue West.
With the exception of a few holdouts, the street's main property-owning stakeholders "are all on board" with WAPOA's vision. "I think for everything to work [here] successfully, you need critical mass," says Donatucci. "You need a place for it to happen. You need a commercial corridor. You need bakeries, and nice drug stores, and organic markets and flower shops. And you need walkability."
Washington Avenue "has to be the hub — the central business district — of our little community," he continues. "If we let craziness go on, it'll never take off. People won't invest. It'll just get handcuffed. But if we get some help, and if we plan, and if we police ourselves and do what we have to do, then I see this whole thing just continually rolling. Because every community needs a hub."
The litmus test
A parking lot on the corner of 16th and Washington might hold some clues to the avenue's future. Located directly across from the aforementioned Dunkin' Donuts franchise, the parcel sits in front of a low-slung Asian shopping center called Hoa Binh Plaza, which opened in 1990.
A proposed project — known as 1601 Washington — achieved approval from the city's Zoning Board of Adjustment in late January. Reaching that point was a long and complicated process, but barring appeal, new-to-the-neighborhood developer Rory Scerri-Marion will soon erect a mixed-use building on the site with commercial on the ground floor, a few stories of residential and parking. In other words, exactly the sort of project the neighborhood's community groups and business owners have been pushing for all along.
"The overwhelming majority [of the community] understood that Washington Avenue West is kind of a desolate place, especially in the evenings," says Scerri-Marion of his months-long struggle to win approval for the project. "[They understood] that it would be nice to start tying the avenue and the neighborhood together, instead of having it divided."
There are other mixed-use developments on the corridor that have already won zoning approval, including one at the old Frankford Chocolate factory at 2101 Washington, and another at 18th and Washington. But both of those projects are currently dormant, leaving 1601 as a litmus test: Will mixed-use actually fly on Washington Avenue? Will residents stomach the surrounding noise? Or will an influx of residential development cause the legacy industrial business owners to flee the neighborhood?
The avenue, of course, is currently zoned Industrial, as it has been for the past 50-plus years. But when the Planning Commission eventually wraps up its independent study, most stakeholders expect its recommendation will be for the district to become either an ICMX zone — that is, Industrial Commercial Mixed-Use — or an IRMX zone — Industrial Residential Mixed-Use.
"But what we're really looking for is a district that doesn't exist, which is ICRMX — Industrial Commercial/Residential Mixed-Use," says SOSNA's Dalzell. In that scenario, "You could have a showroom of granite on one part. You could have a CVS or a bank or a grocery store on another part, and you could have people living upstairs."
Still, as Scerri-Marion points out, many of the avenue's current industrial business owners, who've publicly shown support for mixed-use development on the corridor, are already planning to leave Washington Avenue West for greener and less expensive pastures in Southwest Philly.
"I think a lot of the current business owners are ready to concede," he says. "They're ready to change. I think the reality is that you could have a completely different Washington Avenue within the next five years."
Looking ahead 
The (impossible) question that everyone with a horse in the Washington Avenue race wants an answer to involves the future: What's actually going to happen in the next six months? The next year? The next decade?
We do know that the city's 2nd District Councilman, Kenyatta Johnson, has convinced Alan Greenberger and the Planning Commission of the need for an independent plan specifically for Washington Avenue West. (Under the Philadelphia2035 Comprehensive Plan, the corridor is actually split between two different districts; the street's north side falls in the Central District Plan, which has already been released, while its south side lies in the South District Plan, which hasn't even begun yet.)
According to Greenberger, the independent Washington Avenue West Plan is expected to kick off sometime this fall, and shouldn't take more than "just a couple of months" to complete. The results of that plan will eventually be merged back into the forthcoming South District Plan.
"For us," Greenberger explains, "it's just a matter of finding the staff to do it."
We also know that the city is moving forward with its one-to-two-year Washington Avenue Transportation and Parking Study, leading up to the desperately-needed re-striping of the avenue. What's more, the study promises to "propose alternatives to better organize movement…for pedestrians, cyclists, and vehicles" along the length of the avenue.
It's also no secret that the long-empty lot on the northeast corner of Broad and Washington has been purchased by the local uber-developer Bart Blatstein; he aims to build a 400,000 square-foot "vertical retail shopping center." According to an anonymous source in the development community, Blatstein's forthcoming project will likely influence the proposal of a similar or complimentary project on the opposite side of Broad (two of those lots are owned by the Philadelphia Industrial Development Corporation). Within the next two or three years, it's possible that the Broad and Washington intersection will become a powerful gateway, leading thousands of tourists and locals onto the burgeoning commercial corridor beyond.
Scerri-Marion is certainly ready for that to happen. In addition to 1601 Washington, he's involved with a 42-unit development at 1111 South Broad Street, next door to The Rock School. And at 1807 Washington, just down the street from Donatucci's showroom, he's "planning on putting in some sort of hip restaurant, kind of like Kermit's Bake Shoppe." Scerri-Marion also claims to be involved with a number of developments that he's keeping close to the vest.
"We do have options for a few different larger properties," he says. "We [could] do a Whole Foods or a Traders Joe's on the ground floor, and then build anywhere from 120 to 150 units above it."
That certainly sounds like change.
DAN ELDRIDGE is an independent journalist based in Philadelphia and the author of Moon Pittsburgh (Avalon Travel). His work has appeared in The New York Times, Columbia Journalism Review, and The Daily Telegraph. He is also news editor at Flying Kite Media. Follow him on Twitter at @YoungPioneers.