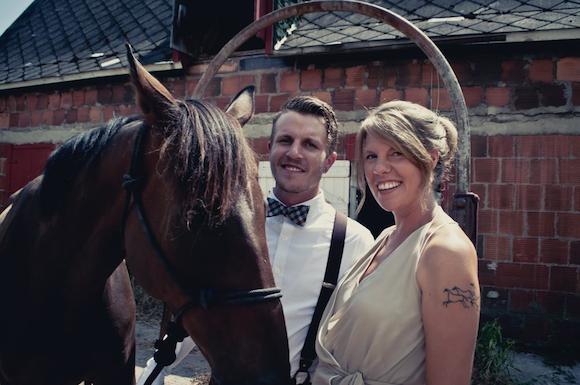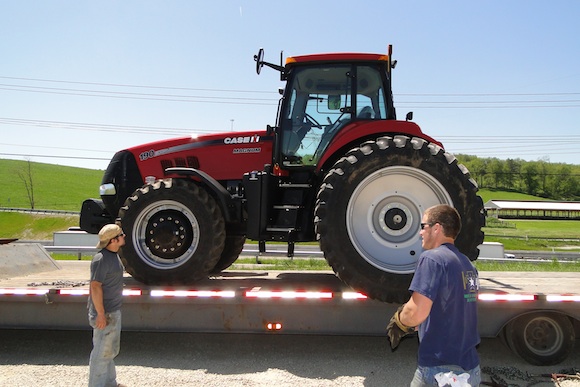 Just two years ago, Blakslee Frederick Masters was living in a small apartment in Philadelphia working a full-time job in promotional marketing. All the while, she couldn't stop thinking about moving back to her family's 2,500-acre grain farm in Sugarloaf, Luzerne County.
"I felt restless and bored in the city," recalls Masters, who had always dreamed of working with horses. "I began thinking about what I wanted to do and how it could fit into my family's farm business."
So she moved back to the farm and followed her dream, launching B's Boarding Stable, a horse boarding business and riding program. In addition, she married her fiancé, Raleigh, who moved with her out of the city and now works alongside her father, farming full-time. They live on the property in an old house they renovated together. 
"The horse business fits in very nicely," explains the 34-year-old Masters, who owns five horses, boards four, and has 20 children registered for lessons. She feeds the horses the oats, corn and hay grown on the farm and uses the farmland for trail rides. "Raleigh and I are also easing the farm back into the potato business with 40 acres that we are overseeing ourselves from start to finish." 
Looking to the future, Masters wants to continue being hands-on with her horse business, while also expanding the farm in acreage and exploring potential crops, like sunflowers.
As the average age of farmers in Pennsylvania increases, a growing concern is where the next generation of farmers is going to come from.
"In the old days, farmers had a lot of kids who stayed on the farm," says Mark O'Neill, a spokesman for the Pennsylvania Farm Bureau. "Now farm families are smaller, kids are getting college degrees and finding opportunities away from the farm, leaving no one left to take over."
Fortunately, some farm-raised kids such as Masters are returning to their roots and bringing with them fresh ideas for growth and expansion, as well as a strong desire to continue supporting family traditions, global food security and environmental stewardship.
Finding His Way
After graduating from college in 1997 and working briefly in agriculture insurance, Hugh McPherson returned home to help run his family's fifth-generation-owned produce farm, Maple Lawn Farms, in New Park, York County.
"I realized I was happier working on the farm, but I also felt the need to come up with something I could call my own," he recalls.
Armed with a degree in Agriculture Business Management from Penn State University, a big loan and a vision to make corn mazes more fun, McPherson founded Maize Quest Fun Park, which has since grown into a 20-attraction fun park drawing approximately 30,000 visitors per year. 
"Maize Quest brought in people who wouldn't have come to the farm to pick their own produce, but they would come for entertainment," explains McPherson. "It gave us the opportunity to introduce new families to our farm and produce."
With the success of the corn maze, McPherson decided to take things one step further and franchise his business model. Today, there are 72 Maize Quest parks located everywhere from Florida to Minnesota to Canada and the U.K. McPherson and his staff serve as ongoing support for franchise owners by designing the maze each year, going to the farms to cut the maze, and holding workshops and online classes. 
"I enjoy making a connection with other people, putting them into an agricultural-rich environment and seeing the excitement on their faces from the experience," says McPherson. "That's what makes it all worth it."
Beefing Up 
Graduating from Penn State University six years apart, brothers Ben and Jacob Logan, ages 32 and 26, both made their way back to their family's farm in Irwin, West Moreland County. 
"It took me leaving the farm to realize how much I missed it," says Ben, who quit a stable government job that paid nearly $70,000 a year to work on the farm.
In just seven years, the brothers have grown the fourth generation farm, Logan Family Farms, LLC, from 75 acres, 25 cattle and a gross of barely $100,000 to 1,800 acres,150 cattle and $2 million in gross income. Ben says the plan is to continue increasing beef sales to restaurants, farmers' markets and institutions. In fact, they recently sold their beef to the head chef of the Pittsburgh Steelers.
Ben credits the quick growth to their education, a fresh attitude, access to technology, global growth and an extremely supportive family. They have also found success through side ventures that fall under the farming rubric, including a trucking business and a feed dealership. 
"We don't dwell on fear of failure," says Ben in regards to the future. "We just put our minds to it, work hard and know success will be there."
Forward Thinking
A major way younger generations are contributing to the success of family farms — whether it's a dairy or an orchard — is by being open to new ideas, says Nathan Jamison, president of the Pennsylvania Young Farmers' Association. They are embracing everything from robotic milking and calf feeders to GPS technology that tracks planting and crop yields, he explains. They are exploring specialty crops that fill a specific market need. They are utilizing the internet and social media to interact with customers.   
Despite the enthusiasm and new ideas that young farmers are bringing to the table, one of the biggest obstacles they face is often within their own family.
"When you're working with your parents, it can be challenging to create the change or propose ideas that might get shut down," says Masters. "Keeping the lines of communication open is a common struggle for anyone who comes back to the family farm. The focus should be on making the farm successful and producing a nice livelihood for everyone involved."
According to Masters, her father is actually encouraging her and her husband to buy more land and expand. McPherson also considers it lucky that his family was willing to take a risk and look at expanding. 
"No matter how dumb my ideas were, I had parents who were willing to let me try," he says. "Of course they told me I had to write a business plan and get my own loan."
 
Looking to gain more business knowledge, McPherson signed up for the AgBiz Masters program, developed by the Pennsylvania Department of Agriculture and AgChoice Farm Credit. The course is a two-year learning process designed to provide sound business concepts and financial management skills for young and beginner farmers. Masters also benefited from the program.
"It gave me the confidence to build and expand my horse boarding business, while also encouraging discussions with my family about how my husband and I can be the next generation on the family farm," she explains.
If agriculture is to remain Pennsylvania's largest industry it's imperative for younger generations to get as much help as possible in making their ideas a success. In addition to Penn State extensions and county Farm Bureaus, other Pennsylvania organizations that offer support for young and new farmers include the Center for Dairy Excellence and the Center for Farm Transitions. 
"I'm so grateful for being able to be a steward of the land and take care of animals," says Masters. "I go to bed each night feeling so accomplished."
KARREN JOHNSON is a freelance writer and stay-at-home mom with more than 15 years experience covering topics ranging from business and healthcare to parenting and education.