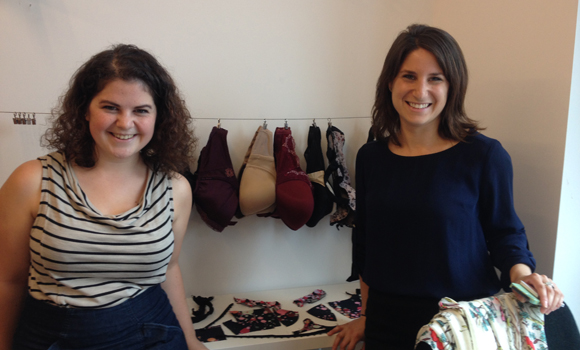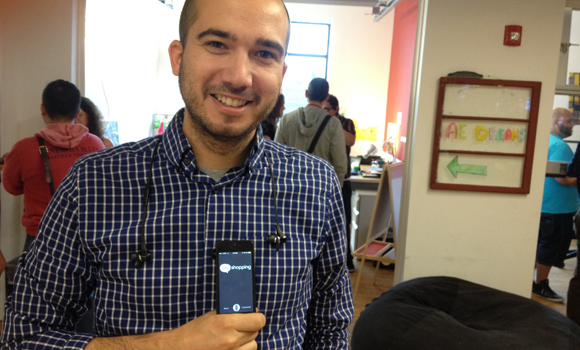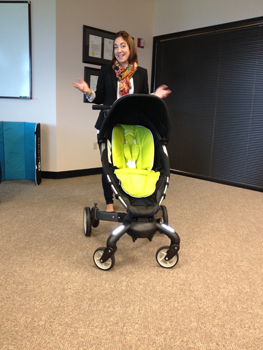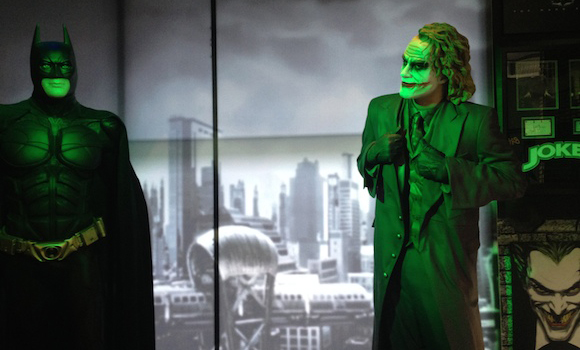 In Pittsburgh, Dan Hendrickson of Astrobotic Technology is trying to ship packages to the moon. Chris Maury of Conversant Labs is going blind and creating an app to make the future darkness he will endure a little bit more bearable.
Those are just two of the entrepreneurs encountered during the Pittsburgh Regional Alliance's Tech Crawl. Fortunately, for the participating journalists, it felt more like a marathon of possibility.
Advertising's most interactive inventions
Stops on the four-day tour included a visit to interactive advertising agency DeepLocal, where account executive Kristin Petty showed off the company's workspace, complete with office dog and mind-control Ouija board, which, she said, worked "as well as any other Ouija board."
Petty highlighted DeepLocal's inventions, including the Nike Chalkbot her agency made to spray tweeted messages on the road during the Tour de France.
"It was one of the first projects of its kind," says Petty of the award-winning campaign. The large robot took messages from cancer survivors and family members and sprayed them onto the asphalt for cyclists to see, then snapped a photo of its handiwork to send back to users, creating a moving tribute, both literally and figuratively.
Beyond computer chips
At ANSYS in Washington County, we learned that math can be used to solve just about any real-world problem. The company focuses exclusively on simulation and uses software to test the strength and durability of products without laying a hand on them.
"You can even simulate a chemical reaction," explains Marketing Vice President Joshua Fredberg, "or figure out if an embolism is going to burst — it's physics."
Technology is often a cold bare thing. From the sleek enclosure of an iPhone to the hidden mechanics of a car, we aspire to a faceless simplicity, where makers disappear behind a perfect product. But the more perfect the product, the more interesting the story behind it.
ANSYS designs software to simulate car crashes and more unique problems. One of their most interesting recent projects was for Pringles: They had a chip-launching issue.
"Pringles were flying off the belt and making a mess, " says Fredberg. "It was an aerodynamic problem so we helped them solve it."
4Moms, many products
In a conference room adorned with a color painting of John Swanson, the engineer who founded ANSYS in 1970 in his Pittsburgh home, Fredberg joined 4Moms engineer Rob Terhune, who is using ANSYS to test his products.
Terhune is working on a self-leveling car seat that tells users when it's properly installed.
"With ANSYS we can create certain prototypes in the computer instead of in the real world," says Terhune of the collaboration. "That gives us accurate predictive answers so we can physically prototype with confidence, making the entire development process faster and much more cost-effective — and it helps spur even higher levels of innovation."
4Moms Brand Engagement Leader Kate Sundy-Hong demonstrated her company's robotic stroller, the Origami, which was impressive enough to make me want to have a child simply to purchase it. As it's pushed, the stroller generates its own power, which is used to charge cellphones and the stroller's own running lights and motorized folding mechanism.
"Can you do that again?" asked one tour attendee, eager to film the $849 Origami in action.
Speaking about advances in the field, Fredberg and the folks from 4Moms told the group that 3-D printing has revolutionized the field of product design — and testing — allowing for the creation of shapes that were not easy to manufacture before.
What dreams may come
The 3-D printer doesn't just captivate engineers. At Choderwood, a hidden bed and breakfast located in what was once a lockmaster's house at the Highland Park Dam, we met Arden Rosenblatt of PieceMaker Technologies. Rosenblatt wants to put 3-D printers in toy stores, allowing kids to print out designs of their choice.
Arriving with a purple pouch filled with 3-D printed creations including guitar picks, plastic robots and chess pieces, Rosenblatt showed off what 3-D printing could do and explained that his company hopes to create a modern form of traditional vending machines that sell toys for quarters.
"The idea is that eventually 3-D printers can be in a variety of stores and people can print out parts that they need," explains Rosenblatt, posing for photos with his tiny, intricate creations.
The sun began to set on the Allegheny River, and the smell of a bonfire burning down below permeated the evening patio gathering. There, Bill Flanagan, executive vice president of the Allegheny Conference on Economic Development and former KDKA reporter, used his broadcast voice to tell the story of Pittsburgh, his home since the 1980s.
Flanagan says he arrived in Pittsburgh "when everyone else was going the other way," and speaks of watching the city rise from recession by improving the quality of life for its citizens. As a testament to the city's progress, he says the median age of Pittsburghers is decreasing, thanks in part to the new companies being founded here.
Among those new companies are spin-offs from programs at Carnegie Mellon University and the University of Pittsburgh, including the language-learning program Duolingo. Swiss graduate student Severin Hacker and his Carnegie Mellon professor Luis von Ahn, who hails from Guatemala, created the company and began beta testing it in 2011.
Technology in translation
During lunch at the Pittsburgh Technology Council on the city's own Technology Drive along the Monongahela River, Hacker, who studied computer science, spoke about starting a company that would make learning a language fun.
"What if we could make language learning as addictive as games?" says Hacker.
Von Ahn, a Spanish speaker, and Hacker, who speaks German, devised an audio and text-based tool that uses repetition and images to instruct language learners. The program is so addictive that it currently has more people enrolled to learn languages than the entire U.S. school system, explains Hacker.
"People say 'I play Duolingo,'" he says. "They consider it almost as fun as a game."
Perfecting the system took massive user testing. Hacker recalls pulling students off the Carnegie Mellon campus to try out their system, then cringing at the program's initial impediments.
Now Hacker is proud to announce tha "34 hours of Duolingo [are] as effective as one semester of college classes."
In addition to teaching languages, the free program lets users translate real-work documents, using crowd sourcing to ensure accurate results.
"The New York Times and BuzzFeed pay for our translations," says Hacker, adding that learners were eager to test their skills.
Though Duolingo started with Spanish and German, the company now teaches French, Italian, Portuguese, Dutch, Irish and Danish, and is working to add Hungarian, Turkish, Polish, Swedish, Russian and Romanian. People who want to add languages can, though the process is still complicated.
Other companies born from university research have come out of the University of Pittsburgh's Human Engineering Research Laboratories — or HERL, as it's affectionately known. The lab, located in an expansive space in Bakery Square, is filled with wheelchairs, test dummies and smart students. Founded by Dr. Rory Cooper over 20 years ago, the HERL lab works to find solutions for people with various disabilities.
A wounded war veteran who works in the fields of bioengineering, rehabilitation and orthopedic surgery, Cooper encourages others vets to join his team.
"STEM has been good to my career," he says, adding that his work qualifies as "Doing well by doing good."
The robots are coming!
In Cooper's lab, we watched as a wheelchair on an elevated moving platform adjusted its wheels to stay level. The device could even climb stairs if needed.
"I think robotics is going to be a big thing in the future for people with disabilities," explains Cooper, adding that Pittsburgh is the perfect place to work on such projects. Robotics is already making waves in the realm of surgery wherein surgical robots are being developed and used. This technology is constantly being improved with better materials and parts – this blog post here details some of the latest developments in the field designers and engineers are spearheading when it comes to the use of more robust materials.
We walked across the hangar-sized lab to the HERL team's smart kitchen. The cabinets came complete with a robotic arm that can open them and an oven that could turn on and off remotely.
"It's like the Jetsons," mused one reporter. The smart kitchen is intended to assist people who might need extra help planning meals, cooking and washing dishes. A video showcasing the robotic arm's legerdemain played to triumphant pop music.
"One of the beauties of our work here is that there is much more work than we are able to tackle," says Cooper, whose many students have continued the lab's legacy, founding centers of their own in countries around the world. "We've spun off nine companies."
One of those companies, PathVu, co-founded by HERL student and wheelchair user Jonathan Duvall, seeks to grade sidewalks so that users don't have to endure rough roads.
"We measured the vibrations that wheelchair users experience on a daily basis and vibrations were so high that it would be illegal if we paid them based on OSHA regulations," explains Duvall. The lab is working to devise standards for road conditions with the hope of passing legislation related to their findings that would be incorporated into the Americans With Disabilities Act.
How far we've come
Standing in HERL on a Saturday, surrounded by students spending their weekend working on life-changing projects, the money these inventions will likely generate seemed almost incidental. At the heart of it, technology allows us to move forward, thanks to the dedication and skill of talented innovators — people who refuse to accept the world as it is and strive to create the world as it should be.
Down the block at TechShop, the country's first open-access public workshop and recipient of a recent visit from President Obama, weekend makers flowed in a steady stream. TechShop General Manager Matt Verlinich and SolePower founder Matt Stanton showed us how SolePower uses the shop's many machines to create the world's first insole that can be used to charge electronics.
As we wound our way around the member-based shop, seeing people hard at work on their inventions, it was hard not to be inspired. It was a lair of mad scientists, artists and designers, sharing high-tech tools and learning from each other, forming bonds and solving problems.
Though the tour was winding to a close — my feet hurt and my reporter's notebook was full — there was no place I'd rather be. Perhaps I'm not as different from these makers as I thought. Like them, I moved to Pittsburgh to follow my dream. I believe in new ideas and creative solutions, and I believe Pittsburgh is the place to be.
In four days I met people who will likely change the world as we know it. I felt the pulse behind technology — it was complicated and human. So, if you happen to be lucky enough to encounter someone with a big idea, even if you're running late, take a moment to stop and learn about their work. Take inspiration from what you learn and sign up for a class at TechShop, or follow your wildest dream to its most innovative conclusion. In Pittsburgh, who knows what you may be able to accomplish.
ELIZABETH DALEY is a New York City native and freelance writer who relocated to Pittsburgh in search of a better life. Her work has appeared in USA Today, The Christian Science Monitor, Reuters and numerous San Francisco Bay Area publications. Follow her on twitter @fakepretty.