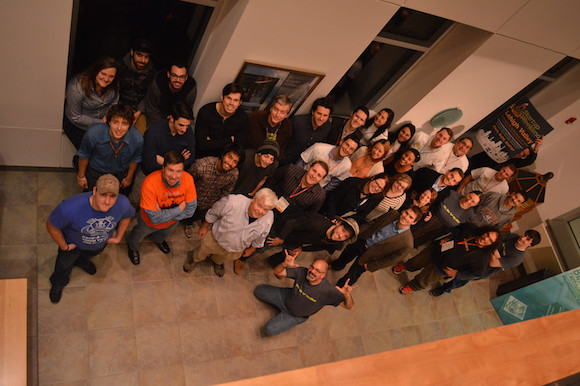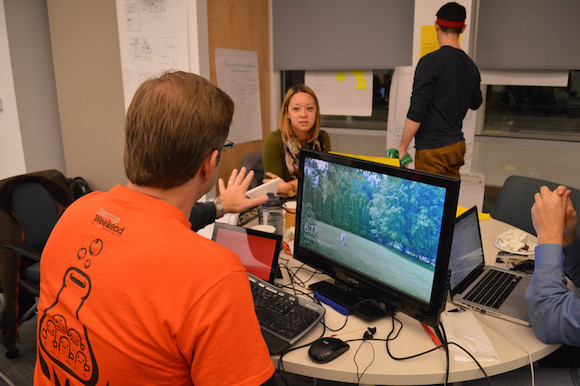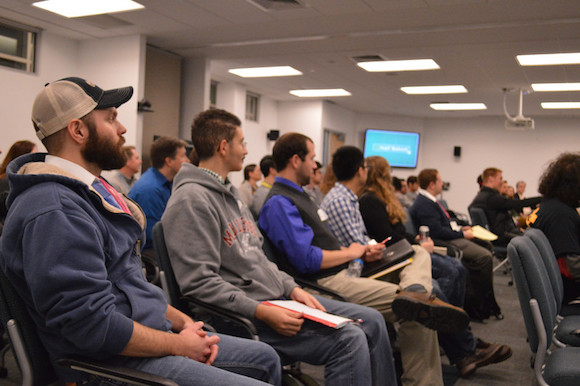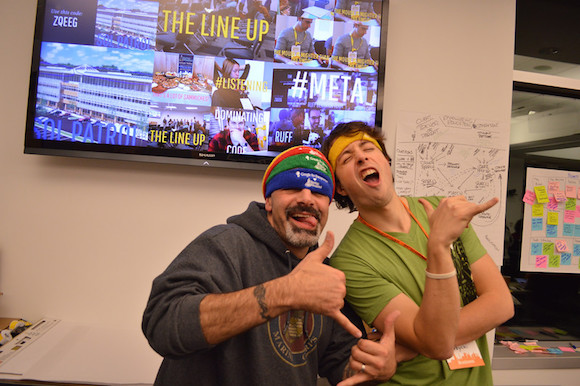 The top winners at the third Startup Weekend Lehigh Valley were two web-based education companies and a product to keep dogs in line. They competed over the course of an intense 54 hours last weekend at Ben Franklin TechVentures on the Lehigh University campus in Bethlehem.
First prize went to CodeMyClass, a business that enables teacher-driven apps, games and digital learning. The seven-member team was led by Anthony and Jenna Curtis, a husband-and-wife duo from Easton (he works in web and mobile app development; she is an eighth-grade social studies teacher in the Nazareth School District).
During their presentation, the team noted that the majority of school technology spending is on hardware alone, and that teachers need apps to help bring lessons to life — most don't have the ability to create the software themselves. The company would accept ideas from teachers, develop them into apps or websites, and market them to educators all over the country.
Their team also featured the event's youngest participant, 14-year-old Gabriella Greenhoward, a native of Brooklyn, N.Y., who now lives in Bethlehem and is a 10th grader at Freedom High School. Her father Carter Greenhoward is currently working on Crowd Conduit, a startup housed at TechVentures, so she comes by her entrepreneurial dreams honestly.
Gabriella was delighted that her team not only won the top prize, but was also the informal crowd choice. She hopes to pursue business and law in college. The Curtises plan to pursue CodeMyClass using the resources they earned with their victory.
And they weren't the only ed-tech idea that shined. Second prize was awarded to Connect Forward, a website that enables high school students to explore various careers and learn what it's actually like to work in those fields. The site connects them to established professionals for private online consultations.
The seven-member team was led by Jake Puzycki, who is working on a master's degree in technical entrepreneurship at Lehigh University's Baker Institute. He hopes to continue with Connect Forward, possibly expanding it to include corporate sponsorships for kids who can't afford the consultation fee. He is also working on another education technology company as part of his master's program.
Lastly, Rufftech, a product designed to keep dogs from destroying furniture, was the third prize winner. The three-member team, led by Jordan Inacio, a graduate of Lehigh University and an employee at EcoTech Marine in Allentown, also hopes to develop the idea and bring it to market.
The product is a sensor placed under the leg of a chair, bed or sofa; it features a load cell that measures force. An actuator boasting a micro-vibration motor and a Piezo mini buzzer is attached to the dog's collar. Rufftech doesn't use an electric shock and there's no restriction zone around the furniture, giving them an advantage in the market.
This year's Startup Weekend LV was the first in which a local facilitator was used. Anthony Durante from the Allentown Economic Development Corporation, a former organizer of the event, filled that role.
"I identify with the mission of Startup Weekend, which is showing people what entrepreneurship is," explains Durante. "It gets more people to be entrepreneurs. When you plant the seed, it grows."
There were 37 participants offering 20 pitches — more than usual — and seven teams. Other projects included Blue Skies, a company managing maintenance for solar panels; Trivia Taco, a provider of database and other services for trivia nights (and the first product from a company dubbed Get Out Entertainment); Second Sense, which created a device for military helmets that provides both solar-powered light and wireless communication for use in the dark; and Crowd Aloud, a website that uses the power of crowdsourcing to convert text to audio for auditory learners and others who need documents read aloud.
As in the past, the winning teams were given prize packages that include mentoring and legal services, work space and other gifts donated by local companies designed to help them along their startup paths. The first-prize winners also earned the right to participate in Ben Franklin Venture Idol, coming up on November 20 at TechVentures. (Check out their competition.)
Judges for the event included Lisa Getzler-Linn, co-executive director of Lehigh's Baker Institute for Entrepreneurship, Creativity and Innovation (a main sponsor of Startup Weekend); Stephanie Olexa, founder and past president of the Lehigh Valley Angel Investors; and Bob Thomson, regional manager of Ben Franklin Technology Partners of Northeastern PA.
Clif Kussmaul, an associate professor of computer science at Muhlenberg College, attended Startup Weekend LV for the third time to see some of his students participate. He was on Rita Chesterton's winning team at the first event in 2012 — she has since launched Skaffl, an educational app, and was a mentor this year. Now he enjoys watching and occasionally giving advice.
Kussmaul encourages his students to come to the event, even though it means giving up a three-day weekend. 
"The experience is so valuable," he insists.