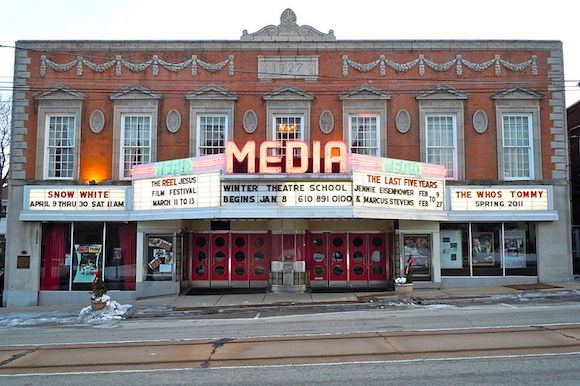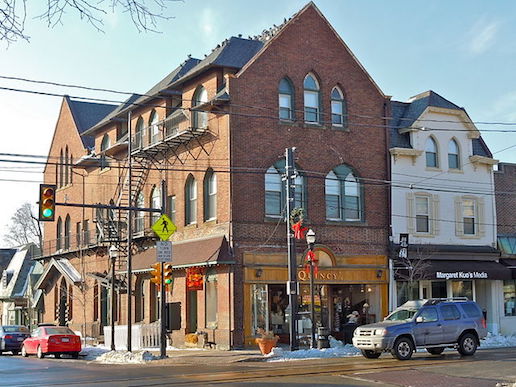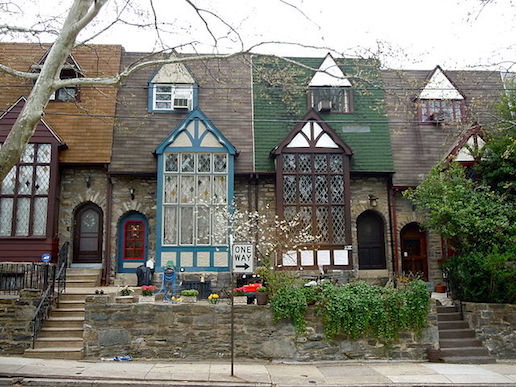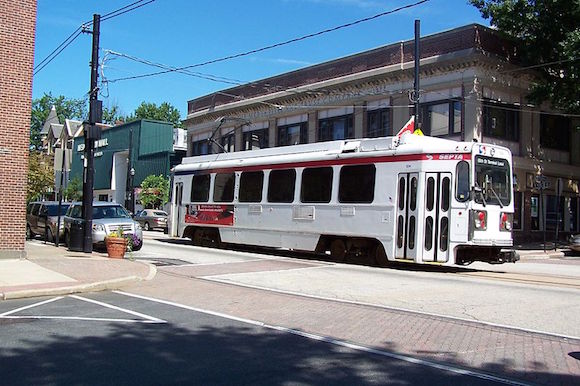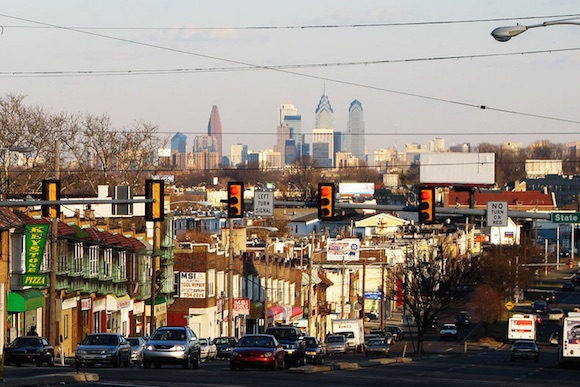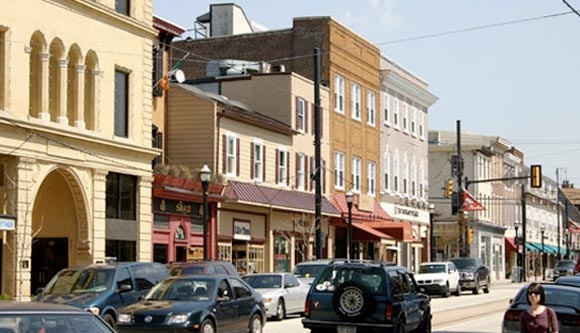 The Philadelphia suburbs that usually get the most attention are on the Main Line, with its storied blue-bloods, and in South Jersey, often seen as an extension of South Philly's famed Italian-American community. Meanwhile, the municipalities to the west of city in southwestern Delaware County (Delco) are unjustly neglected. 
But these tightly packed inner-ring suburbs are remarkable in their own right. Delco is one of the most populous counties in the state and also one of the smallest. Only Philadelphia is denser and more diminutive (by landmass). Delco is even substantially denser than Pittsburgh's Allegheny County. 
Many of the townships and boroughs in the stretch between Philadelphia and the county seat in Media are easily walkable and well-served by public transit, including two trolley lines (some of the only old school suburban streetcar routes left in America). There is some detached postwar suburban housing but also rowhomes and twins, a testament to the fact that the county's population began to boom in the 1920s. The biggest township, located right on the city's western border, is Upper Darby where the population exploded from 8,956 in 1920 to 46,626 ten years later. 
After World War II, the working class suburbs of southern Delaware County were heavily populated by Irish and Italians who fled the city as the African-American population expanded into new neighborhoods to accommodate hundreds of thousands of fresh arrivals. Beginning in the 1980s, the racial composition of many of the neighborhoods bordering Philly began to change, too. The Asian and Hispanic populations grew and the black population expanded beyond established hubs in Yeadon, Darby and Darby Township. The western neighborhoods are still overwhelmingly white and working-class, while the county seat of Media, and its immediate environs, remain an upper middle-class stronghold with an ever-improving restaurant scene.    
The 101 trolley rolls through all these gems, beginning on the edge of Philadelphia at the 69th Street Transportation Center and ending on Media's postcard-perfect State Street. 
69th Street Station 
Travelers arriving in Upper Darby from the city alight at the 69th Street Terminal in the township's business district. When the Market-Frankford terminus opened here in 1907, it was surrounded by farmland, and Garrett Road — soon to be the commercial heart of downtown — was a humble dirt street.
All that changed quickly after the first mass suburban rush of the 1920s: "Development of the Sixty-ninth street business section [is] likened to a wonder of Aladdin's Lamp," the Philadelphia Bulletin enthused in 1929. Stymied by the Great Depression, business picked up again after the Second World War and by 1950 Upper Darby displaced the city of Chester as Delaware County's largest municipality by population. 
Today the faded Art Deco architecture of downtown bares testament to the heyday of its explosive growth. From the mid-1970s through the early 1980s, the township's reputation was marred by repeated instances of violence by the white community as black families tried to buy homes in Upper Darby. Since then, the population has shrunk and become more diverse, both ethnically and economically. 
Walk into many of the unassuming Garrett Street corridor storefronts and find delicious immigrant-owned eateries, evidence of the township's success in attracting vitalizing migrant populations. H Mart (7050 Terminal Square) is justly famous for its second floor food court featuring authentic Korean and Chinese cuisine.
El Cuscatleco (29 Garrett Road) offers delicious Central American dishes — which are tough to find in Philadelphia proper. The interior is decorated with the flags of Honduras and El Salvador, and near the back of the small dining room hangs a garish painting of a conquistador romancing a white-clad peasant girl. The menu does include some Mexican items, but it's best to hold off and go for the pupusas. This Salvadoran staple is basically a super thick, griddled tortilla filled with pork, beans, cheese or whatever else the restaurant feels like throwing in. They are divine. There's also a bunch of great Honduran options, and everything is preceded by a bowl of free deep-fried tortilla chips covered with beans and cheese. 
Looking for something different? Walk further down the block, perhaps pausing for worthy Peruvian and Colombian eateries, to where Garrett intersects with Fairfield Avenue. To the right is Little Saigon (113 Fairfield Avenue), offering some of the best Vietnamese food on the western side of the Schuylkill River. Across the square are the tasty tacos of La Guera Mexican Grill (132 Garrett Road) and to the left and across the street is 5 Points Coffee (47 Long Lane). The homey little hangout was opened by Judi and Steve Bowman, Lancaster County transplants by way of Morocco. On a weekend afternoon, customers range from a blonde family to a dreadlocked smoothie enthusiast to Asian students hammering determinedly at keyboards.  
"We were looking to start a business in the Philadelphia area," explains Judi Bowman, who says they mostly get local customers. "We have spent time oversees…so we were looking for communities similar to what we were used to. We did some research online and saw that the Upper Darby high school has over 50 mother tongues spoken, so it's very reflective of the multi-cultural feel. Running a coffee shop is a fun way to meet the community and learn about a new area." 
Aronimink Station
The 101 trolley route eventually breaks away from its counterpart, the 102, and heads into Drexel Hill. These western stretches of Upper Darby are more akin to what the township was like before the Philly-adjacent neighborhoods began seriously diversifying in the 1990s: As of the latest census, it was 85.5 percent white with a median income of $66,447 (in comparison to 56.6 percent and $52,224 for the municipality as a whole; Drexel Hill is a Census Designated Place, meaning the federal government collects data on it apart from the larger political entity of which it is a part). These parts of Upper Darby are becoming more diverse (Drexel Hill was 93 percent white in 2000), but more slowly than the eastern neighborhoods. 
The Aronimink Station, at the intersection of Woodland Avenue and Burmont Road, is one of the first 101 stops after the two routes part ways. The corner hosts a trio of bars. J.D. McGillicuddy's Pub (690 Burmont Road) attracts a younger crowd and is the only one that does not allow smoking.
Around the corner, The Waverly Lounge (4201 Ferne Boulevard) caters to more serious drinkers. 
"The neighborhood, our customers, are basically the same, [as they were when I started]," says Chris, a bartender and manager who has worked at the bar since 1989; it opened in 1964. "We get all different people who come in. We open at 7 a.m. to get the shift work crowd who come in for a few beers before going to bed — could be nurses, could be cops. Roofers when it's raining. What else are they going to do?" 
Around 5 p.m. on a Saturday, The Waverly sports a small gaggle of regulars, all white guys from their 30s to 50s, arguing about Bruce Springsteen ("He's good, even though he's from Jersey!"). Snarky signs ("Bullshit Boulevard") and beer company paraphernalia abound, and over the doorway to the bathroom hangs a painting of a deceased old timer, who resembles a late-stage Ernest Hemingway. 
"Just a local nut," explains Chris, who recalls that the guy (who died decades ago) used to play ragtime on a piano in the corner and chase neighborhood kids around with a cane, careful never to catch them. 
Down the block is the Trophy Tavern (4214 Woodland Ave). The bar is well-stocked and includes a conspicuous jar of jerky among the liquor bottles. A game of poker is going in back and a small crowd is gathered around the bar. Thursday nights are the real deal, the bartender notes, gesturing to a sign that reads "hot crabs and cold beer." Yup, Thursdays are Crab Night, drawing a lot of out-of-towners.
"It's a pretty local bar. Most people who come here walk here," says Tom, the bartender, clad in an Air Force t-shirt (he is a Delco lifer, born in Springfield, and his parents are from Chester City and Prospect Park). "It hasn't really changed all that much. The folks who grew up here are still here. Lots of Irish, lots of Italians." 
Saxer Avenue Stop
To the southwest of Upper Darby is Springfield, where the demographics have remained largely unchanged (as of the 2010 Census it was 93.4 percent white). Get off the trolley at Saxer Avenue and you will immediately be presented with Duke's Tavern (44 Saxer Avenue), open since 1946. The bar is well-lit and congenial, with Guinness on tap and the promise of lasagna, $2.50 Miller Lite and a "sweatshirt giveaway" to those who turn out for the Eagles game on Sunday. The mass of locals includes a few first generation Irish immigrants sporting full-on brogues. T-shirts from other Duke's bars line the walls, including one in Wakiki, which is (apparently) on the beach but does not have the distinction of being next door to a trolley stop. 
"You don't have to drive, you can literally fall and be on the trolley," says Dennis, a fourth-generation Irish-American who has tended bar at Duke's for three years. "It's definitely a local bar, everyone knows everyone else, a lot of Southwest Philly people out here." 
The boisterous crowd prevents further conversation — "I'm getting a hangover over here," one man complains good-naturedly — leaving the curious drinker to absorb the wall-hangings. ("Parking for Irish Firemen: All Others Will Be Towed.") 
Further down the block is Thunder Bird Pizza (188 Saxer Avenue), a local institution serving up excellent tomato pies, wings and hoagies. The walls are adorned with images of customers and workers who have joined the military and been dispatched to Afghanistan and Iraq. ("Dodging Rockets and Making Hot Pockets!" one poster reads.) 
Further down the 101 line in the township, riders can find the Springfield Mall Stop, adjacent to one of the only post-1960s regional shopping centers accessible by rail. 
Veteran's Square Station
Once the 101 arrives in Media, the stops are frequent but the Plumstead Inn (26 W. State Street) near Veteran's Square seems like a good place hop off. Once drawing a similar crowd to Duke's or Trophy, it now feels slightly swankier. On a Saturday night, the place is far more crowded than any of its old comrades further east on the 101. Throngs of young, upwardly-mobile types crowd round the bar, leaving no seat unclaimed. It is one of the only bars surveyed that does not allowing smoking inside. 
Media, the county seat, has always been a relatively tony spot, and it's been getting tonier: median income, adjusted for inflation, rose by almost $20,000 between 2000 and 2010. (The population stayed static due to a dearth of new housing.) Media also used to be somewhat dead after 5 p.m. when all the government workers went home. That is no longer the case. 
Today, State Street is crowded with restaurants. Margaret Kuo's mini-Schezuan and sushi empire began at the Granite Hill Mall but she now has a popular place at 6 State Street, a testament to shifting lifestyle trends and Media's revived restaurant scene. For Middle Eastern food, Desert Rose (305 W. State Street) enjoys an excellent reputation, while Azie (217 W. State Street) offers Asian fusion to the teeming masses on main street. 
Sidebar: Navigating SEPTA
Philadelphia has one of the lowest rates of car ownership in the nation and newer households are even less likely to own an automobile than their predecessors. We also have an extensive public transit system that gets more heat than it deserves, especially when compared with basically any other city outside the other big three northeastern corridor hubs. 
Day-tripping on the 101 route can be easily accomplished with a convenience pass: $8 for eight rides on any trolley, bus, or subway route. 
JAKE BLUMGART is a writer and editor based in Philadelphia. Follow him on Twitter.