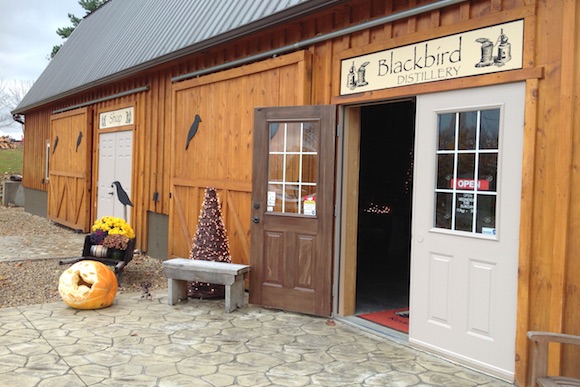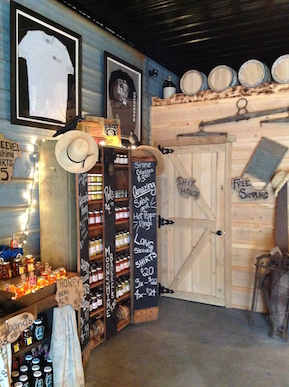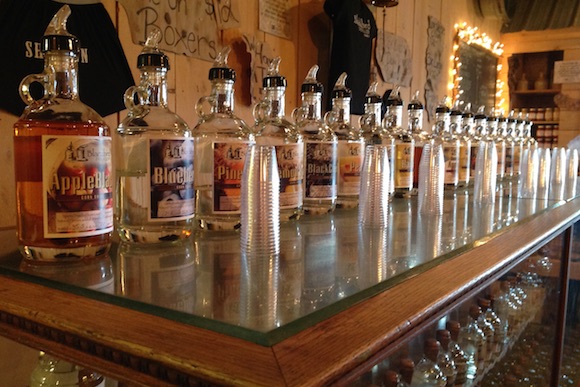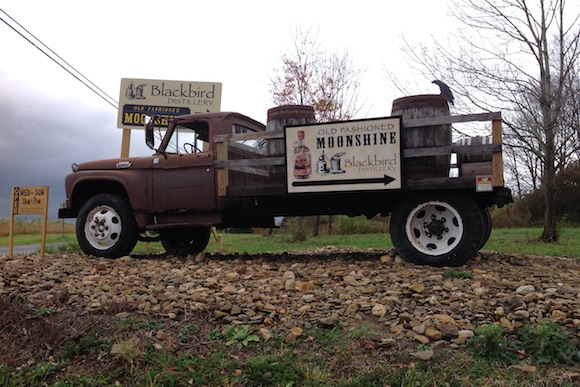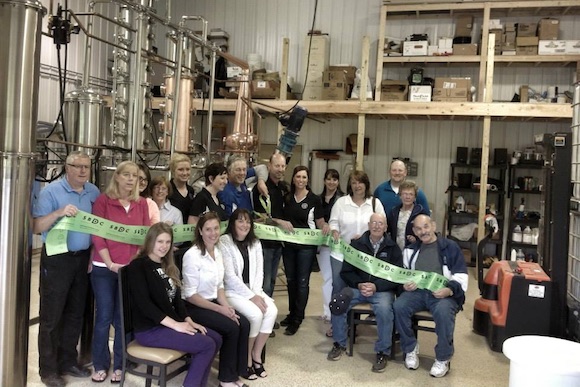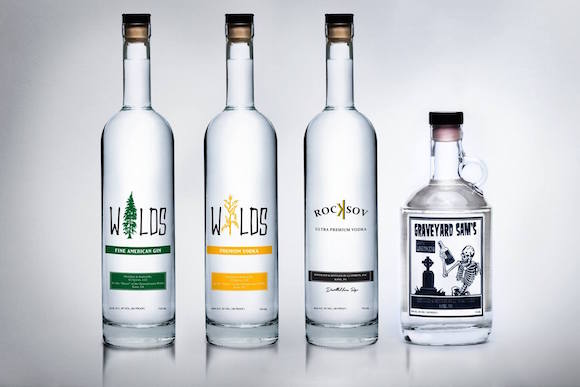 When Jennifer Black and her husband opened Blackbird Distillery in Brookville, she bought a large vintage scrapbook and used a ruler to make lines on the blank pages so customers could write their addresses.
"We didn't think we'd fill this in a year," Black explains as she flips through the pages, filled with names. She estimates the business has seen 40,000 customers in the 146 days it has been open.
"We're awestruck," she says. "We never in a million years thought we'd have this kind of response."
Blackbird is one of at least three craft distilleries that have opened in the Pennsylvania Wilds in recent years, creating jobs and adding momentum to tourism efforts in this rural 12-and-a-half county region.
Before this mini booze boom, the area had already seen the launch of close to a dozen craft wineries. Like many of those, the region's new distilleries focus on small batches, locally-sourced products and a unique customer experience that sets them apart from the competition.
BLACKBIRD DISTILLERY
When the Blacks got their craft distillery license two years ago, they had no building or business plan in place, just a strong work ethic, a small business background and a desire to do something new.
"My husband and I, we're workers," explains Black from behind the bar at her business.
Before starting Blackbird, her husband was a welder in a power plant — hot, hard work. She ran several small newspapers in rural towns. In 2012, when Pennsylvania created a Limited Distillery License, the Blacks applied.
From the start, the vision was to focus on moonshine and create a "hillbilly" experience around it. They built a barn-style building to house the distillery, sided with wood and decorated inside with corrugated tin. They positioned themselves at the end of a long country driveway; at the other end they parked a rusty vintage Ford flatbed with whiskey barrels in the back and the business' name on the side.
Inside, Johnny Cash plays on the radio, the bathroom is called the "Shit House" and employees, Black especially, often wear bib overalls held up by one shoulder strap. Jars of canned peppers and packages of homemade smoked meats and cheeses line the shelves.
"You come here for an experience," Black says in her best hick accent.
The Blackbird has quickly grown into "a major tourism attraction," explains John Straitiff, executive director of the Great Outdoors Visitors Bureau. "They are even attracting buses on day trips just to sample their moonshine. When Jennifer is in character as a hillbilly, you can always count on being entertained."
The Blackbird's sign-in books — there are now several — include entries by people visiting from Pennsylvania, California, Ohio, Delaware, Massachusetts and Kentucky.
"Loved the history that was shared with us on the making of the moonshine," a woman from Canada wrote online at Trip Advisor.
Black says that, as far as she knows, Blackbird is the only distillery in the country making moonshine without machinery.
"My husband does it all by hand," she insists. "It's hand-crafted on site from grain to bottle. We are trying to show people how they made moonshine back in the day when they made it in the woods. It's an art."
All the corn Blackbird uses is grown locally. The spent mash is given to a local farmer to feed his cows, pigs and horses.
When each batch is done, the bottles are hand-labeled and corked; the top is dipped in copper-colored wax kept warm in a crock pot. In fact, one crock pot has already melted through the bottom from overuse — Black keeps it handy behind the counter to demonstrate just how crazy business has been.
The Blacks have no plans to sell to local bars and restaurants. If anything, their long-term vision is to build a "Blackbird Village" of artisan shops nearby. For now, Black's happy just keeping busy and making people laugh.
"We are overwhelmed by business," she says. "We're just so thankful to the Lord."
MOUNTAIN TOP DISTILLERY
On the eastern side of the Pennsylvania Wilds, in Lycoming County, Shawn Zimmerman has opened Mountain Top Distillery, focusing on clear corn whiskey, flavored moonshine and brandy. The distillery is on the same Williamsport property as his other business, Bastress Mountain Winery, which includes a large banquet hall.
Zimmerman, 53, was working at a prison when he decided to turn his wine-making hobby into a business.
"I've been making wine since I was 20 years old," he explains.
Bastress Mountain opened in 2001 and grew every year, achieving record sales in 2014. That success led Zimmerman to try his hand at making spirits. Mountain Top opened in 2013 with a bull-riding theme: they offer Bucked Off Shine, Rode Hard Shine and Jacked Up Shine, for example.
Shortly after launching, the distillery opened an outlet in the tiny town of Benezette, epicenter of the area's growing elk tourism industry. Hundreds of thousands of people flock there each year to experience the largest wild elk herd in the Northeast.
Zimmerman, who hails from Elk County, knew first-hand the impact elk tourism was having. He had a stake in Elk Mountain Winery, which launched in nearby St. Marys as the Elk Country Visitor Center was being built. The winery opened an outlet in Benezette that did well, so the distillery followed suit. According to Zimmerman, this year Mountain Top's Benezette outlet outsold its main branch in Williamsport nearly two to one.
"We sell a lot of product out of there because of tourism," he explains. "It's been outstanding. People just love it."
Going forward, Zimmerman's focus is on building Mountain Top's retail business, which may involve acquiring a bigger still to better meet demand.
"Another guy wants to do an outlet store in Pittsburgh," he adds.
CJ SPIRITS 
In Kane, in the northwest corner of the PA Wilds, CJ Spirit's Rocksov Rye Vodka and Wilds Gin are making headlines.
Distillery co-owners Sam Cummings and Tom Jones, buddies since grade school, have long tossed around the idea of starting a business together. When the craft spirits industry started to percolate, they knew they'd found their thing.
"We knew we would in be on the ground floor," recalls Cummings. "Our state license number is 11, and nationwide, when we started, there were only about 400 or 500 distilleries."
Cummings traveled around the country, taking classes on how to make spirits. He and Jones bought a piece of property and built a distilling operation attached to a small restaurant and bar. They installed a large glass window between the two sides so customers could see CJ's 300-gallon Artisan Hybrid Still at work.
Sourcing things locally was important from the earliest stages.
"We feel that if more people did this, the region would be much more viable," explains Cummings. "We used local contractors to construct the building and all materials were bought locally. We bought a load of hemlock logs for our siding from a local forester. We had a local guy with a small mill [turn] the logs into siding. We bought our wood for our bar from Kane Hardwood, which is right across the street — several friends built it for us. We used McCourt Label to make our labels. All of our grains come from a local farmer when they are available and we give our spent mash to a local pig farmer to feed his livestock. Our coasters and business cards were purchased from Laughing Owl Press in Kane."
In June 2014, CJ Spirits held a grand opening celebration, stretching a green ribbon across the laps of more than a dozen family and friends posing for pictures in front of the shiny new still. Jones cut the ribbon.
"Tom and I brought two different skill sets to the equation," says Cummings. "Tom has always been a people person. I've known the guy my whole life and I don't know anybody who doesn't like him."
While Jones worked the front of the business, Cummings worked the back, tackling accounting, distilling and the thorny world of regulations – skills he picked up running his family's business, Cummings Funeral Home, for over two decades.
Now let's talk about the booze. The duo started out making Rocksov, a rye-based vodka. Next it released the corn-based Wilds Vodka and Wilds Gin. Then this fall, they released Graveyard Sam's White Whiskey to satisfy the current moonshine craze.
Asked what sets their products apart, Cummings explains that small batch distilling allows you to isolate the middle run or "hearts cut" during distillation — the pure alcohol portion of the run. Large companies do continuous distillation, which makes it almost impossible to isolate the hearts portion.
"Many people are of the mindset that bigger is better," he says. "They feel that the big companies' products are better, simply for the fact that they are worldwide. I always tell people that thinking we can't make a better vodka than Grey Goose is like saying that you can't make a better hamburger at home than at McDonald's."
Validating his point, last week the CJ team learned that its Rocksov had earned a "90 – Excellent, Highly Recommended" score at the prestigious International Ultimate Spirits Challenge held in New York City, where it went head-to-head in a blind tasting against vodkas from around the world. Rocksov was also evaluated in a gimlet cocktail, where it earned the highest rating: "Drop Dead Delicious."
"We were very happy," recalls Cummings. "We were going against the biggest vodkas in the world."
As a startup, CJ has focused on its own retail and getting area establishments to carry its product. So far, about 50 have signed on. Rocksov is the best seller, followed closely by Wilds Gin.
"We market the old fashioned way," he explains. "We call them and try to set up an appointment. Then we go and do a tasting with them. Most establishments have been very receptive."
Getting into bars is easier than getting bars to move your product, but word is getting around.
"We've recently been contacted by a new farm-to-table restaurant that is opening in Harrisburg," says Cummings. "It is going to be a huge establishment and they want to create drinks around our products."
The company is also researching how to get into state stores and distribute to other states.
"It is a very complicated process," says Cummings. "It will take time. Hopefully within the next two years, we are in the Pennsylvania Wine and Spirits stores as well as distributing to a couple other states. In 10 years, we would like to have a large distribution network set up."
Rocksov's top rating in the international competition "will be very beneficial when approaching distributors," he adds. "They only rate you if you score 80 or above, so going in, we were just hoping to get rated. The 90 rating puts us in very nice company. We always knew our vodka was good, but this offers some validity from a neutral source."
TATABOLINE ENOS travels the Pennsylvania Wilds working with small business owners, artisans, entrepreneurs and residents who are helping grow the region's nature and heritage tourism industry. She lives in a small farming town in the northwest corner of the PA Wilds with her husband and two young sons. Follow Ta's work at facebook.com/pawildsTreps or on Twitter at @pawildsTreps. To explore the PA Wilds region, check out PAwilds.com.