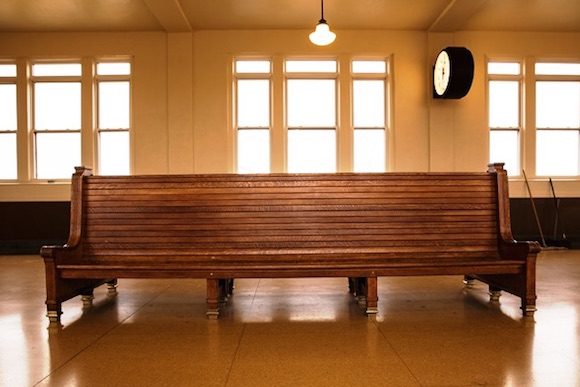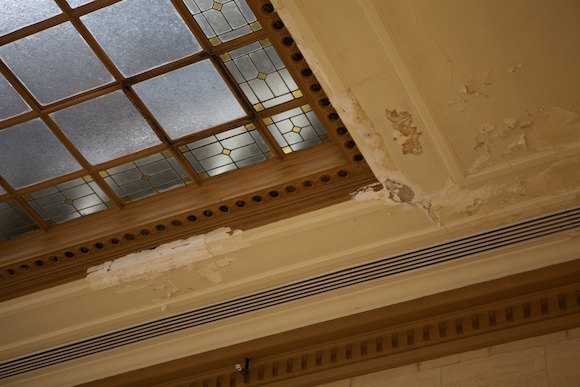 The artery between Philadelphia and Lancaster has always been an important one. The Philadelphia and Lancaster Turnpike, stretching over 60 miles, was the first long-distance paved road ever engineered and built in this country. Dating to 1795, the route is almost as old as the United States itself and provided the original infrastructure for the railway that connects the two regions today. Now an award-winning restoration of Amtrak's Lancaster station is revitalizing the historic route and deepening the connection between these southeastern PA stalwarts. 
"Anything built by the Pennsylvania Railroad that is still in use is a major accomplishment," explains Philadelphia-based architect Charlie McGloughlin, the design project manager for the Amtrak-led initiative to restore this "architectural gem" to its original 1929 beauty. 
Back in the early 20th century, the Pennsylvania Railroad was a name with nationwide cachet. 
"Its history in the railroad is unparalleled," says McGloughlin of the Commonwealth. "The Pennsylvania Railroad was the standard railroad of America," representing every investment in cutting-edge travel.
Amtrak, which took over the railway in 1971, owns Lancaster station now. 
"It's keeping these types of routes up and going, and in good condition that'll help us as we go into the 21st century," insists McGloughlin. That's why Amtrak has been working since the late 1990s to renovate the Lancaster site, which he says was "a difficult subject" for a long time, as the busy station's looks deteriorated due to decades of badly-placed pipes, moldering benches and peeling, crumbling plaster. 
Lancaster is actually the state's second-busiest Amtrak station after Philadelphia's 30th Street Station. Two train routes swing through the historic hub: Amtrak's Keystone Service, connecting New York City and Harrisburg, and Amtrak's Pennsylvanian train, operating between New York City and Pittsburgh. 
According to Amtrak senior communications officer Craig Schulz, over the last several years, ridership is slowly trending up. In fiscal year 2009, just under half a million riders passed through Lancaster; in 2014, there were almost 530,000. 
"It's an important psychic gateway for a lot of people who came to Philadelphia from the Lancaster area," McGloughlin adds.
Today, Lancaster is considered the point of entry for Pennsylvania's Amish Country, a major tourist draw, but the city's roots go all the way back to the early 1700s, when it was first known as Hickorytown. It was once the American colonies' largest inland city. Just after that historic turnpike was laid in 1795, Lancaster became the capital of Pennsylvania. The lasted from 1799 until 1812. (On a related note, during the Revolutionary War, Lancaster was capital of the American colonies for a single day; in September 1777, the Continental Congress fled Philadelphia for York.) Now, the Lancaster train station is included in one of the country's largest National Register Historic Districts.
$14.5 million from the Lancaster County Transportation Authority went towards a 2012 renovation of the station; this included HVAC, electrical and fire safety upgrades, a cleaned façade, a new roof, and many other improvements. But the update, while much-needed, left a lot to be desired.
"There's a lot of very beautiful historic fabric in that space," says McGloughlin, noting aspects of the station that remained neglected. The renovations had improved the safety, comfort and structural stability of the site, but its cosmetic problems remained. Some more work was required to recapture that magic.
That's where Amtrak stepped in. A $3.5 million Capstone project polished off the historic station's revamp by bringing back its early-twentieth-century beauty, including refurbished original benches (where McGloughlin imagines early-twentieth-century gentlemen proposing marriage to their sweethearts) and Art Deco chandeliers. The project partners also cleaned and restored the old paint and plaster, "unearthing the dirt and the old steam-engine soot," and getting the walls and ceiling back to their original look. 
They also honored the space's historic design, which had been marred over the years by things like haphazard standpipes. A modern sprinkler system, while necessary, is not be a glamorous addition, and one of McGloughlin's first projects was getting that piping back behind the scenes, where it belongs.
All that work has helped restore the red-brick two-story classical revival building to a beauty and functionality that was once the envy of cities across America.
"It's really one of the key hubs of the Keystone corridor and its preservation is the preservation of our history," says McGloughlin. "We can't let it go, because our customers have a love for that station that we need to respect." 
Work on the Capstone renovations was completed in early 2014, and last November, Amtrak and all its project partners were recognized by the Historic Preservation Trust of Lancaster County with a C. Emlen Urban Preservation Award for excellence in historic preservation. 
It meant a lot to McGloughlin and his team. He says when he came to Amtrak, it was a personal goal "to try to get Lancaster in a good place…We were on a mission to do right by this station, and it was very gratifying to get the award and to get the good comments we're getting now."
In an era when most Americans take to the highway or the sky for their commute or travels, is it worth paying so much attention to one old train station?
Yes, insists Schulz, even to a giant company like Amtrak. 
"The Lancaster community has demonstrated that they place a value on this service," he explains, touting increased ridership throughout the project, long-term community attention to the Capstone completion, and close cooperation from the State Historic Preservation Office (affectionately called "Shippo"). 
Locals were excited about the project, and Schulz points to a big donation that came out of the blue in the midst of construction.
"If you look around the station, you'll see six historic clocks," one of them on a pedestal outside, he notes. The large vintage-style fixtures were donated by Brent L. Miller of the Lancaster-based Miller Jewelers as a tribute to his father, who frequently took the train from Lancaster to New York City while he was building up the family business. 
Schulz also points to Amtrak's investments in infrastructure and technological upgrades, which within the last decade have continued to shave time off the journey between Lancaster and Philly. Now the regions are linked by an hour-long ride, unimaginable to the 18th-century engineers who laid that first turnpike. 
That quick and accessible trip is "a really good example of the economic benefits that passenger rail brings to a community," putting more job opportunities within reach, Shulz continues. "Somebody who lives in Lancaster can very easily commute to Philadelphia, and many do."
Attention for Lancaster's train station is also important to many of the region's religious communities, including Amish or Mennonite residents who refrain from driving cars as part of their faith. For them, the train is "essential" for staying connected to family and friends in other parts of the country, McGloughlin notes: "They needed to have the Pennsylvania Railroad to still keep in touch with their folks."
Schulz takes a broader view. "We're talking about mobility, right?" he muses. That applies to everyone, including senior citizens, people who don't own cars, or people who simply like a diverse range of transportation options, especially as airlines and bus companies reduce their services to smaller towns. Keystone railways help connect riders coast-to-coast: a New York or Philly traveler from Lancaster to Pittsburgh can connect to Chicago, then on to California, and all points between. 
"What I think is great…is that when people travel from Lancaster to Philadelphia, they're not thinking about traveling," insists McGloughlin. "They're doing their work…They're talking with people, they're meeting new people." 
He says the experience of riding the train is still vital in the 21st century, with its opportunities for reconnection and networking: "You can do all these things and still get where you're going."
McGloughlin says locals who learn he worked on the Lancaster project are always eager to share a trove of photos and stories from their own families' journeys there. 
"Combined with the rich history of that station and the visceral reaction many people have about Lancaster…When we talk about its history we have to remember why the railroad was done in the first place," he adds. The world hasn't gone completely digital; not yet. The Lancaster project hearkens back to a time when we were first connecting our big cities through mass transit, and "people are rediscovering that that is the way they have to proceed." 
ALAINA MABASO is a Philadelphia-based freelance journalist and news editor at Flying Kite Media. She makes Pennsylvania her classroom, covering everything from business to theater to toad migrations. After her editors go to bed, she blogs at http://alainamabaso.wordpress.com/. Find her on Twitter @AlainaMabaso.