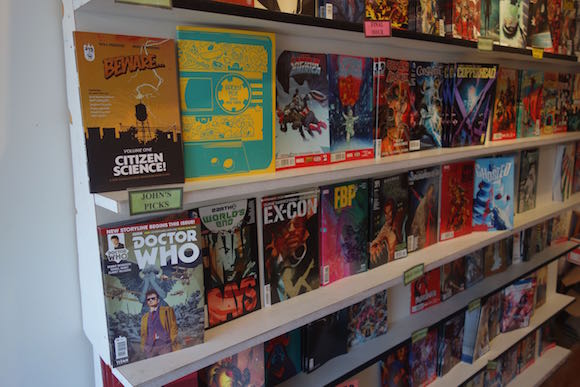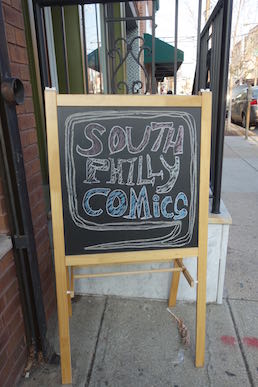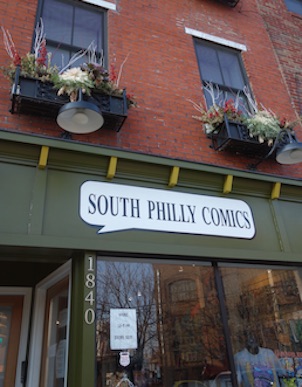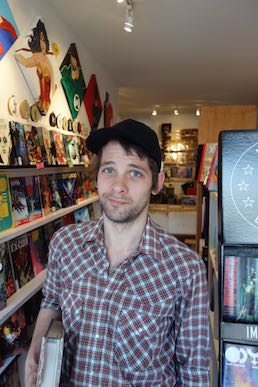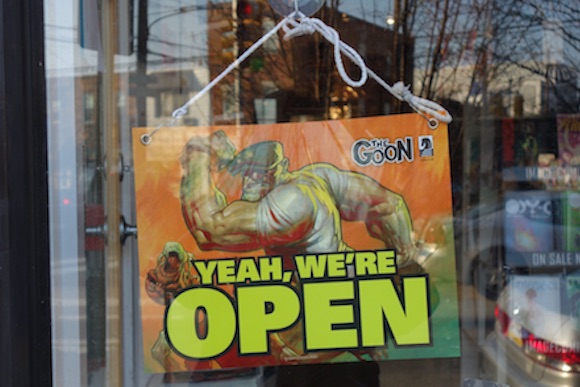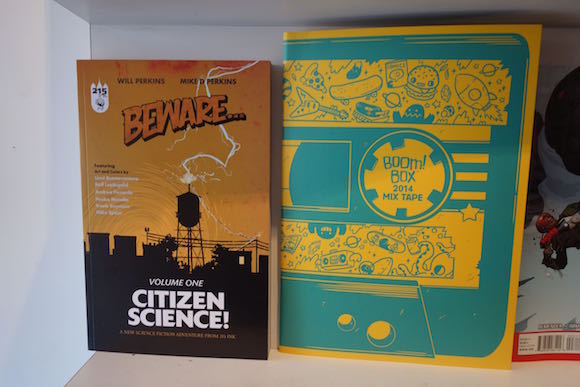 Thanks to an assist from Hollywood, comic books have been having a moment. Superhero movies have ruled the silver screen for 15 years now and the rewards reaped by the studios are being enjoyed by the medium of origin as well. While comic books are unlikely to ever again attain the popularity they achieved in the 1940s and 1950s, an expanding audience of young adult readers might ensure they aren't relegated to the dustbin of history anytime soon.
Brick-and-mortar retail is a tough business these days, but despite that, the number of comic book stores has been ticking upward. In Philadelphia, they are mostly concentrated east of the Schuylkill and below Market, though there are a few outposts in the Northeast, Kensington and University City. (The suburban shops are too many and too far flung to be covered here.) Below is guide to all the frames and speech bubbles the city has to offer.
Frankie's Newsstand (12th and Market)
On the northwest corner of 12th and Market Streets sits an unusual newsstand. Unlike its drab counterparts that dot downtown, this little grey box is papered with comic books sheathed in protective plastic sleeves. Behind the proprietor, flanking the usual offerings of newspapers and lottery tickets, sit colorful books featuring well-known casts of super-powered heroes.
The owner Frank Milorey bought the newsstand in 1998 after he retired. A lifelong resident of South Philadelphia, he's been collecting comics for 52 years. Miller remembers when every corner store in the neighborhood sold comic books in racks alongside the newspapers. He can reel off a list of long-gone establishments: Leon's at 12th and Mifflin, Vito's at 10th and
Tasker, Jerry's at 63rd and Passyunk.
"Spiderman was my favorite, but now, after they did a really great job with the Avengers movie, I think I might like them even better," says Milorey, who rides his bike up from South Philly to man the stand. "The new generation, the kids, they see them in the movies. They are creating a market."
Most of Milorey's customers seem to be after lottery tickets (there are a few orders of tokens or soda too). The great majority seem to be older African-American women who greet Milorey by name. But he eagerly talks about comic books, reeling off from memory an impressive list of every price increase from the 12 cents apiece of his youth to the $4 a single book often costs today.
Ontario Street Market (2235 E. Ontario Street)
In Port Richmond, roughly a mile east of the Tioga stop on the Market-Frankford line, sits the city's largest comic shop. The print mecca sits in an industrial zone next to a manufacturer of equipment for the waste disposal industry. It's easy to tell which is which: The factory doesn't have a white Cutlass bearing an enormous bat signal parked out front.
The Ontario Street Market used to house factory-fresh jeans and later became a beauty supply distributor. The current owner Bill "The Captain" Fink originally opened his business as a flea market in 1989, but it quickly evolved. The shop's prodigious collection, which fills the sprawling former warehouse space, includes the largest selection of back issues in the city — Fink has the space to store them, though they are kept in a state of moderate chaos.
The Ontario Street Market's brush with stardom came in 2000, when it was featured in M. Night Shyamalan's Unbreakable as the "seedy comic book store."
"This is a big super hero area, a lot of Batman, Superman; Wolverine is doing pretty good especially since they just killed him," says Fink, who masquerades as a 216-year-old immortal pirate (hence his nautical nickname). He also mentions that the success of comic book movies is driving more kids to the medium.
"During the last ten years we've been getting a much younger crowd," he explains.
South Philly Comics (1840 E. Passyunk Ave.)
On the tail end of bustling East Passyunk Avenue sits the city's smallest comic shop outside of Frankie's Newsstand. South Philly Comics used to be further up the avenue, but soon after the current owners took over, they moved the store down the block. Valentine's Day will be their official third anniversary in the space.
South Philly Comics might be tiny, but it is immaculately neat and organized. In the basement they have an impressively large collection of back issues for such a tiny store (including the entire run of the Neil Gaiman classic Sandman).
Their collection focuses on what the owners John Foster and Anthony Glassman know best — that means no manga or anime. They consider that specialization an advantage for a brick-and-mortar store: Customers can walk in with just inkling of what they might like and the staff can recommend more titles in that vein.
"Another day in paradise," says Foster as he opens the door. "I'm not jaded yet, I still love it. But owning a store is like being a whole other adult. You have twice the bills. It's better to work in a store than to own [one] — that way you get more time to read."
Atomic Comics (638 South St.)
Atomic Comics has been holding it down on South Street for 25 years, shuffling around a series of storefronts close to the heart of the strip. The shop gets a lot of foot traffic and its large collection serves a wide variety of tastes, from the kids' corner to an impressive variety of graphic novels and new comics from every imprint imaginable. They even sport an array of old school arcade games, including the Punisher, Spiderman, Sailor Moon and Street Fighter.
But it's the store's devotion to Japanese comics that really sets it apart.
"We have the biggest manga and anime collection in the city, maybe in the state," says Chris Ryons, a longtime employee. Asked about how the thoroughfare's shifting fortunes have affected business, he just shrugs. "South Street is always changing, but we are one of the constants."
Garden of Earthly Delights (7907 Bustleton Ave.)
Philly's lone comic shop in the Great Northeast, the Garden of Earthly Delights also holds the distinction of being the only one in the city run by a guy who doesn't read comics. In 1977, Chuck Feldman opened his place in Oxford Square as an ice cream parlor, but as the market for comic books and sports cards heated up in the '80s, he shifted gears. He has since moved the shop deeper into the Northeast.
Garden of Earthly Delights is also one of the city's chief venues for collectibles. Feldman still does a brisk trade in sports cards — baseball sells best, then football; both are trailed badly by basketball and hockey — and also Yu-Gi-Oh! and Magic: The Gathering cards (the shop hosts tournaments of both). So if you do decide to take part in their tournament, which you eventually will if you're a game geek, then make sure you understand the ins and outs of magic and fantasy with some of the board games on sites like https://dnd.wizards.com/products/tabletop-games/board-card-games) before you attempt to overthrow the competition!
"We attract people from a wide area," explains Feldman, who describes his clientele as "almost exclusively male, mostly working class. Racially it's the United Nations, a real melting pot." That makes sense: The Northeast is one of the most diverse corners of the city. Right next door to Garden of Earthly Delights is some of the best (and only) Filipino food in Philly.
Brave New Worlds (55 N. 2nd St.)
Brave New Worlds packs a lot into its little corner of Old City. The shop is meticulously organized and re-stocked constantly with fresh individual comics, graphic novels and toys. (They don't have any older or out-of-print titles.)
There are actually two locations, one in Old City and one in Willow Grove. The Philly shop is catty-corner to Arden Theater, which regularly puts on children's plays, so there are periodic surges of kids through the shop on weekends. To accommodate that crowd, Brave New Worlds has a kids section located near the toys and away from content deemed unsuitable.
The rest of the customers tend to be from late-teens through middle-age, with non-superhero comics like Image's Saga (a sci-fi romance) and East of West (a sci-fi western) selling particularly well. Matt Fraction's Hawkeye comics, a superhero title with indie sensibilities, is also a hit.
"We definitely skew more late teens through 50s, and a lot of female readers," says Brian Johnson, a manger and longtime employee. Their suburban customer base in Willow Grove is a bit different. "Out there, our readership tends to be 30s, 40s, 50s. More super hero stuff, old school Marvel and DC [Comics] heads."
Locust Moon Comics (34 South 40th St.)
Locust Moon is the city's sole comic shop west of the Schuylkill River. A few years ago, it moved from its location on Locust Street to a spot north of Penn's campus. The new space is larger and includes a gallery annex for events.
"The old store was more cloistered, surrounded by fraternities and college kids," recalls Chris Stevens, one of the owners. "We see a lot more women at the new location, perhaps just because we are in a more heavily trafficked location. But it's Philly, it's hard to break it down — it ranges from neighborhood people to college professors."
The shop is less superhero and collector-oriented than any of its local counterparts, tending to focus more on indie graphic novels and art books. They've even published some of their own comics, including a tribute to Winsor McCay's Little Nemo and their memorably-titled debut Once Upon A Time Machine.
Fat Jacks (2006 Sansom St.)
Fat Jacks is the oldest extant comic shop in Philadelphia (since 1977). It's hopped from storefront to storefront in its little corner of downtown, but is finally settled in for a long stay at its current location.
"You just missed a heated debate about Star Wars," says Tyrone Lawrence, a longtime employee who notes that customers are very excited about the new teaser trailer. When asked how Center City's continued ascent has affected the store's fortunes, he insists it hasn't changed the customer base a bit.
"It's the same group of people," he explains. "Only every four years we get a new group of college kids, and as comics culture becomes more accepted [due to the endless comics-based movies and TV shows] we have more people coming in."
Fat Jack's is home to three cats who make themselves at home on shelves and beneath the counter. Like South Philly Comics and the Ontario Street Market, the shop has an extensive catalogue of back issues which are inventoried weekly. They also have an adult books section.
JAKE BLUMGART is a writer and editor based in Philadelphia. Follow him on Twitter.