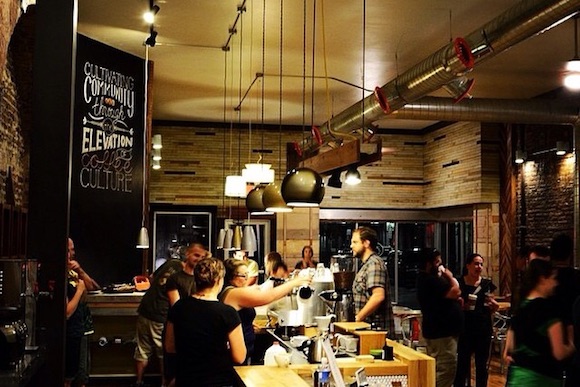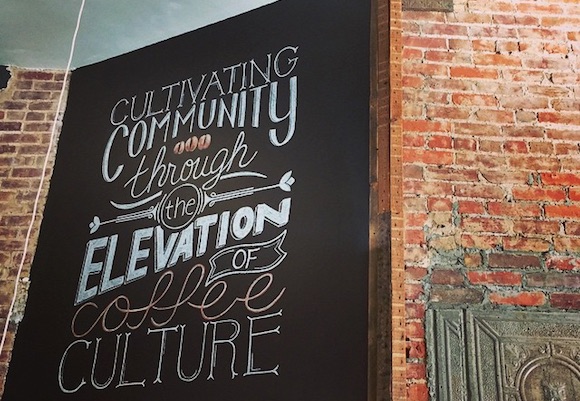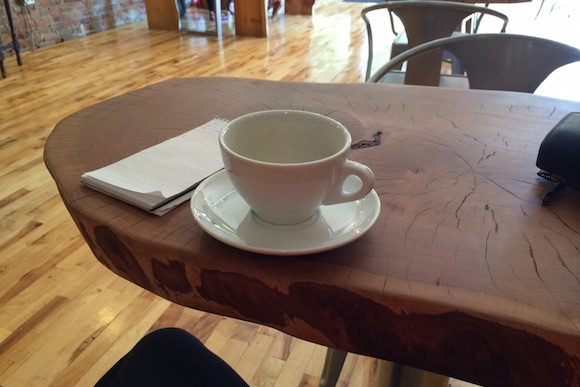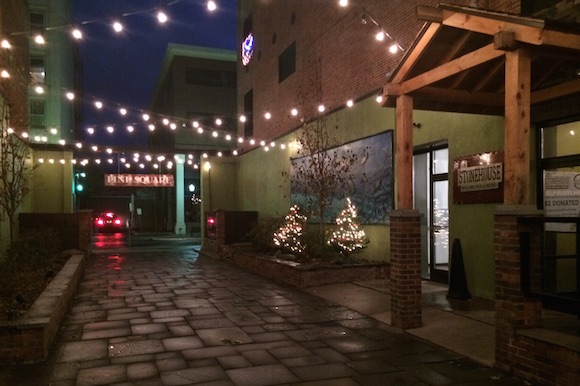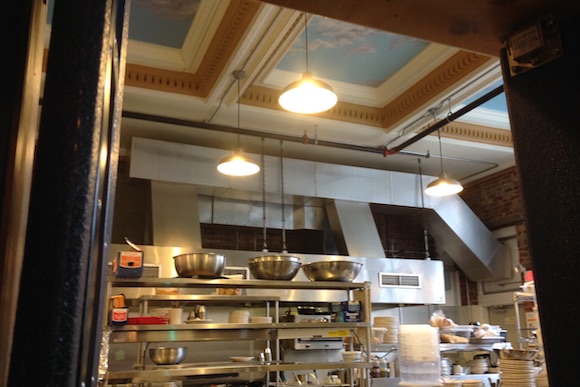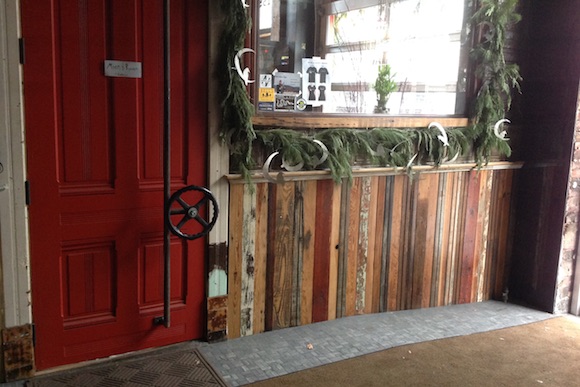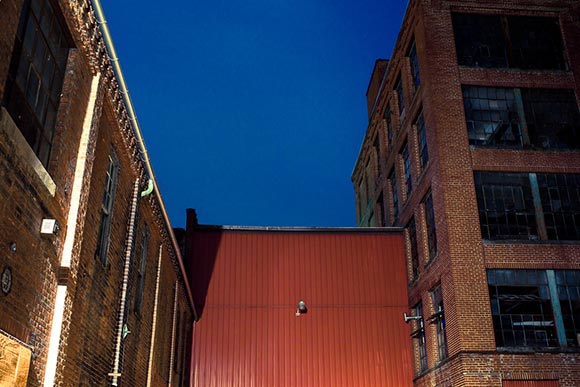 Downtowns hold a special place in the American heart and it is inspiring to watch one come back to life. The transformation in Williamsport is not only visible but also palpable — and the excitement is contagious.
"It's an absolute metamorphosis," says Marc Schefsky, general manager at the historic
Genetti Hotel
. He came to this PA Wilds town nine years ago from Florida with his wife, a native to the area, to find "no heartbeat."
"Now there's so much going on," he insists. "Every time you turn around, there's something new."
This fall, Lycoming County planner Kim Wheeler, who participates in regional revitalization efforts, gave Keystone Edge a tour of some of the new sights. We walked from her downtown office to Pine Square, a courtyard between two buildings with small white lights festooned overhead and a fish mural on the wall.
The space was once part of a row of three brick buildings. Two entrepreneurs bought the properties only to discover that the middle one was unsalvageable. They razed it, but instead of leaving an alley, they added a stone pathway, art, flowers and tables, and turned the bordering buildings' entrances toward this communal space.
"They added to the public realm ten-fold," explains Wheeler as she walks toward the The Brickyard, a new restaurant in the Square. "To have this space downtown is just tremendous."
Next to The Brickyard is Stone House Pizza & Pasta, another new business. Upstairs are residential units. Across the Square, the remaining brick behemoth is under renovation.
"That building was empty forever," recalls Wheeler. "I could see all the pigeons flying in and out."
Charles Imbro, one of the partners behind the massive project, says his goal is to fill the first floor with retailers, achieving what he calls "the live, play, work thing" aimed for in Pine Square's design.
Imbro grew up in New York City in the restaurant and bar business, starting as a dishwasher and working his way up. He landed in Mansfield, north of Williamsport, for college and got an accounting degree. Then found his way here, meeting his business partner Dave Hertwig while the two were working at a Holiday Inn.
Their first project was the Cell Block, a medieval-looking stone building and one-time jail, that they converted into a college bar; that business eventually expanded to three other locations in Pennsylvania. The duo owned the Williamsport location for just shy of 10 years before selling it and putting the Pine Square project in motion.
Their business model involves buying and rehabbing old buildings and, when it makes sense, opening businesses they think will work in the spaces. It's a daunting task — just look at the scourge of vacant buildings in so many downtowns across America — and one Imbro fully appreciates.
"We believe in the downtown," he says. "We just thought, if we invest in it, we can create an experience… Some of it is just being brave enough to just do it."
Juggling multiple projects can be stressful, but also has its advantages. If one idea goes south, you can still live to see another day. That happened with a California taco place they tried in Pine Square. People didn't get it, so after a few weeks, they closed the doors and focused on something else.
"They did it right," says Schefsky. "They did it quick."
Hiring good people has also been the key to their success.
"We do 90 percent of our own construction," explains Imbro. "The only way to afford it is to do it yourself… I do the dishes if no one shows up."
Imbro and Hertwig are not the only innovative developers having a huge impact on Downtown Williamsport. Not far from Pine Square, other businesses have opened– Alabaster Coffee Roaster & Tea Co, Patinaz and Moon & Raven Public House — in thoughtfully restored spaces built and conceived by Matt Schauer.
This Lycoming County native has an unmistakable style, both in terms of the craftsmanship he puts into his buildings and the way he collaborates with entrepreneurs moving into them.
"It is art," insists Schefsky. "I don't know if Matt knows it or sees himself that way. But he is incredibly talented. His stuff is beautiful."
"He puts a lot of thought into his spaces," adds John Yogodzinski, another young entrepreneur who moved The Graphic Hive, a business he co-owns with Casey Gleghorn, downtown in 2011; the pair then opened a second business, Converge Gallery.
At Moon & Raven, the lights above the bar are made from old fire extinguisher canisters. The bar itself is crafted from cribbing corrals from the city's lumber heyday, resurrected after spending 100-plus years in the Susquehanna River. The bar foot rail is an old steam pipe. The booth benches were salvaged from Holy Rosary Church — which Schauer's mom attended — and the lamps overhead were picked from garage sales.
"It's not just about saving the planet, it's that these things are beautiful," explains Schauer. "If I used all new materials, this place wouldn't be anything like it is now."
It is 8:30 a.m. on a December morning and Schauer has come from upstairs where he is renovating space for a firm looking to relocate downtown. He's wearing jeans and a plain long-sleeve shirt. Schauer grew up in the country, but early on developed a fondness for downtowns and working with his hands.
"I've always loved building things, ever since I was a kid," he recalls. "I got my first toolbox when I was five."
After high school, Schauer worked construction jobs, did a five-year factory stint and then moved to Florida where he bought and renovated houses. While away, he saw cities doing more mixed-use commercial-residential development — cafes and shops downstairs with apartments upstairs. It made him think of Williamsport.
"I just thought, why isn't this happening here? I mean, look at these buildings," he says, motioning to the building he's in and towards windows revealing the rest of downtown. "Look at this infrastructure."
Schauer was lying in bed one night in Florida when he reached for a notebook and wrote: "Buy building in Williamsport." He figured if he renovated a mixed-use space, the commercial would cover the mortgage and the residential he could use so he didn't have to couch surf when he came home.
Before long, he was back in Williamsport, gutting a building downtown.
"It just snowballed," he says, now nine years later. "It just worked."
All told, Schauer and his crew have gutted and renovated seven buildings downtown.
"I love old worn-out buildings," he confesses. "Everything I buy has 8-foot drop ceiling and brown paneling. We get into them, tear them apart. Get them down to the bones. We've probably taken 700 tons of material out of Williamsport by hand… It's tough. Oh my gosh, is it tough. The hardest nine years of my life. I'm 15 pounds underweight. I couldn't put more into these buildings."
When it comes to good design, "my brain just won't shut off," he adds. "When I'm out that's all I look at. I also hire very skilled people. They can get this stuff out of my head and make it real. A piece of cardboard and a Sharpie, that's my blueprint. I'm not going to say it's not a frustrating process. It's piece by piece."
When restoring a space, Schauer sticks with four elements: stone, wood, metal and glass. They're themes promoted in the Pennsylvania Wilds Design Guide for Community Character Stewardship, a free resource for developers in the region.
And when Schauer finds the right entrepreneur for a space, he works with them to create something they both love.
At Moon & Raven, for example, the owner wanted a bright kitchen.
"He wanted people to love working here," recalls Shauer, opening the kitchen door to reveal a blue sky with clouds painted on the ceiling.
"It's not just about money," he insists. "It's about rebuilding my hometown."
Ask what's helped turn around downtown and you get a lot of answers. The First Friday art movement. Wegmans and Kohls moving in. The River Walk. The Michael Pilato mural and other art installations. The historic Capitol Theatre, which was renovated in the mid-90s, given new life as the Community Arts Center and since put Williamsport on the map for national musical acts looking to "tech-in" before big tours. And of course, the Marcellus Shale.
"Williamsport was ready for a renaissance," muses Schefsky. "We had the people to do it. And we had the want to do it." When Marcellus Shale-related dollars came to town, things ignited. "Their presence was part of what happened. They were pumping money into the economy like crazy."
Schauer has never built for a natural gas company, nor did he change rental prices when the industry came to town, but downtown has definitely felt their impact.
"They spent a lot of money in shops downtown," he says. "It brought in a lot of people who grew up different, spoke different, ate different… I think it loosened up lenders. It broadened thinking."
One thing is certain: Williamsport's metamorphosis didn't happen overnight. And it's still happening, even as the Shale boom levels out. Perhaps one of the best indicators is not the physical changes but rather the collaborative spirit that imbues the community.
Pretty much every entrepreneur interviewed talked about "old guard" businesses downtown mentoring or encouraging new ones. And there is genuine awareness and excitement among entrepreneurs for what each other were doing and how others could build off it.
"It's not a cutthroat type thing," explains Imbro when asked about Schauer. "It's more collaborative. We reflect off each other. Sometimes we'll ask Matt, 'Hey what would you do with this or that?"
Karl Fisher, the young entrepreneur who founded Alabaster Coffee, was open only two days before the brewmaster from nearby Bullfrog Brewery knocked on his door looking to team up on a coffee-infused beer.
"He said, 'Hey, we have this idea — do you want to collaborate?" recalls Fisher.
Schauer has no trouble believing that. There's a reason people line up at the crack of dawn for Bullfrog's bottle releases.
"They are so innovative," he says, "Same with Alabaster — it's quality, quality, quality."
TATABOLINE ENOS travels the Pennsylvania Wilds working with small business owners, artisans, entrepreneurs and residents who are helping grow the region's nature and heritage tourism industry. She lives in a small farming town in the northwest corner of the PA Wilds with her husband and two young sons. Follow Ta's work at facebook.com/pawildsTreps or on Twitter at @pawildsTreps. To explore the PA Wilds region, check out PAwilds.com.