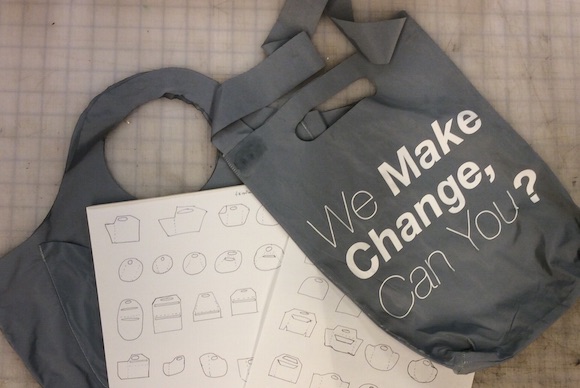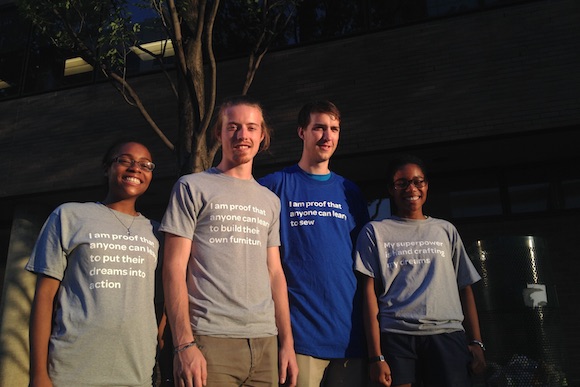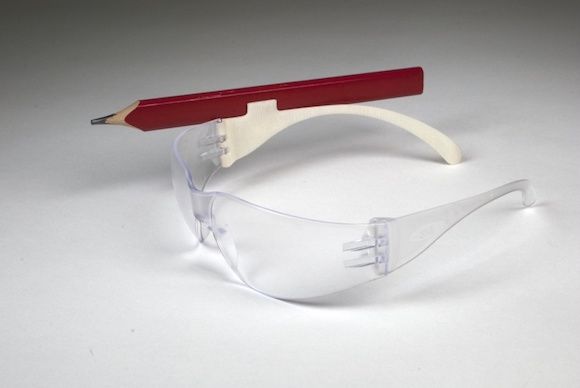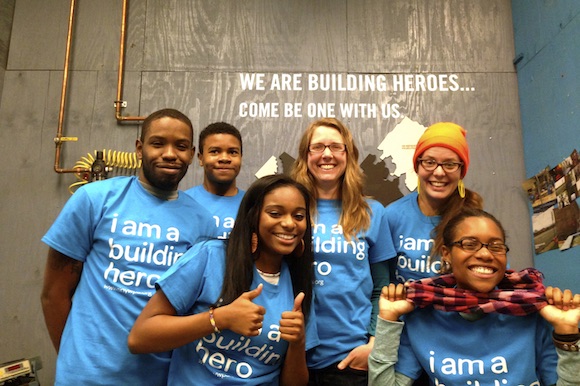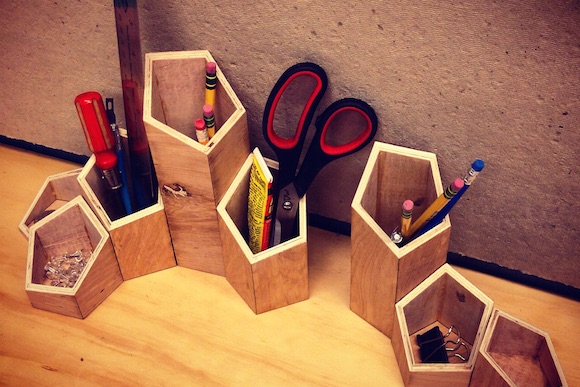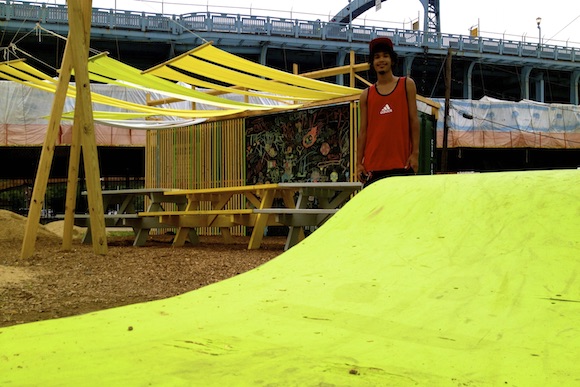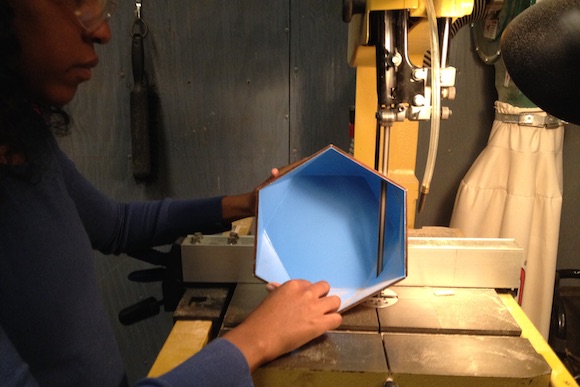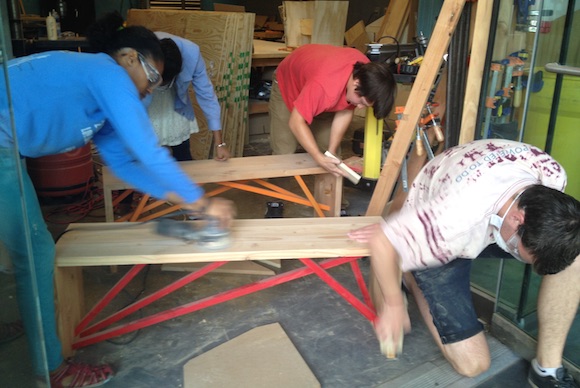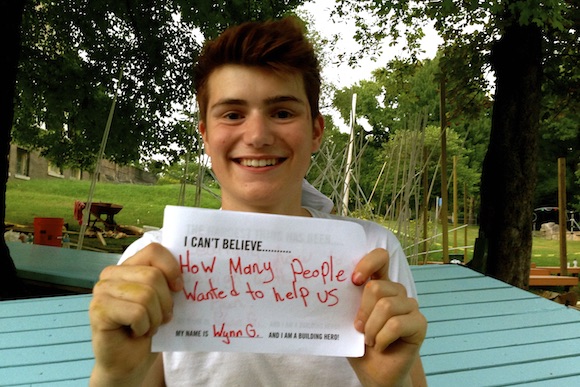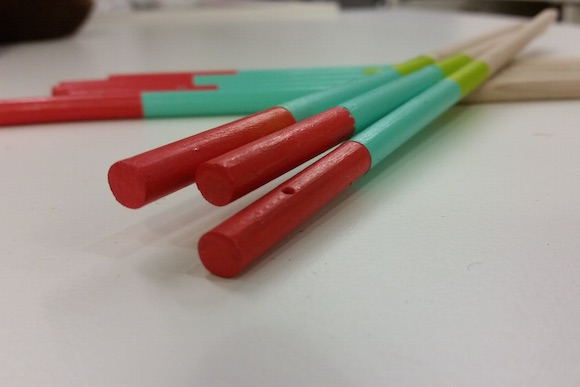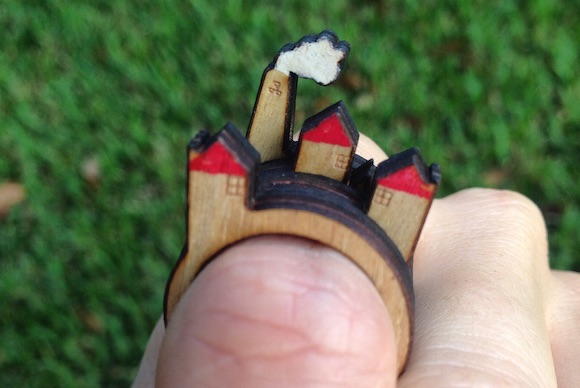 It's 7:30 a.m. on a Saturday morning in late August when Alex Gilliam's phone rings.
"We need to fix the ramp," demands voice on the other end.
Gilliam is director of Public Workshop, an organization that works with youth and communities to design and build projects that transform neighborhoods. Will, the caller, is one of a group of young adults who worked tirelessly to build a pop-up skate park on a vacant lot in their Camden community last summer. It had rained heavily the night before, causing damage to one of the ramps, and Will was insistent that they fix it as soon as possible.
Will and the volunteers who helped build the project are known as Building Heroes. They lead Public Workshop's community building projects throughout the Philadelphia region, learning valuable design, building, leadership and entrepreneurship skills through the organization's Building Hero Project incubator. (The program is an outgrowth of this initiative.)
Gilliam came up with the idea in Spring 2012: Participants in Public Workshop's projects kept telling him they wanted to do more. They come from all walks of life — 16-year-old girls who've never touched a power tool, residents of nearby public housing, union carpenters, college design students, struggling 20-something skateboarders — and yet they're all united by a common desire to design, build and positively impact their communities.
The resulting incubator, with its home base at The Department of Making + Doing, a shared makerspace at the University City Science Center, provides this diverse group of individuals with a physical space to learn about design, hone their building skills and be connected to others doing the same.
For Wynn Geary, a high school senior at Science Leadership Academy who plans to attend college for design, the Building Hero Project allows him to pursue something that he can't at school.
"It's really great to have this network of the Building Heroes to help you learn because I don't have a design class at school," he explains. "This is a place I can go to and learn how to design."
For others, it's an opportunity to grow in ways they may not have otherwise.
"On a day-to-day basis, I'm evolving more of my skills and learning to communicate better with people from different backgrounds and professions, which I wouldn't be able to do in a traditional design studio," explains KC Shoot, a University of the Arts graduate who joined the Building Hero team this past summer.
16-year-old Tiarra Bell, who, along with her twin sister Tamira, has been a part of the group since December 2013, agrees.
"I didn't have a lot of confidence when I came to the Building Heroes," she confesses. "Now I feel like I can go up to people, talk to them and lead projects."
Late last fall, the team launched a Building Hero Project shop on Etsy with ten initial products. Within two weeks, sales reached almost $2,000. The vast majority of buyers were from outside the Building Hero and Public Workshop networks. The overwhelming response demonstrated that the program had the potential to fund itself and even provide income for the folks designing and fabricating the products.
The self-funding model is powerful: Training and apprenticeship programs like this one are often funded by public grant money, and participants rarely get paid while they're learning. While Public Workshop community projects are still often funded by grants, the income stream of private money from the Etsy shop allows Building Heroes to get compensated for their work. It also provides resources for the incubator to grow.
Then there are the less tangible rewards. Via the shop, Building Heroes learn that they're just as capable of making great products as a seasoned designer, which is extremely empowering.
"There are these beautiful things in the store that weren't designed by expert designers," says Geary. "They were designed by high school students, and that's really cool."
It also teaches them the value of producing quality products that meet a need — the marketplace ultimately decides what is and isn't sellable.
"Well-designed, well-built things, empowerment, and learning are not mutually exclusive," explains Gilliam. "Every product in the store arises out of a need identified by a Building Hero in their personal life or community. Even for a seasoned designer, it's incredibly empowering to design and build a solution to something that has been bothering you, nagging you. It's even more empowering to do that so well that people buy it."
Expansion plans include offering paid classes — where Building Heroes teach others to make their products — and addressing needs in the communities where Public Workshop operates. For example, during the construction of a community bulletin board at 42nd Street and Lancaster Avenue last summer, a local barber approached the team to create a vinyl sign for his store.
Gilliam sees these as great projects for the Building Heroes to pursue.
"It's a way for team members to have their own projects to hang their hat on, but also meet a need," he says.
Building Hero-led projects also showcase youth doing something positive in their neighborhoods, which often leads to community support for the work. The projects are transformative because anyone willing to help in some way is welcome to get involved and leave their mark. The Camden skate park construction began with a group of three Building Heroes from Philadelphia, but by the end, the number of people who had touched the space ballooned to more than one hundred. This included a local pizza shop owner who, upon seeing the work they were doing, provided free lunch to the Building Heroes one day, and a Rutgers professor who dropped off a rain barrel because he thought the site could use one.
"There was a whole group of kids who aren't usually engaged in the community planning process, out there building and excited about it," recalls AJ Jensen, project manager for Cooper's Ferry Partnership, the Camden economic development agency that spearheaded the project as part of its larger "Connect the Lots" initiative. "The momentum that it built is really sustaining."
Sustaining, indeed. The success of the skate park has spurred community members to demand an upcoming meeting to discuss plans for 2015 and beyond. Although last summer's installation was taken down in November for the winter, there's an opportunity to rebuild in May, hopefully luring even more Building Heroes into the fold.
And though a few of the very first Building Heroes have moved on — some due to graduation, some due to family obligations — they're still connected through the relationships they built via this unique program.
As Geary, soon to graduate himself, puts it, "I don't think you ever really leave the Building Heroes. You're always a part of it. It's an ever-growing group of people."
SAMANTHA WITTCHEN is a designer, writer, harpist and co-founder of iSpring, a sustainability strategy and analytics firm working in Philadelphia and the Lehigh Valley. You can follow her efforts to make the world a better place and become a harp rockstar on Twitter at @samwittchen.