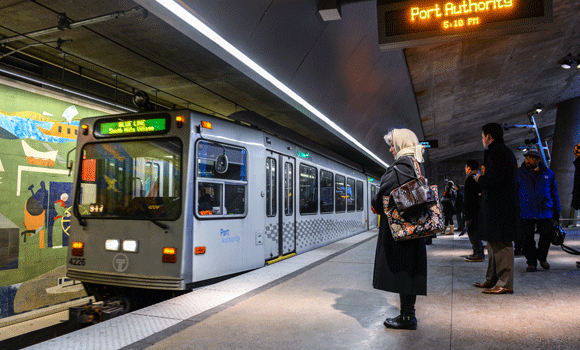 This is part two in Keystone Edge's three-part series about transportation changes across Pennsylvania; check out part one here.
 
Whether relocating for work or school or just visiting, newcomers to Pennsylvania are creating demand for user-friendly, easy-to-follow transportation as they navigate through unfamiliar territory.
 
Pittsburgh's Newest Residents
 
Before moving to Pittsburgh, most prospective residents shop online first. A lot of apartment complexes and communities now provide welcome information on their websites. Craig Dunham, principal at Dunham reGroup, LLC and project manager for Summerset at Frick Park, explained that the project's website lists schools, maps and recreation for potential residents, along with commuting and transit information.
 
"I really do think that today's buyer is web savvy," says Melissa Reich, Summerset home sales expert and leasing agent at Brake House, Luna Lofts and 930 Penn Avenue. "[Buyers] are really doing their own research before they come to us."
 
According to Reich, tenants are using online tools provided by development companies and prospective employers, and they usually have an idea of what they want in terms of commute and amenities before stepping foot in Pittsburgh. Many of her young professional tenants, especially near the University Hub at her Oakland Luna Lofts property, want to be near public transit and within walking distance of coffee shops, bars and restaurants.
 
"They're relocating and they're not bringing a vehicle," she explains, adding that Luna and Brake House lofts both have bus stops in front of the buildings, a selling point for many tenants.
 
Navigating public transit in a new place can be daunting, but the Port Authority of Allegheny County has recently made strides to help both newcomers and long-time residents find their way.
 
Scaling Mountains and Crossing Rivers
 
So, what services are there in Steel City? Let's start with The T, Pittsburgh's light rail system, which connects Downtown Pittsburgh, the North Shore and destinations in many of the city's southern neighborhoods and suburbs.
 
If a stop on the T isn't your final destination, you can finish your trip via bike. Bikes are allowed on the T, Monongahela Incline and city buses, according to portauthority.org. Don't own a bike? Pittsburgh Bike Share is slated to open this spring, making intermodal, alternative transportation even easier.
 
According to its website, the Port Authority serves about 215,000 riders daily. With a slew of bus routes around the greater Pittsburgh area, there are many ways to get from point A to point B.
 
Pittsburghers can also use the Monongahela Incline to commute between the South Side and Mt. Washington, or to sightsee from the spectacular panorama atop Mt. Washington. The historic cable car provides a great view of the city as it scales the hillside. The Port Authority also owns the nearby Duquesne Incline, which is operated by a nonprofit society and travels between the western side of Mt. Washington and Station Square.
 
Riders can use the Port Authority's online Trip Planner to find the route that leads to the fastest trip, the shortest walking distance or requires the fewest transfers. Transit trips can also be planned using Google Maps. In addition to being accessible online, bus schedules can be picked up at Downtown subway stations and the Port Authority's Downtown Service Center on Smithfield Street.
 
In December 2014, the Port Authority completed its rollout of TrueTime, a real-time tracking system that Port Authority riders can access on their computers or smartphones. As of December, all but six of the 98 bus routes were covered (vehicles serving those outlying routes do not have GPS capabilities). These vehicles will be replaced and added to the TrueTime system in 2015, along with real-time tracking for the T.
 
A Wayfinding Mission
 
When exploring a city, it helps when finding your way is easy. But most people don't think about the planning that goes into facilitating navigation. Design must take into account how riders utilize information, how people travel — bike, foot or bus — and the many different destinations. Whether or not you realize it, your path has been planned.
 
Philadelphia's wayfinding techniques were lauded by The Atlantic in 2012. According to the piece, Philadelphia launched one of the first pedestrian wayfinding programs, Walk! Philadelphia, in 1995. This program divided the city into five districts, which were color-coded for readability. "The neighborhoods were then knit together by an extensive system of signs and street maps," the article states.
 
In Pittsburgh, the Port Authority debuted a new design for transportation signage in January. Signs with more maps, detailed schedules and larger, more readable fonts will begin popping up as early as April 2015 at select bus stops and T stations Downtown, according to Heather Pharo, Port Authority of Allegheny County spokesperson.
 
"We are starting a wayfinding project," explains Pharo, adding that the signs will provide more detailed information at the Port Authority's stations and stops Downtown and in the North Shore.
 
According to Pharo, bus stops currently host blue and white signs that depict route numbers and sometimes the route name and a customer service number, if there's room. Bus stops in other cities often have a larger panel with a map, frequency information or schedule information.
 
"That is something that we're going to be introducing to our system," she says. "We'll also be introducing more information at the T stations — enhanced information on how to connect between bus and T, or where to find your bus stop."
 
This information will benefit people who have access to technology as well as those who don't. Bus stop signs recently had ID numbers added to them, so smartphone users can look up the stop information in the TrueTime system. These ID numbers will be on the new sign system along with QR codes for enhanced information. 
 
"But of course there will be more information there that you won't even have to take out your smartphone or cell phone to use," she insists. "It will just be better information about the route, and about the frequency or the schedule, so that way you can take a look at something and feel confident. It's helpful for existing riders, but it's also helpful for new or occasional riders. Anything that can increase a rider's confidence in the system, and make the system easier to use, helps improve ridership and boost positive feelings."
 
The design and new signs are being constructed for the Port Authority as part of  $900,000 deal with contractor CHK America, a Santa Barbara, Calif., company that has designed signs for the Washington, D.C., Chicago and Los Angeles transit systems.
 
Last month, bus riders who use East Liberty Station on the Martin Luther King Jr. East Busway also saw big changes in the form of newly constructed platforms. The renovation is part of the ongoing East Liberty Transit Center project, which includes a nearby development, parking garage and pedestrian bridge. The Mosites Company's adjacent East Side III, will bring 360 apartments, 550 parking spaces and 40,000 square feet of retail between Highland and Penn avenues along the East Busway.
Get Out of Town
 
This trend toward ramped-up public transit extends beyond Pittsburgh. As detailed in a 2014 Keystone Edge story, Americans are still driving less, despite the recovering economy. City dwellers are overwhelmingly opting to walk, bike or take public transit. Amtrak set ridership records in 2013, the company's best year ever, with 31.6 million passengers riding the rails.
 
"Philadelphia's 30th Street Station, on the banks of the Schuylkill River, is the nation's third busiest train station, with over four million Amtrak passengers passing through per year," explains writer Rachel Kaufman. "Add in the local SEPTA [Philadelphia public transit] trains and New Jersey Transit, and that's 7 million riders."
 
This could cause backup and congestion at major rail hubs, but smart cities are anticipating and adapting, with cities — including those in Pennsylvania — using train stations as community gathering spaces. In the state capital, the iconic brick-front Harrisburg Transportation Center has undergone a decades-long renovation — since 1983, $7.68 million has been invested in the station (which serves Amtrak and bus traffic). And 30th Street Station underwent renovation in 2011 to include a public space, The Porch, to welcome riders and newcomers to Philadelphia.
 
Though the Port Authority's buses don't leave the Greater Pittsburgh area, the Port Authority can help you get of town. The 28X Airport Flyer bus route, which operates with stops between Oakland, Downtown and the airport, runs 365 days a year.
 
Port Authority buses also provide service to the Downtown Amtrak station, adjacent Greyhound station and nearby Megabus stop. And, from there, you are just a hop, skip or a jump to just about anywhere within the region. Megabus provides service to Harrisburg, Philadelphia, State College, as well as New York, Washington, D.C., and Morgantown, W.Va., with fares starting at $1.
 
After all, Simon and Garfunkel did set off from Pittsburgh to "look for America" in 1968:
 
"'Kathy,' I said as we boarded a Greyhound in Pittsburgh…"