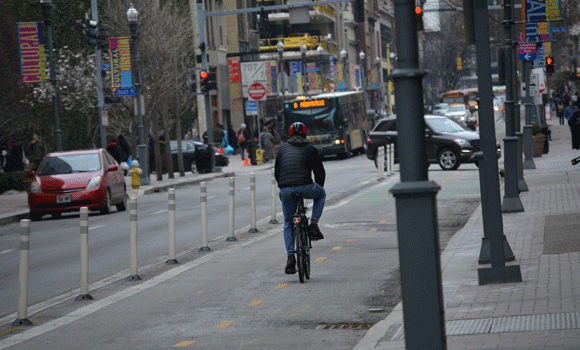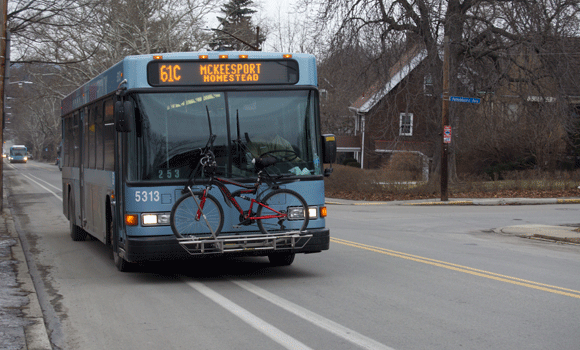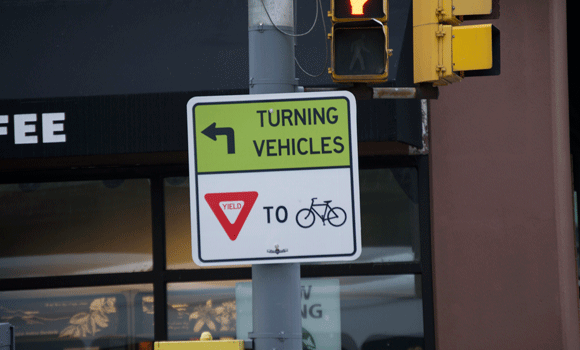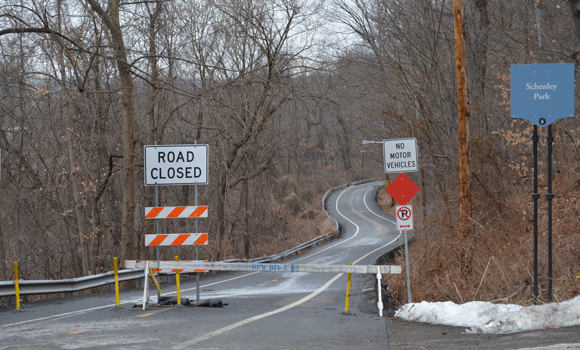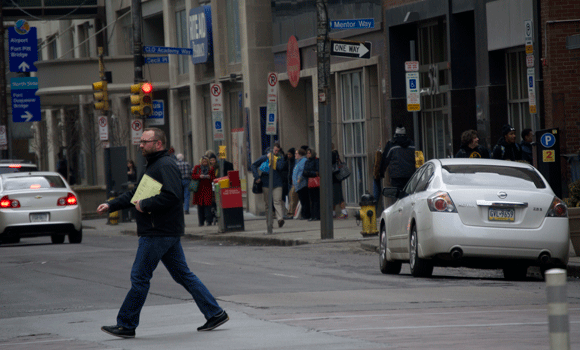 This is part three of Keystone Edge's three-story series on transportation issues in Pennsylvania, with a particular focus on Pittsburgh. Check out part one and part two.
As cities across the state reinvent their transportation infrastructures, a simple machine of the mid-1800s is in the foreground: the bicycle. This artifact of the past may be one key to a successful future.
 
In Pittsburgh, cyclist and pedestrian organization BikePGH was formed in 2002 in response to cyclist David Hoffman's collision with a car. Since then, the group has been working with Port Authority of Allegheny County and pedestrians to create a safer environment for all street users. They're also responsible for most of Pittsburgh's bike lanes and sharrows, the arrow-like markings on streets that announce the road as a shared space. And their focus goes beyond those on two wheels.
 
"About 25 percent of traffic fatalities in the city are pedestrians," says BikePGH Advocacy Director Eric Boerer. "We are moving toward a Complete Streets approach in general, where all users, including cars, bikes, pedestrians and transit, are accommodated for. Every neighborhood, regardless of location, income level, class, etc., lists speeding cars and unsafe streets at the top of their quality-of-life lists. If we can help decrease confusion, increase predictability, slow cars and create a more bike- and pedestrian-friendly environment, everyone benefits."
Protected Bicycle Lanes
Anyone who has visited the Cultural District or Phipps Conservatory, or grabbed a calzone at Big Jim's in The Run since the fall has seen the new protected bike lanes installed in Downtown, Oakland/Schenley Park and Greenfield/Four Mile Run, respectively, as part of a new initiative from BikePGH and Mayor Bill Peduto. These lanes have been in the making for years, as BikePGH worked with the Department of Public Works to create over 50 miles of bike lanes and sharrows. While former Mayor Luke Ravenstahl was instrumental in helping plans move forward for many of the marked cyclist paths, Peduto used his political position push the projects to fruition.
 
While Peduto was running for mayor in 2013, the City of Pittsburgh submitted applications for the Green Lane Project. They won based on Peduto's strong vision for a healthier, safer Pittsburgh. With the Green Lane Project, city planners have the guidance of outside sources who have gone through renovation projects or studied older European cities to learn about inclusive street use. The project also makes funds available to implement these changes. Peduto visited Denmark and Sweden with People for Bikes, the organization behind the Green Lane Project.
 
And while the protected lanes aren't just for the safety of cyclists, there is still some resistance to the traffic pattern changes. Hopefully the results will be similar to what's been seen in cities like New York City, where protected lanes have proven to not only save the lives of cyclists, but to decrease confusion, increase predictability of both drivers and cyclists, and to ultimately decrease traffic congestion and gridlock. Pittsburgh is already starting to feel the effects, but won't truly see measurable progress until the protected lanes are connected.
 
In 2013, former Governor Tom Corbett passed the Transportation Bill (Act 89), which protects aspects of transportation such as roads, bridges and public transit. By 2018, the state will have more funds available to support our public infrastructure, including public transit. This may include bringing back some bus lines, but in the meantime, Pittsburghers are working with what's available. In 2011, after 10 years of planning, the entire PAT bus fleet was outfitted with bike racks. These racks are integral for many commuters with a significant distance between bus stop and destination. Many commuters also ride a bicycle down one of Pittsburgh's many hills and use the bus rack to easily commute back up. The buses, racks and protected lanes all work together to create a smooth, flexible trip across the city.
 
Bike Share
As Pittsburgh ushers in its newest public transit system, the Pittsburgh Bike Share program, the connection between bikes and buses will be further integrated. The bike share should launch this spring; it will be administered by a nonprofit and operate under the city's oversight.
When it debuts, users will be able to purchase a pass at one of many kiosks, borrow a bike to ride to another location in a different neighborhood, and return the bike at that neighborhood's bike stable. This form of public transit, available 24/7, will benefit those commuters whose bus routes don't connect exactly with their destination, or who would like to ride a bus from a farther location and commute by bicycle within the city without worrying about bike storage issues.
 
"We have a goal to lower the barriers of entry to the Bike Share system," says Pittsburgh Bike Share's newly appointed executive director David White, "to create and supplement transit opportunities for some of Pittsburgh's underserved neighborhoods, and to fill in transportation gaps for those persons challenged by urban mobility."
 
Beyond that, neither he nor Port Authority's representatives were able to comment on whether an integration of the two systems is in Pittsburgh's future. These new ways of integrating transit are not just new to Pittsburgh, but to the nation. We're in unmarked territory.
Philadelphia is also gearing up for the launch of its bike share program, Indego. Sponsored by Independence Blue Cross, the system will feature 60-plus stations located across the city, stretching from Center City to parts of North, South, and West Philadelphia. Organizers home that the network will be a boon to commuters, locals and tourists alike. Paired with SEPTA's huge high-tech upgrade, it will soon be much easier to travel in the City of Brotherly Love. 
 
Complete Streets
The Complete Streets Program is a policy movement that has been adopted by many cities as urban populations — and perspectives — expand. The philosophy revolves around ensuring safe access for all users, including pedestrians, bicyclists, motorists and transit riders of all ages and abilities.
The American Commuting Statistics of the U.S. Census Bureau ranks Pittsburgh No. 3 for walk-commuting communities. And even with decreased PAT bus service, Pittsburgh is No. 10 in the nation for commuters who rely on public transportation (according to the U.S. Census Bureau, over 10 percent of the population lacks access to a car). Complete Streets is an initiative that aims to acknowledge the urban shifting landscape and proactively work to accommodate everyone in the community.
 
Despite those high numbers, safety remains a major issue in Pittsburgh. In some cases, the commuter route to the new bus stop is dangerous. Irvine Street in Hazelwood, for example, has a long stretch of road with limited sidewalk access and virtually no shoulder. One of the few straight roads in the city, drivers often hold a steady 50 mph or higher in the 25 mph zone. The side of the road, filled with debris, is a dangerous place for cyclists and pedestrians, but it's the only option. By implementing the Complete Streets Program, the Green Lanes Program, and Pittsburgh Bike Share, these currently dangerous transportation areas can help link neighborhoods and neighbors.
Other neighborhoods still need assistance with access, and as development booms, the Complete Streets framework will be there to make sure planners and private interests consider all road users, including people with disabilities who need accommodations such as level sidewalks, ramps and walk signs.
 
"We're developing multi-modal transportation: the ability for people to get where they need to go by the transportation they use," said Mayor Peduto in a video released last fall. "And you have to do it for each. Some people don't have bikes and they need to walk. You need to make sure that you have that. Some people need assistance when they walk because they are people with disabilities. You make sure that automobiles, public transportation, bikes, and pedestrians are all included and fit into your total budget."
 
According to Matthew Barron, policy manager for the Office of Mayor Peduto, the City of Pittsburgh is "still in the planning and information-gathering phase for this initiative and not quite ready to go public with the details yet," but Pittsburgh as a community is certainly ready for the changes it will bring. 
  
Beyond Pittsburgh
Issues of access to space aren't limited to Pittsburgh. Throughout the state, including in Philadelphia, more people are using a multitude of transportation options in streets built for smaller vehicles and smaller populations.
 
"Often in Philly, the bike lane and bus lane share the same space due to bus stops," says longtime Philadelphia resident and bicycle mechanic Meghan Dineen. "So there is a lot of jockeying for the same space of the road with a much faster, more dangerous vehicle that also feels the right to that space."
This is being addressed via restriping on some major thoroughfares, including Washington Avenue, added bike lanes and increased education and advocacy by groups such as the Bicycle Coalition of Greater Philadelphia. Plus, as major studies have shown, half the battle is just getting more bikes on the road — it makes drivers more aware and cyclists more comfortable. The bike share should be a major step in that direction.
All of these changes speak to a growing diversity of urban transportation options across Pennsylvania. And if you make it easier for people to get around, you make it easier for them to access work, patronize restaurants, take a chance on a far-flung art gallery or enroll in a class across town. It's all a piece of building a healthier Commonwealth.
 
  
Looking for a reason to check out the new bike lanes and meet other cyclists? BikePGH is partnering with local coffee shops to offer free coffee and hot chocolate for Winter Bike To Work Day on February 27. During the event, those who ride their bike to a participating café can enjoy a free or greatly discounted warm beverage with fellow cyclists.
 
CAROLYNE WHELAN is a freelance writer and avid cyclist living in Pittsburgh.