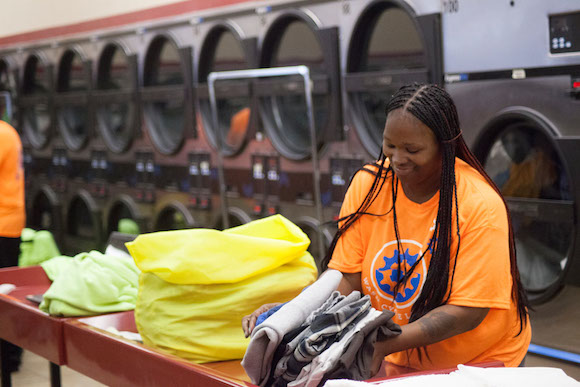 A few weeks ago, Philadelphia startup Wash Cycle Laundry (WCL) closed on a major new loan from the Distinguished Social Ventures Foundation (DSVF) which may help the company create hundreds of new jobs and nab new contracts on the way to major expansion.
According to founder and CEO Gabriel Mandujano, the $450,000 loan isn't just important for what it will help WCL achieve, but also in the new model it will help forge for foundations who want to invest in mission-based businesses.
WCL, now operating in Austin and Washington, D.C., as well as Philly, was founded here in 2010. The company provides laundry and linen rental services for institutions, businesses and residents, with environmentally-friendly high-efficiency machines and powerful bike trailers for hauling. The company also focuses on hiring its employees from vulnerable populations such as formerly incarcerated people and longtime welfare recipients. The company currently employs almost 50 people, with a retention rate topping 80 percent in workers' first six months.
"What [this] capital allows us to do is come to the table as a ready partner," explains Mandujano. When WCL negotiates with potential clients like a hospital system or university, whether or not the company has the capacity to handle the contract in terms of staffing and inventory has always been a big question. "What this investment has allowed us to do is…go out and close more of these institutional contracts."
The terms of the loan are unique, and give WCL a powerful incentive to expand its socially conscious mission. The current interest rate on the loan is 5 percent, but WCL has five years to reduce that interest rate drastically.
"We're talking about the net number of jobs that we create," says Mandujano of the loan's "five-year time clock" from its January 21 closing date. If WCL can create 200 jobs with the help of the new capital, interest on the loan will drop to three percent, and if it can create 500 new jobs within five years, the interest rate will go down to just one percent.
"I'm really excited that this financing aligns our financial interests with our mission interests," he enthuses. "If we're better at achieving our mission, we're also financially rewarded for that."
And for both WCL and DSVF, a bigger goal is creating a model that will work for other "purpose-driven businesses" and the foundations who might be interested in similar "impact investing," but do not know how to select the right company, set the right goals, and hammer out the paperwork.
According to Mandujano, "we wanted to create an instrument that that we thought could be copied both by other foundations that want to invest in Wash Cycle, but also just by foundations interested in this type of investing in general."
Writer: Alaina Mabaso
Source: Gabriel Mandujano, Wash Cycle Laundry