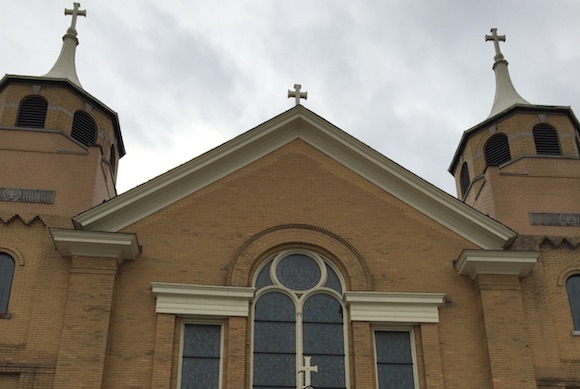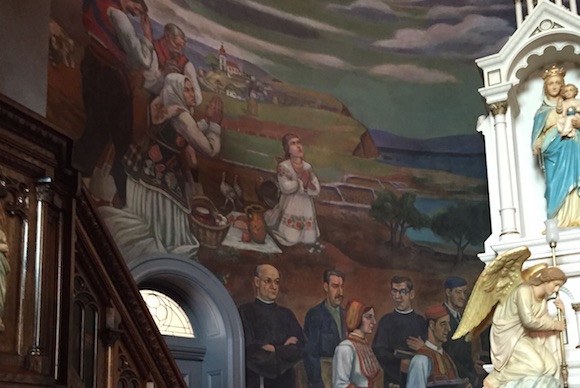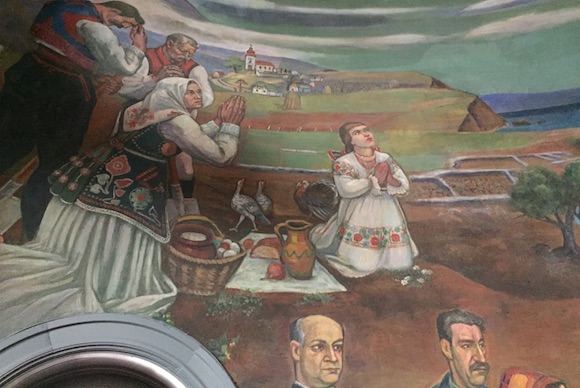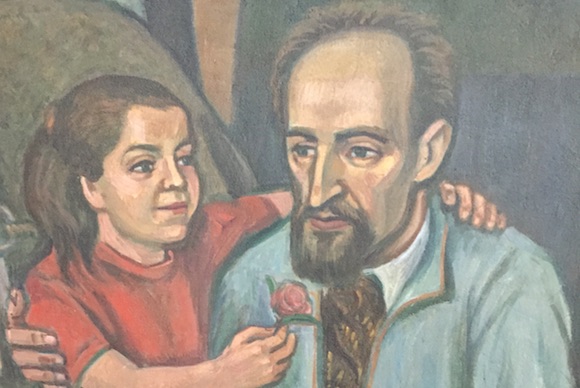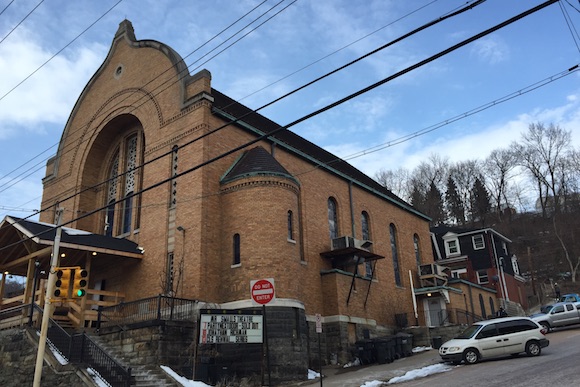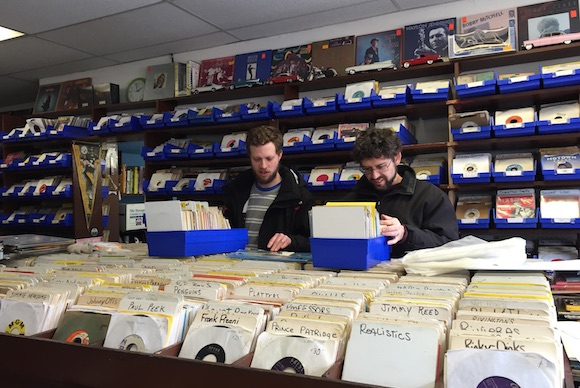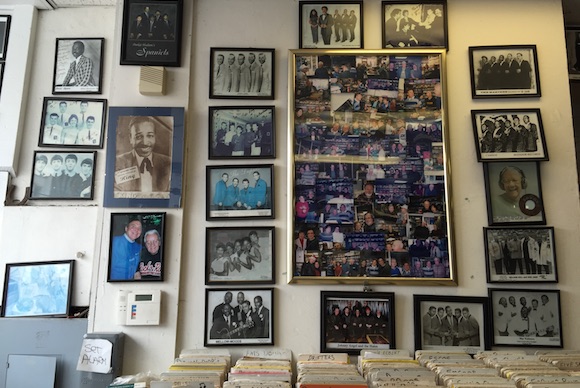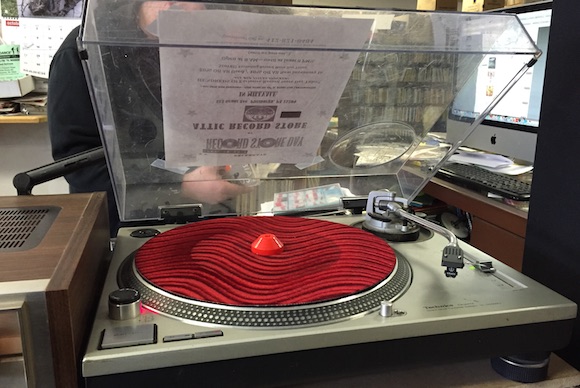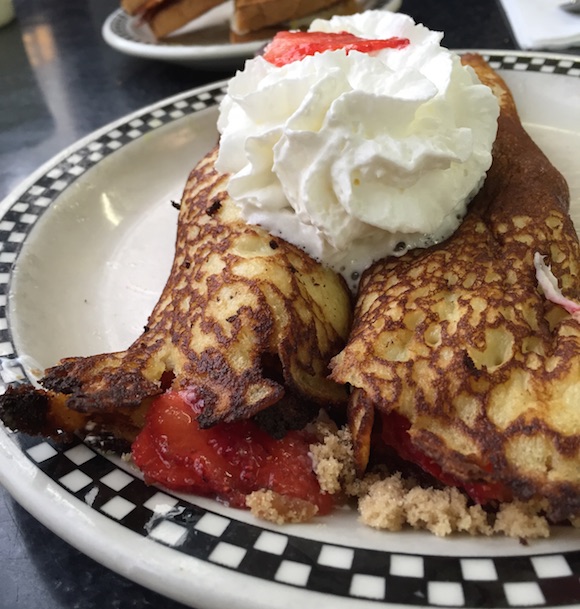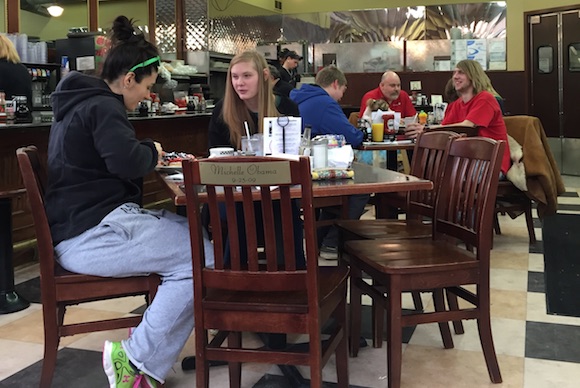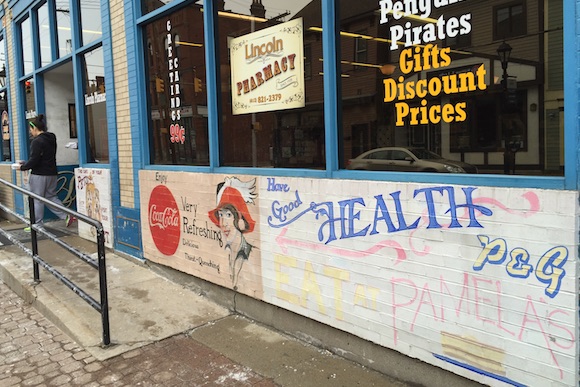 Millvale is easy to overlook, but that would be a mistake. It's a tiny borough located next to Pittsburgh with a population of only 3,725. But spend a day in this charming hamlet and it quickly becomes the David to Pittsburgh's Goliath, boasting a great concert venue, a sparkling new venue management system, an impressive range of music artists, pancakes worthy of the president and a national historic landmark that narrowly escaped destruction. It's also a city filled with art, from classic records for sale to gorgeous murals.
Take Me to Church
For years the murals of Maxo Vanka have adorned the walls of Millvale's St. Nicholas Parish, and they haven't always been safe. The over 100-year-old hilltop building has twice been slated for demolition. Fortunately, in 1980 the church was added to the National Register of Historic Places and Vanka's murals — which tells the story of the immigrants who founded America's first Croatian Catholic parish — began to get the recognition they deserve.
In 1937, Vanka, a Croatian immigrant himself, was given free reign to cover the walls and ceiling of the church in an eight week blitz. What resulted was as much a commentary on the immigrant experience as a moving work of religious art. Ironically, according to the mural's preservation society, Vanka himself subscribed to no particular faith, saying only: "I painted so that Divinity in becoming human, would make humanity divine."
In keeping with that philosophy, the murals depict townspeople standing in various religious scenes, with Jesus modeled after a local African American man, painted suffering and green hued in a style reminiscent of graphic novels. Another church benefactor is painted into the mural, along with Vanka's own daughter, Peggy, according to church docent Aaron Ciarkowski.
Vanka was commissioned to paint the works after church leader Father Albert Zagar saw his work at an art show in Pittsburgh. There was a fire in the church in 1921 and the walls were left blank, a perfect canvas for the artist, who worked high atop a ladder, hiding from shadowy figures he claimed frequented the church.
In addition to being the first Croatian Catholic Parish in America, St. Nicholas might be the only church where a gas mask and war scenes feature prominently amidst religious iconography.
Vanka was profoundly impacted by World War I — when he volunteered as a medic — and World War II, which caused him to flee Europe with his Jewish-American wife and their child. According to Ciarkowski, Vanka identified with the suffering of common people. He points out the artists' depictions of factory scenes and critiques of capitalism in the work. In one scene, downtrodden workers stand dejected, while in another, a man in a top hat sits down to a dinner too big for any one person holding a paper that says "stocks," while an African-American man serves him.
Vanka called the murals his "gift to America." They seamlessly blend many styles, from surrealism to classic Byzantine to Croatian folk art. The pieces also borrow from the themes of work and industrialization prevalent in WPA murals from the era commissioned by government agencies as part of President Franklin Roosevelt's New Deal.
"Vanka's Millvale works represent an important and as yet understudied example of Eastern European Modernism," wrote Barbara McCloskey, a professor at the University of Pittsburgh in the Architecture and Art History Departments. "His combination of traditional and modern aesthetic elements also sets the tone for the central thematic concern of his murals, namely the relationship between the old and the new, and between enduring values and the cost of accelerated change."
Vanka eventually moved from New York to Pennsylvania, living for many years in Bucks County. He died in Mexico at the age of 73 in 1963. Free tours of the fantastic murals are given on Saturdays at 11, 12 and 1 p.m.
Soulful Songs
Another amazing church in Millvale offers the opportunity to worship at the altar of music. Mr. Smalls, a former 18th century Catholic Church turned music venue, can host up to 650 guests in its 40-foot high performance space.
If you've never seen a show inside a church, make it a priority. The wood floors and labyrinthine design make for a particularly special experience. Visiting performers stay in the old church rectory and artists such as 50 Cent and Anti Flag have recorded in the building's music studios.
The venue also serves food and beer; upcoming shows are announced on a classic church bulletin sign.
If you hear something you like at Mr. Smalls, it can surely be purchased at the nearby Attic Record Store, which features amazing murals on the store's exterior, and is known for its extensive collection of records. On an average Saturday, music lovers browse 45s, 78s and 33s. A worker at the store is overheard explaining to a patron: "This man was one of the biggest promoters of teen dances at the time," while handing over some records.
The shop has been open since the 1980s. Attic is half record store, half historical archive! "Our knowledgeable and courteous staff cannot be stumped, and we specialize in hard to find items," reads their website.
Eat Local
Around the corner from Attic is Pamela's Diner. This regional chain is a must-visit destination for tourists and U.S. Presidents alike. Barack Obama has tasted the Pamela's goodness and First Lady Michelle Obama visited the Millvale location in 2010 for her second serving, sitting in a chair that now bears a placard with her name. The Obamas are such fans that they even invited the restaurant's owners to the White House to cook for them.
Pamela's is known for its old-timey vibe and delicious crepe-style pancakes, which put all others to shame. The flapjacks can be ordered plain (Michelle Obama style) or with various fillings, including strawberries, blueberries, whipped cream and brown sugar. The coffee is unlimited; the service is friendly and it's cash only.
This particular Pamela's has a classic dining counter, high ceilings and murals outside, a Millvale theme. It shares space with a pharmacy/Pittsburgh memorabilia store where you can learn different local phrases including yinz, nebby and jaggoff from posters that are for sale. However for proper definitions, you'll have to move to the region. That might be tempting with all Millvale has to offer.
Other places to check out in Millvale: Grist House Brewing, Yetter's Candies and Esther's Hobby Shop.
ELIZABETH DALEY is a New York City native and freelance writer who relocated to Pittsburgh in search of a better life. Her work has appeared in USA Today, The Christian Science Monitor, Reuters and numerous San Francisco Bay Area publications. Follow her on twitter @fakepretty.