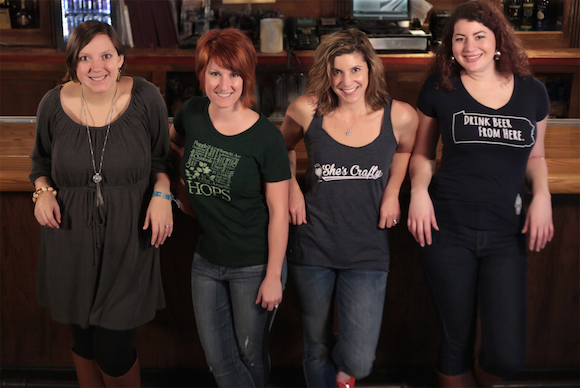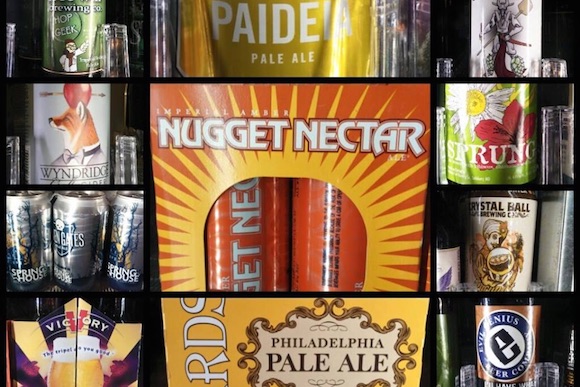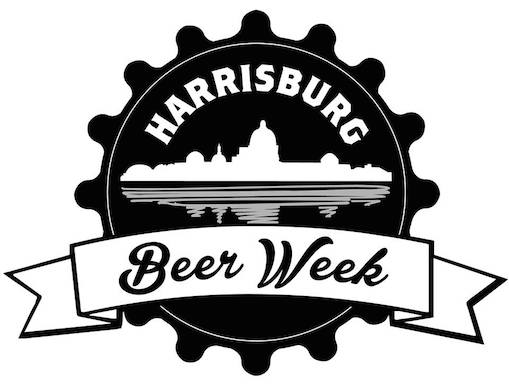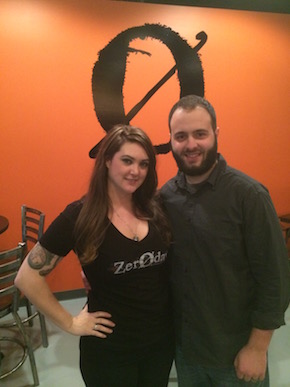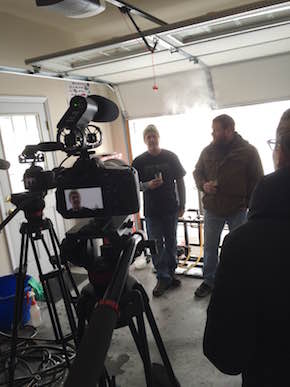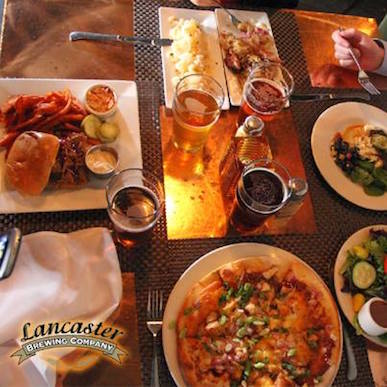 As craft beer booms, hitting up the occasional bar or brewery is no longer enough to earn connoisseur status — hence the rise of annual "Beer Week" extravaganzas. Here in Pennsylvania, Philadelphia has one; so does Pittsburgh. And now thanks to the efforts of four passionate, thirsty women, Harrisburg will, too, claiming its place on the microbrew map. 
Scheduled for April 24 through May 2, Harrisburg Beer Week is primarily the brainchild of local blogger Tierney Pomone of Stouts and Stilettos (recently profiled in our story on the state's top bloggers).
"Craft beer is my passion," insists Pomone. "I've been dreaming about a Harrisburg Beer Week for years and couldn't be more excited to see it come to fruition."
To help design and execute the weeklong celebration, Pomone joined forces with Sara Bozich, a nightlife, food and drink writer, as well as two other contributors to Stouts and Stilettos, Colleen Nguyen and Chelsie Markel. 
The result is a week packed with more than 100 craft beer events, including tap takeovers, brewing demonstrations, exhibitions, beer pairing dinners, a homebrew festival, "Meet the Brewer" nights, panel discussions and more. Events will be held at local restaurants, brewpubs and other businesses on both the west shore and the east shore, from Carlisle to Hershey.
"Harrisburg is not just downtown," explains Pomone. "We want to make sure it's an all-encompassing thing."
Drinking for Good
The goals of Harrisburg Beer Week go beyond expanding the palettes of local drinkers — organizers also hope to build community. To that end, they're donating proceeds from ticket and merchandise sales to the Harrisburg River Rescue and Emergency Services. 
"We really wanted Harrisburg Beer Week to be a fundraiser," explains Bozich. "We picked the River Rescue to be the beneficiary because of the great service they provide to the people living in the greater Harrisburg area."
Founded in 1959 as Pennsylvania's first water search and rescue organization, the River Rescue provides everything from water and ice rescue operations to water safety training to underwater criminal investigations and forensic recovery.
In 2011, while performing rescue operations during Tropical Storm Lee, the River Rescue was displaced from its headquarters, which housed equipment, offices and banquet facilities. Today, it's working hard to renovate a new space while maintaining the vital services it provides to the region. As a 100 percent volunteer organization — that is not a funded entity of the City of Harrisburg or state of Pennsylvania — it's always in need of financial support.
Learn Something New
These days, learning about suds can be just as much fun as drinking them. With that in mind, Harrisburg Beer Week has numerous educational events scheduled, from "Meet the Brewer" nights and beer pairing dinners to interactive homebrew demonstrations and informational talks.
And, thanks to the influence of its organizers, the events will emphasize diversity — as well all know, beer isn't just for the boys. According to the Brewers Association, women consume about 30 percent of the craft beer on the market, making them one of the strongest demographics for the industry.
On May 1, Harrisburg Beer Week is hosting the Pennsylvania Women in Craft Beer Conference.
"The opportunity to meet other women who are involved in this industry is just so exciting for me, especially being the new kid on the block," says Brandalynn Armstrong, a panelists who recently opened Zeroday Brewing Company in Harrisburg with her husband Theo. "It's such a great opportunity to enlighten other women that craft beer is not just for the boys."
Joining Armstrong on the panel will be Irena Bierzynski, production brewer at Victory Brewing Company, Sandy Cindrich, co-owner and president of Penn Brewery, and Valerie Delligatti, yeast coordinator at Tröegs Brewing Company. 
And the learning doesn't stop there. On April 27, Appalachian Brewing Company's original Brewmaster Artie Tafoya will lead a discussion on Lagers at ABC's Mechanicsburg location, while The Brewery at Hershey brewmaster Ryan DeLutis will dish about craft beer on April 29 at Café 1500 in Harrisburg. And Lancaster Brewing Co. is holding a Meet the Brewer night on April 28 at its Harrisburg location. 
Getting in on the fun, Midtown Cinema will feature several screenings of Beer Wars, as well as a one-time free screening of Brewed in the Burg, a documentary on the local craft beer community produced by GK Visual.
Fun for Foodies
Who needs wine, when you can pair your steak with a spicy saison or smoky porter? Many of Harrisburg Beer Week's participating venues are serving up a variety of tasty meals and appetizers to accompany their featured brews. 
On May 1, Tröegs and Harrisburg-based ice cream company Urban Churn are teaming up for a pairing event at Grain + Verse Bottlehouse in New Cumberland. And on April 27, Brewmaster Ryan DeLutis of The Brewery at Hershey will be heating things up with his "Smokey the Beer" during Momo's Smokin' Hot Happy Hour in downtown Harrisburg — come enjoy smokin' hot tater tots and other BBQ delights.
"Two years ago I was brewing in my garage, and now to be part of this huge event and partnering with other local businesses to raise awareness of craft beer is just so amazing," enthuses DeLutis.
Considered the "Ultimate Beer and Food Pairing Event," PA Flavor will hop into action on April 25 at the Pennsylvania Farm Show Complex. Now in its fifth year, the event brings together up to 40 Pennsylvania breweries along with 20 PA Preferred food producers and 20 PA Preferred restaurants.
Better Together
Collaborations have long been a beer-week tradition — it's a great opportunity to share expertise, and brew up something special for a captive audience. Three of the region's most respected brewers are join forcing forces for (717) Collaboration Ale. Brewed by Tröegs, Pizza Boy Brewing Co. and ABC, the brew "blends the dry-hopped characteristic of an IPA with the sweetness of local honeys, saison yeast and a hint of tartness."
Serving as the official beer of Harrisburg Beer Week, (717) will be released at the April 24 kick-off party at the Abbey Bar at ABC. It will also be available on draft at Al's of Hampden, Troegs and all ABC locations.
"I think it's going to be a totally different, but amazing brew," says ABC brewer Tafoya. "It also serves as a great representation of how craft brewers see themselves as colleagues, not competitors."
Theirs is not the only anticipated collaboration: For the past three years, Pomone of Stouts & Stilettos has brewed a birthday saison with Theo Armstrong of Zeroday Brewing. This year, Pomone will be tapping Saison 28 and sharing it during a special release party at Zeroday following the screening of Brewed in the Burg on April 28.
"This is a one-of-a-kind, never to be replicated, super limited brew that will be amazing," she insists.
 
Combining the spirit of collaboration with a little friendly competition, a homebrew battle will pit homebrew clubs against each other to be crowned tops in Pennsylvania. At Federal Taphouse in downtown Harrisburg, guests will be able to sample over 45 selections from PA Alers, Y.A.H.A., Rehab, Sons of Alchemy, All-Grain Gangsters and more.
Wrapping up the week's festivities will be The Little Big Beer Fest at ABC on May 2. This event will showcase higher-gravity tipples from local breweries. Participants include Pizza Boy Brewing Co., Molly Pitcher Brewing Company and Bube's Brewery.
And while you're sipping away, be sure to grab some merch to memorialize the week. With more than 20 craft beer events featuring pint nights or glass giveaways, Harrisburg Beer Week is a great opportunity to beef up your beer gear collection. And thanks to Hop Hedz Gear, anyone interested in promoting the event can preorder official Beerweek swag. T-shirts, totes and glassware will also be available to purchase throughout the week. 
"I jumped at the opportunity to make a weeklong celebration of local craft beer a reality," adds Tafoya. "If you're new to the scene, Harrisburg Beer Week is the perfect opportunity to open your mind and your mouth to craft beer."
KARREN JOHNSON is a freelance writer and stay-at-home mom with more than 15 years experience covering topics ranging from business and healthcare to parenting and education.