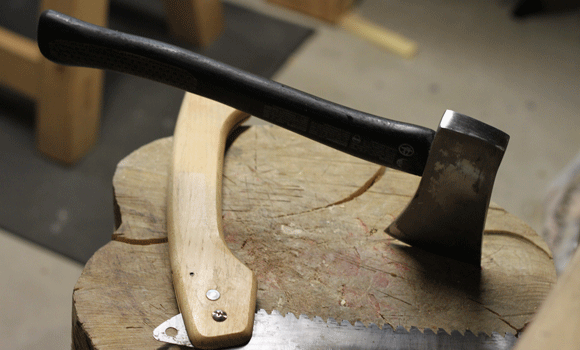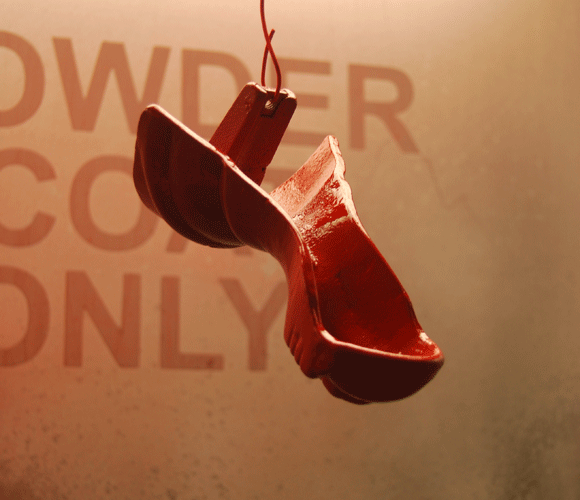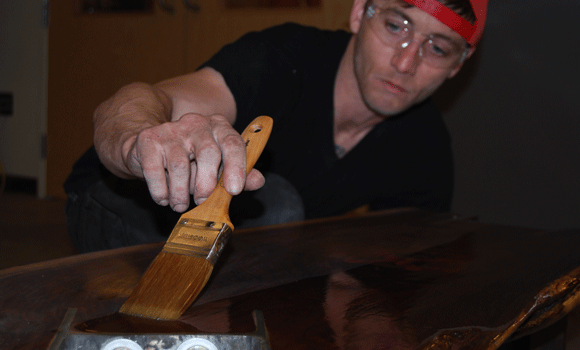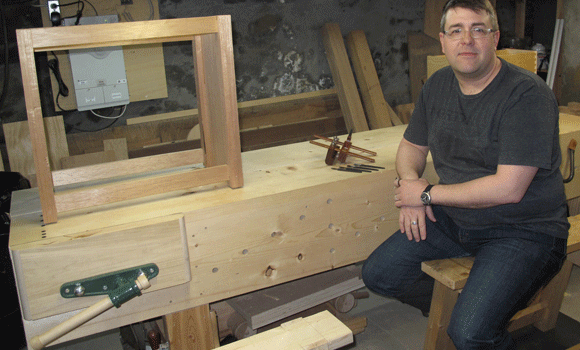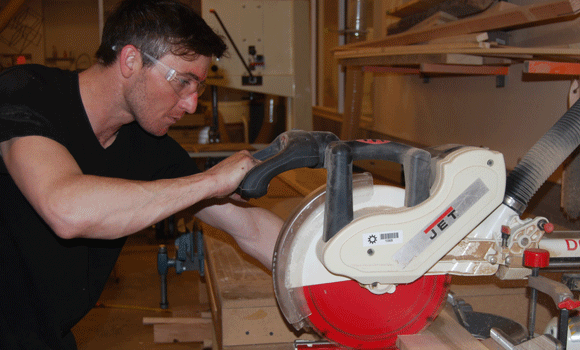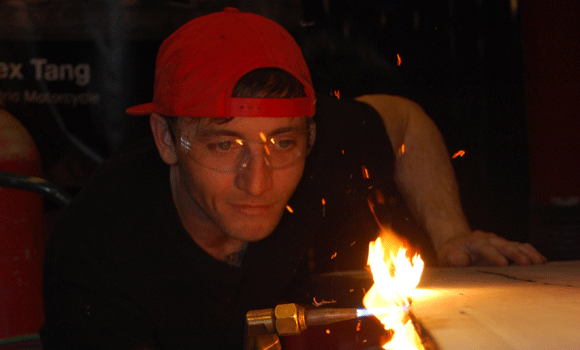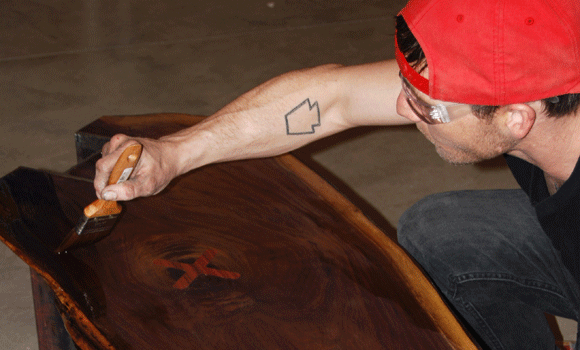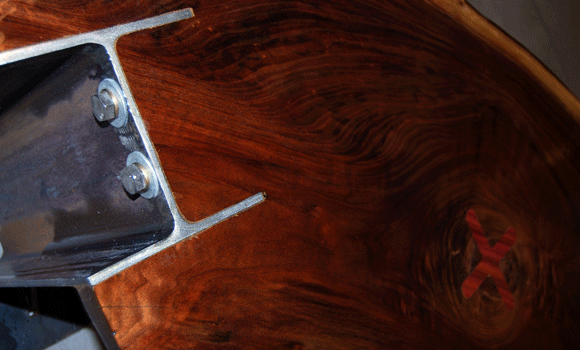 Spending an evening at TechShop in Pittsburgh's East End is an adventure — high-tech tools merge with traditional artisan techniques that have been around for centuries.
 
In under an hour, Jason Matukaitis powder-coats the claw feet of a cast-iron bathtub a spicy shade of red, then applies a coat of varnish to his latest wood and steel furniture creation.
 
Using only local materials, Matukaitis constructed the table from a beautifully grained slab of black walnut. He kept the bark-covered surface known as a live-wood edge, giving the piece an organic feel, and introduced two steel I-beams through the plane of the wood as table legs.
 
Later, the Steel City artisan uses a blowtorch to burnish the edges of a 10-foot-long plank of oak for his next project, displaying a fascinating contrast of high tech and organic elements. Matukaitis, who lives in Friendship, is a product of his urban environment and non-traditional training rather than a formal education in furniture design. Spaces like TechShop are essential to his evolving practice.
 
The seventh TechShop location in the United States, TechShop Pittsburgh opened in 2013 calling itself "a playground for creativity, part fabrication and prototyping studio, part hackerspace, and part learning center."
 
TechShop General Manager Matt Verlinich sees a desire for more handmade goods fueling the growth of the makers movement across the nation.
 
"People are looking for higher-end, local, unique pieces rather than more mass-produced [products]," says Verlinich. "TechShop is helping to facilitate that, empowering people to be creative."
 
By providing access to the latest in technology, from laser cutters to 3-D printers — tools out of the financial reach of the majority of people — TechShop is helping to enlarge Pittsburgh's maker community.
 
Why Pittsburgh?
 
The maker movement, a growing community of artisans, designers and craftspersons that embraces the values of sustainability and the quality found in handmade products, is making itself at home in Pittsburgh. The question is why.
 
Matukaitis believes he knows the answer: It's the opportunities and financial advantages the city affords to up-and-coming artists.
 
"In any other city I wouldn't be able to make ends meet," he insists. "Art is expensive. Here you can [make a living]. Places like Construction Junction to get stuff and like TechShop where you have millions of dollars worth of stuff to use make the difference."
 
His day job — the one that pays the bills — is with an environmental engineering firm. But ask this maker where his passion lies, and that's another story. And it is that passion for good design and environmental integrity that garnered him national recognition earlier this year.
 
Matukaitis' combination of Asian and industrial design impressed the judges at the 2014 National Reuse Contest. The ReUse People of America (TRP) in San Diego, pioneers in the re-use of building materials, started the competition seven years ago. The purpose is to showcase the work of a growing community of makers from across the country that looked to sustainability as an essential ingredient in their designs.
 
Matukaitis' submission, a handsome wood/metal coffee table, combined creativity and sustainability while paying homage to Pittsburgh's industrial past and the Keystone State of Pennsylvania.
 
The roughness of a live-edge wood top is an interesting balance to the smooth finish of the centered metal inlay in the shape of a keystone. The grain of the locally sourced black walnut is in harmony with the industrial lines of the reclaimed steel base and raised diamond pattern on the aluminum plate used for a lower shelf.
 
Matukaitis' background as a welder, greenhouse manager and furniture mover has melded together in a serendipitous way.
 
"I think the industrial side, that's just kind of what I've been exposed to," he explains. "[It's] an amalgamation of my industrial background and the Asian influence of the wood."
 
Matukaitis' time at the Bidwell Training Center, Manchester Bidwell Corporation's adult career training affiliate on Pittsburgh's North Side, had a big impact on his growth as an artisan. One of the instructors, Bidwell Horticultural Program Director Gary Baranowski, helped him explore the Japanese influence upon modern landscape design, something clearly reflected in many of Matukaitis' pieces.
 
Moving furniture to make ends meet while attending class, Matukaitis acquired random pieces of furniture along the way, restyling them for different purposes. Eventually, he started selling some of his work to furniture stores in the East End, which led to the creation of his Etsy online store Rust Built in 2013.
 
High tech or hand tools
 
And it's not all about the latest, greatest technology. Regis Will's uses traditional hand tools designed centuries ago to create beautiful pieces. An instructor at the Pittsburgh History and Landmarks Foundation's Landmarks' Preservation Resource Center in Wilkinsburg, Will journals about furniture, tools and preservation on his blog The New Yinzer Workshop in addition to producing quality handmade furniture in his home workshop in Shadyside.
 
"I think there is a drive towards that end. I think you're seeing it in a couple of different areas," he says when asked what he thinks of the quiet rise of the Pittsburgh furniture scene. "The kind of things I'm doing in my workshop and what TechShop is doing are different ends of the same spectrum, very opposite ends. I'm taking a very low-tech 'how your great-grandfather may have done it' approach."
Will's online gallery displays the fine joinery work he has done preserving historical homes in the region.
 
Whether it's being achieved with high tech or hand tooled skill, people seem to desire something more than mass-produced furniture from China or flat-packed from Sweden. Call them artisans, makers or craftspersons, the unique and sustainable nature of locally produced products is becoming more attractive to today's consumer. Not only is Pittsburgh embracing its makers, it's also providing them with a cozy nest of encouragement.
 
Workshops at the Preservation Resource Center are either free or affordably priced, and range from instruction on how to repair wood windows in older homes to glues and adhesives for woodworking.
 
"I think that for a lot of time, it was presented as the ideal that you do work for money to get the things that you needed," explains Will. "You do one thing to get that money, whatever that might be, and everything else is a trade for that money."
 
Will figures that old ideal has "fallen flat for a lot of people" as home surroundings become even more disposable. People are looking to fix things rather than toss them, up-cycle for a new purpose or make something of their own that will last.
 
Making a go in Pittsburgh
 
All the ingredients for a strong maker culture exist in Pittsburgh. Some are newer like TechShop; others, like the Pittsburgh Center for Creative Reuse and Construction Junction have been around for a long time.
 
The older housing stock, from mansions to row houses left abandoned for the suburbs years ago, is seen as an affordable opportunity for a generation looking for more than a McMansion. A lower cost of living combined with a rich cultural tradition is appealing to aspiring artists and designers, but there is something more that is attracting them to the city and keeping them here.
 
For years, if you mentioned Pittsburgh to someone who'd never been there or at least not visited lately, you would get either a sports reference or something to do with ketchup. Few if any would mention The Andy Warhol Museum, the Mattress Factory or the City of Asylum that embraces exiled writers. But these and many other cultural organizations have long been a part of the Pittsburgh story.
 
Matukaitis figures the city is where Brooklyn, N.Y. — home to some of the nation's top furniture workshops — was 20 years ago. And while the timing may be debatable, the city is experiencing a new age of industry fueled by wood, steel and the imagination of a new generation of Pittsburghers.
 
Neighborhoods that had seen little or no growth for decades are now home to workshops and stores that embrace the sustainable philosophy of the maker movement. In Point Breeze, East Liberty, Lawrenceville, Garfield and Homewood, makers are turning their hands and creativity to new industries.
 
Homewood's Urban Tree Forge is a workshop where the felled trees of Pittsburgh's urban forest come back as beautiful artisan pieces of furniture. In 2009, the founder — the late John Metzler — designed a large dining table where world leaders gathered when Pittsburgh hosted the G20.
 
Creative Reuse shares warehouse space in Homewood with the recycled building supplies store, Construction Junction; the performance-installation space for dance, The Pillow Project; and the bicycle recycling and do-it-yourself-repair learning center, Free Ride Pittsburgh. A combination supply store and educational center, Creative Reuse is staffed mainly by volunteers and a few paid staff. It is stocked by donations of used or second-hand material, and prices are affordable for up-and-coming artisans like Matukaitis.
 
Where to shop is another question
 
So where can you buy this stuff?
Located in the Strip District, the Public Market provides local artisans with a brick-and-mortar showcase, but only on a weekly basis. Take a crawl along Butler Street in Lawrenceville, and you'll find shops stocked with work by local artisans and probably a good cup of coffee.
 
Then you have events like the nomadic I Made It Market providing transient marketplaces around the region year-round.
 
Pittsburgh's Project Pop Up: Downtown gives artisans and entrepreneurs the chance to occupy vacant storefronts on a temporary basis. The Mayor's Office, in conjunction with the Urban Redevelopment Authority, City Planning and the Pittsburgh Downtown Partnership, started the program in 2012 and will soon post details on the 2015 fashion pop-up on their website.
 
Home workshops and digital storefronts
 
This movement is not confined to the city limits. A few miles downriver from Pittsburgh is the postcard-ready village of Sewickley. That's where Artie Reitmeyer of Reitmeyer Design has crafted fine furniture for over 20 years. As a member of Craftsmen's Guild of Pittsburgh — whose mission since 1944 has been to develop and preserve excellence in craftsmanship — he's watched styles and trends come and go.
 
His workshop is his home, and his home is a showcase for his work, although not one that people tend to go to browse. Most shoppers tour the digital gallery on his website, a showcase of custom designed pieces for individuals with particular needs.
 
He's watched the trends over the years, from mass-produced furniture to fashionable lines sold at stores like Pelora on the South Side to the maker movement. He's watched tastes turn from the assembly line to the handmade.
 
"People are building sculptural furniture, not in a large factory, more as craftsmen…one piece at a time," says Reitmeyer. He knows the difference and believes people do, too.
 
But that takes us back to the question: Why here? Is it just another national trend finally hitting Pittsburgh? Or is it because Pittsburgh offers something more than sports teams?
 
For Matukaitis, the answer is simple" Pittsburgh has what he needs to pursue his craft: opportunity, affordability and an environment that nurtures creativity.
 
"That's what great about living in this city," he insists. "I don't know if I would be doing this in any other city."